Is there a cosmic Bubble around Boulder or is it some sort of American Shangri-La? It is insanely close (25 miles) to the Denver airport so it is really easy to get to this health haven nestled up against the Rocky Mountains in the Boulder Valley (like I am telling you something you don't know!) Well, I am just discovering it, so read on! Just west of the city are the majestic Flatirons often photographed as the signature trademark of Boulder. I don't know if it's me, or the marijuana mist (it's legal!) but I could swear there is an invisible happy zone when you enter the perimeter of Boulder. The mountain air is so fresh it invigorates you. Even though you are at a higher elevation (5,430 feet), breathing in Boulder is like turbo boosting your lungs with youth, energy and fitness. The fact that Colorado is one of the top states for employment right now and jobs are projected to increase in 2014 is worthy of a high, with or without the reefer!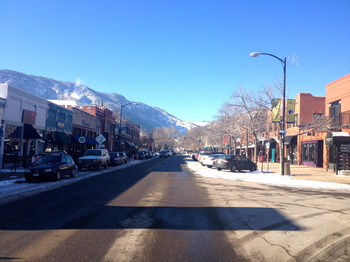 People in Boulder are relaxed, athletic and young, even the older population. The town was born of the hippies in the 60s and it has not lost that cool, hip and laid-back feeling. The University of Colorado/Boulder keeps the population young, educated and fun. Because it is small and still affordable, you can rent really nice apartments at reasonable prices and even buy town houses with incredible views and proximity to town and still have enough money to eat out at the incredible selection of restaurants there. Go-getters like Google and Microsoft have offices there. The Dot-commers are a-comin' and filling up the office space in the building right downtown by the OZO Coffee Co. which, if you didn't already know , is the central meeting place in Boulder. Conference Calls are held right outside in relaxed Boulder style. I am just a little excited about Boulder!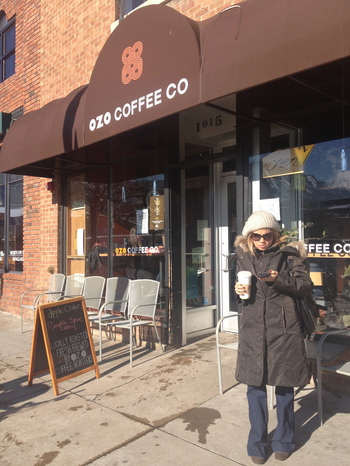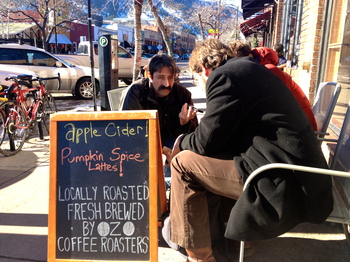 Let's talk shopping. Why does my mind so easily go there? For those with an eye for luxury, slip into Weekends along the Pearl St. Mall. It is the perfect place for indulging that secret someone clothing by top designers. For shoes, there is a super cool place called Shoe Fly on Pearl Street which a fantastic assortment of every kind of boot you would want.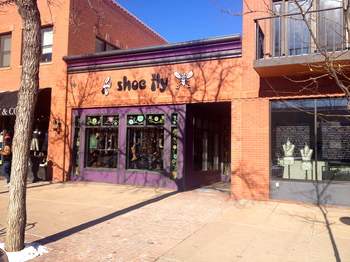 Just off the Mall, I stumbled upon a boutique called Nod and Rose at 1220 Spruce St. That's where my extra dollars went! I saw this hip looking outdoorsy guy heading into the store and I thought, hmm, what's in there. The guy was the owner of the store, Nod Norkus, along with his beautiful wife, Elizabeth Rose, both from Charlotte, N.C. They opened the boutique a year ago November featuring a lot of western designers for men and women. The two of them had come to Boulder for a wedding two and a half years ago and loved it. "Boulder is a cosmopolitan city packed into a little mountain town." Nod described how they decide on the clothing they offer, "Elizabeth is more funky and forward and real functional. My stuff is concerned with being rugged and masculine, not metro. I use iconic imagery to guide me." Who are your influences? "I would say, western, Parisian, east coast prep school mixed with west coast laid back." Their dog's name is Annie Lennox!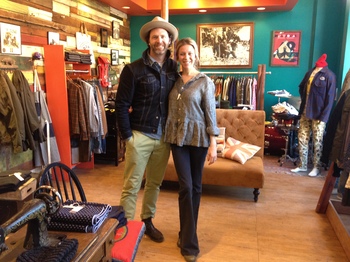 Okay, enough talk of clothes, I am hungry! Right across the street from Nod and Rose is Sushi Zanmai. All I can say is that it is the best sushi and Sashimi I have ever had. We went there twice in a 24 hour period!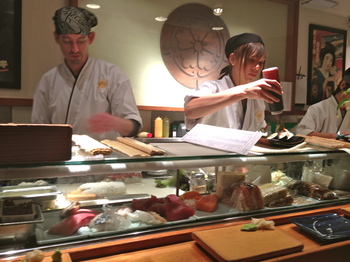 My list of favorite restaurants, so far, (remember I am doing a series on Boulder) would be: The Kitchen, for super healthy food, Salt, for happening atmosphere, Frasca, for an outrageous wine list and cooking by legendary French Laundry chefs from Yountville, California for things like truffle dinners!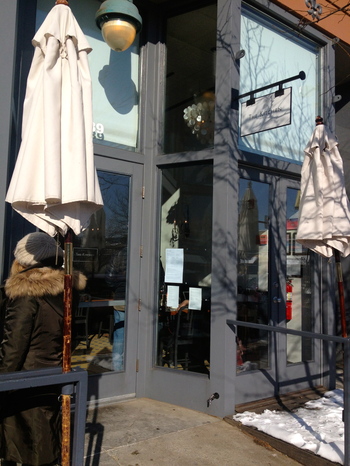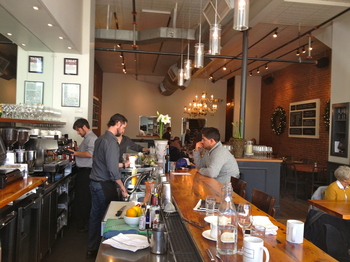 The Kitchen Interior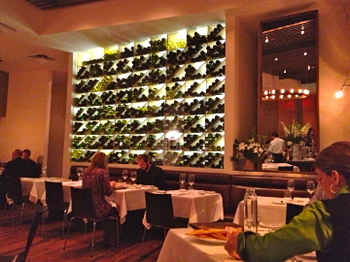 Frasca Interior
I have a soft spot for The Black Cat and the Bramble & Hare, owned by Eric and Jill Skokin, who serve farm to table organic dishes. Their restaurants are "a labor of love". They spent part of their honeymoon in the Basque part of France and had meals at the Hotel Restaurant at Gold Lake where "people were totally taken care of". The feeling they had there became their business model. They wanted a restaurant where there was a sense of community. They like to support artists as much as they can. The photos of Andy Katz are featured on their wall. The glass decanturs are made by glass artist, Jonathan Swanz. Everything about and in their restaurants "are painstakingly chosen" and specific. Their restaurants have a European feel stemming from their experiences abroad.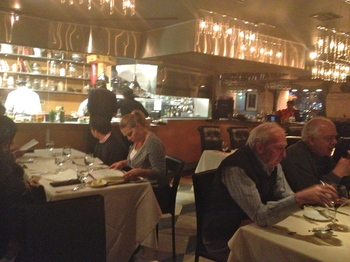 The Black Cat Interior
You have to go to Snooze for brunch which has a really fun, Soho kind of atmosphere. Everyone is in their 20's, or atleast, looks like they are. It has a great ambience. The menu has a ton of character with breakfast orders like "The Lower East Sider, Quinoa Almond Oatmeal Brulee, OMG!French Toast, or Sweet Potato Pancakes." I love the vibe there! Sorry, I have got to calm down about Boulder!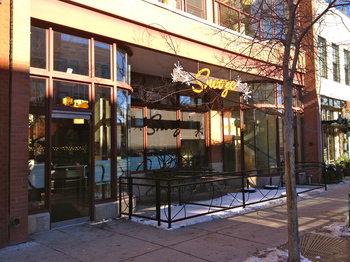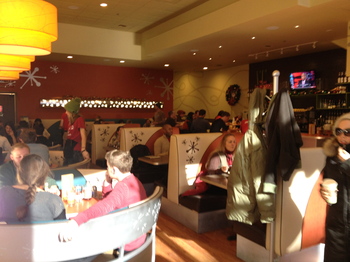 If you want to feel like you are literally in Nepal , go to Sherpa's. The owner, Pemba, is from an elite lineage of Nepalese guides and expert mountaineers of the highest mountain ranges in the world. Many Boulderites have gone trekking with Pemba through his trekking Co. that he started years ago called Sherpa Ascent International. He used to guide 2-3 groups a year but now not as often. Pemba told me that the restaurant "has the biggest patio in Boulder that seats 200 in the summertime. In winter, people love to come in, too." I can see why, because it is so cozy and the food is delicious and you feel like you are in Nepal, or some far away place, like maybe Shangri-La! Sherpa's has a lot of repeat customers.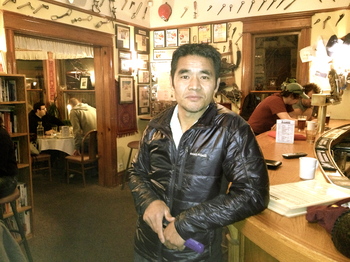 I was told to go to the Boulder Dushanbe Teahouse by the Farmer's Market. We got the corner table with cushions and enough space to lie down, or should I say, lounge. It was about as relaxing a restaurant as anywhere I have ever been to in my life. One does not always get to spread out like the Queen of Sheba in a tea house. The only thing missing was the fan. Thankfully the chai gave us enough kick to eventually get up and go!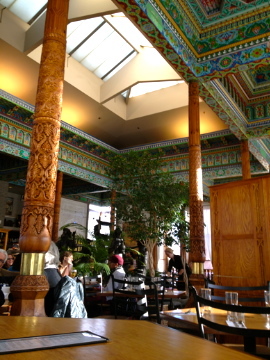 Who would have thought that a Boulder Shopping Mall could feel so natural but it does in Boulder! Your eyes never lose sight of the Mountain range beyond so you kind of feel like you are hiking. One needs to look good for all that hiking and exercising and staying young and strong and sexy. One stop at Lulu Lemon will do it! For some reason it seems healthier to buy something at the Lulu Lemon in Boulder.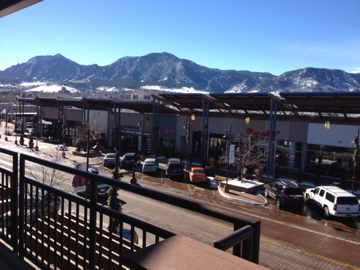 Boulder architecture is dotted with a combination of Arts and Crafts, Prairie, and Mission-style houses that casually boast mountain views. The oldest house in Boulder is Victorian from the late 1800's. The old western character has not been lost as you wind through town. Whether it be the house where the exterior of Mork and Mindy was shot or the historic Carnegie Library built in 1905 or the Boulder Art Deco style Courthouse on the Pearl St. Mall, the architecture is charming and historic.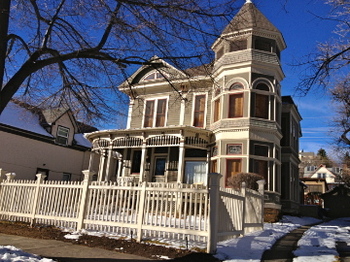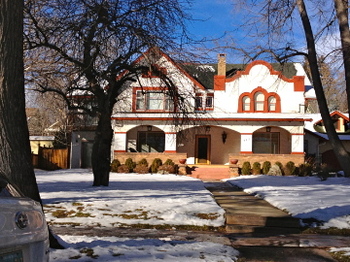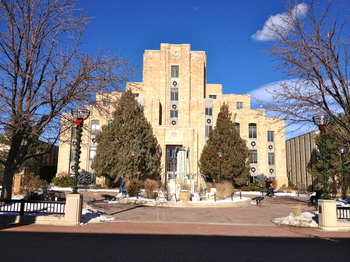 As for buying? We are talking nice, small houses for $500,000- $600,000 and top of the line for $1 million, $1.5 million for a to-die-for townhouse. Pretty much anywhere in Boulder you can walk out your door, breath in that amazing air and be bowled over by the view of the mountains. Historic Boulder is pret-ty great and quaint, and in walking distance to Boulder Center and the Pearl St. Mall. Drive or walk along Mapleton, Pine or Spruce streets weaving in and out of the numbered streets and get a sense of the hill. That neighborhood is close to great hikes. Just walk up by the Boulder Community Hospital at Mapleton and 4th and hook into the Mt. Sanitas Trailhead.
On the other side of town is the Chautauqua area, the neighborhood at the base of the Flatirons, which is more spread out and relaxed feeling. Chautauqua is steeped in history and culture of the Chautauqua movement, a powerful and popular cultural force that came to life in the country around the turn of the century. Evidently Theodore Roosevelt once called it, "the most American thing in America." The Chautaqua Auditorium, otherwise known as "the Barn," overlooks the Boulder Valley extending all the way to Denver, and has for years served as a special venue for cultural and educational speakers and/or concerts from William Jennings Bryan to Al Gore to Joan Baez.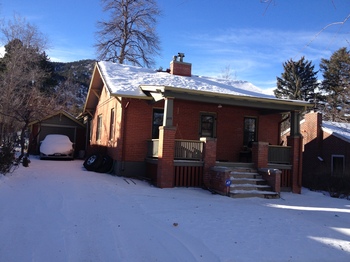 There are some 100 cottages as part of the Chautauqua Association. 60 belong to the Chautauqua Association. 40 are privately held owned by some of the same families from Texas that had started the Association five generations ago. You can rent the campstyle cottages year round. Talk about a perfect retreat cabin!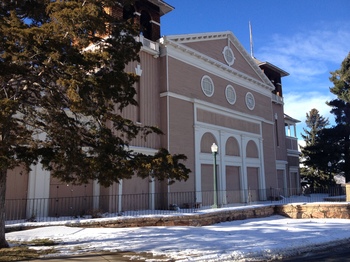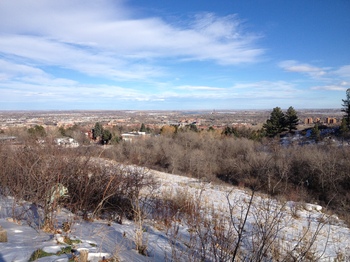 If you can't immediately buy or want to rent in Boulder, stay at one of the many hotels. If you are splurging, and want new, go for the St. Julien Hotel. Their spa is heavenly and their bar is a fun scene, too. For old west mystery and a hotel that wreaks of history, go for the Hotel Boulderado . The second I walked into the Lobby, I thought, "I want to shoot a movie here!" There is an old western, cloak and dagger, stories-behind-every-door feeling to it with a someone-had-an-affair-here air. The hotel bar conjures up the scene where the cowboy charges in through the swinging door and everyone freezes in silence, looking at him. Cut! Back to One! Take four! The Best Western Boulder is perfectly nice, too, for a less dramatic stay.
Bookstores! Almost forgot to bring them up! Boulder has two great bookstores that I, of course, found because I have a terrible weakness for them. The Boulder Book Store has something for everybody and winds around a large space. Not to mention, they have a fantastic assortment of magazines from all over. Such a find! Right across the street is another wonderful one, the Trident, which has a collection of, amongst other things, used art books for sale. There is a café attached with a Hemingway/Proust intellectual vibe. One could spend a morning or an afternoon there perusing the stacks, buying a rare book and lingering through the pages over a coffee.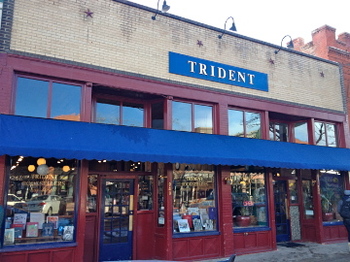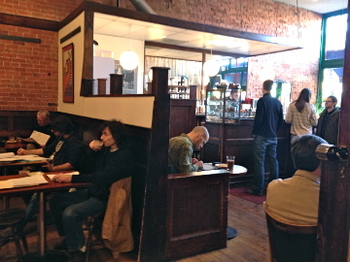 If you are retired and want to be forever young, or a successful entrepreneur who loves the outdoors, or young and want to afford a great lifestyle, or a student who is studying at the university, or a teacher, or a writer, or a middle-aged man who wants to re-invent himself as the cool guy with a new girlfriend, or someone, male or female, young or old, who is simply smart enough to see that Boulder is a wonderful place to live for a quality of life as good as Shangri-La, then seize the day and take a whif, be it H20 or Mary Jo. The high is real. Boulder is the place to be.
Stay tuned for Boulder: Part Two, with a more in-depth look!

All photos taken by Sally Fay