Before it's too late, head over to the John Berggruen Gallery in San Francisco and see the exhibit of paintings, historical drawings, sculpture and monotypes of the important California artist, Nathan Oliveira (born 1928), who died last year. Beyond October 22nd you will never again see these last paintings of Oliveira's hanging together as they are now. Oliveira is one of our most important California artists and a figure in contemporary art.
It is extraordinary to see all of Oliveira's last canvases in one space. It is an exhilarating experience. The colors of deep orange, passionate red and transcendent yellow seem to radiate from within so that seeing them feels like an awakening. Oliveira's soul is calling out to us through these rapturous colors. As blazing and powerful as only a California sunset can encompass you and take you somewhere exciting and mesmerizing and internal, this is reason enough to put yourself in front of these last thirteen pictures painted by Nathan Oliveira and bask in this man's shimmering brilliance. This is a fleeting moment in time to see his work like this.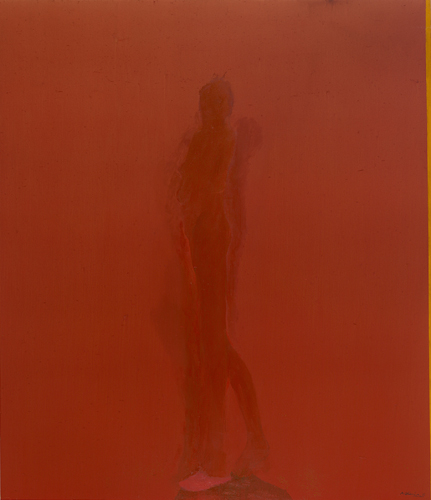 My appreciation for the work of Oliveira deepened thanks to another California painter, Rob Setrakian, who had been a young student of Oliveira's while attending Stanford. Understanding the context of artists makes seeing their work so much more interesting to me. I met Rob in his studio and asked him about his teacher and friend, Nathan Oliveira. Rob told me that he would sit and have lunch with "Nate," as his friends called him. He remembers what he said about the emergence of figurative painting,"We were all excited about the plasticity of paint," reflecting some aspect of collective thinking about the use of paint on the canvas at that time. Rob said having Oliveira as a teacher and learning from him was a big influence on his work and the time he spent with him had meant so much to him. Rob had the fortune to be Nate's assistant for three months working together in Florence. When I walked around Rob's studio with this knowledge of his mentor I wondered how Oliveira had influenced Rob's paintings and how painters influence one another. All those influences are somehow a part of what you see in the work of an artist. What part of Setrakian's paintings had some derivation of Oliveira? Was Oliveira perhaps influenced by his student?
Painters absorb each other's work. They absorb the work of the artists they admire around them. They absorb the landscape they are in. They absorb the times they are in. Every artist's work is in context to the geography, the people and the moment in which their work was created.
As Oliveira emerged as a teenager and as an artist, a lot was happening in the San Francisco art scene. According to Peter Selz in his catalogue essay for Oliveira's 2002 painting and printmaking retrospective at the San Jose Museum of Art, the San Francisco Museum of Art (now SFMOMA) had a "visionary director," Grace McCann Morley, who was putting together "solo exhibitions of the major New York abstract expressionist painters long before they were seen in museums in Manhattan." Those solo exhibitions in San Francisco included Arshile Gorky (1941), Clyfford Still (1943), Jackson Pollock (1945), Mark Rothko (1946) and Robert Motherwell (1946). This was the artistic environment that Oliveira was stepping into as a young artist.
Oliveira went to high school in Oakland, and later attended Mills College, the College of Arts and Crafts and then San Francisco Art Institute. Nate met Max Beckmann, a northern European expressionist at Mills College. Oliveira admired the work of Oskar Kokoschka and Edvard Munch. Clyfford Still taught a class at the California School of Fine Arts (now the SF Art Institute). Richard Diebenkorn was in the same classroom with Nate sitting side by side painting a model. The group of painters that would later be referred to as the Bay Area Figurative Artists were Oliveira's slightly older contemporaries. Oliveira was developing his talent in painting alongside his fellow Californian artists David Park, Joan Brown, Elmer Bischoff and Diebenkorn.
In 1959, Peter Selz, Chief Curator of Painting and Sculpture Exhibitions at MOMA in New York City put together a defining and now historic show that shifted perceptions from abstract expressionism to an emerging trend placing figurative paintings by Jackson Pollock and Willem de Kooning next to new artists from Europe and the U.S. Oliveira was the youngest artist included in that show. Imagine being a young California artist and being introduced in a show at MOMA, New York. Mark Rothko, Jackson Pollock, Willem de Kooning and Robert Motherwell had defined abstract expressionism and a shift towards more figurative art was emerging. These artists and that time are the context from where Nathan Oliveira came. Oliveira became friends with de Kooning.
Oliveira taught at Stanford for 31 years and had a studio in the foothills nearby. From reading and seeing more of Oliveira's work I have learned how deeply connected Oliveira was to his physical surroundings. You can see the landscape surfacing in his paintings through his use of earthy tones and textured colors. Learning that he grew up around an apricot orchard is a possible clue for the richness of the apricot color that breaths in so many of Oliveira's canvases. I learned about a famous series of paintings Oliveira did called his "Windover" series. The paintings are a rhapsody in paint tribute to nature and to the red-tailed hawks that flew high above the rolling golden California hills that surrounded him. The huge canvases are seemingly as-big-as-the-sky sized paintings that he labored over trying to express the feeling of flight and capture some of the power he felt from seeing the majestic soaring wingspans above.
John Berggruen had known Nate for decades, followed his work and enjoyed a friendship with him. Berggruen's first show for Oliveira was in 1979 followed by many more over a 30-year span. John told me a couple of years ago he and Nate had discussed putting together a show but there was a pause in Nate's work and the show hadn't happened yet. So when John visited Nate's studio after his death and saw the volume and breadth of these last paintings he was awestruck. These extraordinary last paintings and a gathering of other work done by Nathan Oliveira make up this final and poignant exhibition put together by John and Gretchen Berggruen.
When I went around the gallery with Gretchen as she was still in the process of hanging the exhibtion. I wanted to know more about his work. I had read Oliveira repeatedly worked the theme of the individual throughout his work. He painted the solitary human figure often. Gretchen mentioned that Oliveira was fascinated with the Olympics, a theme in an earlier show, and he repeated that again in some of his last paintings. The lone red figure running in Runner 2010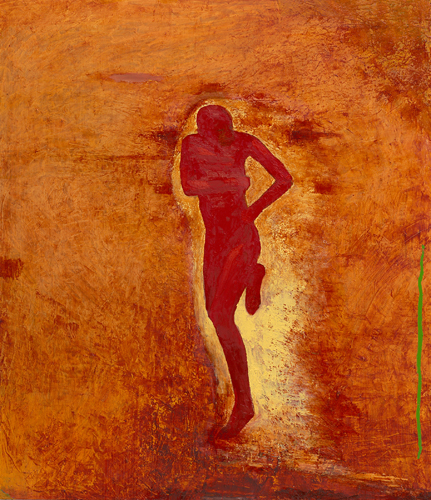 as compared to the jazzily clad runner in Runner 2001.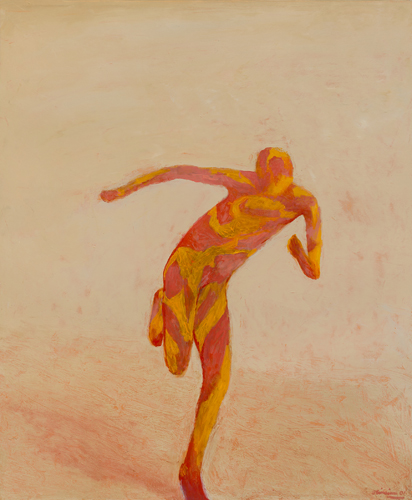 The red hot skater reaching for the Clyfford Still-like yellow line opening the canvas in Skating Figure 2010.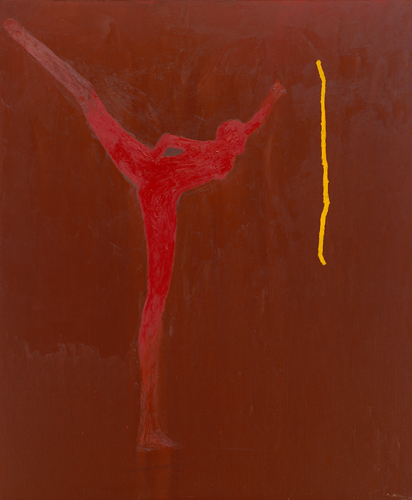 Oliveira's Olympic series made me think of how we all struggle within ourselves to achieve something magnificent and that even though the competition is with others, ultimately both battle and victory, is within ourselves. But who knows if that is what Oliveira was thinking. He might have just loved the movement and motion of the Olympic athlete. "That is his self portrait," said Gretchen, pointing to the tall, lean Giacometti-like male wearing a bowler hat facing straight out at us.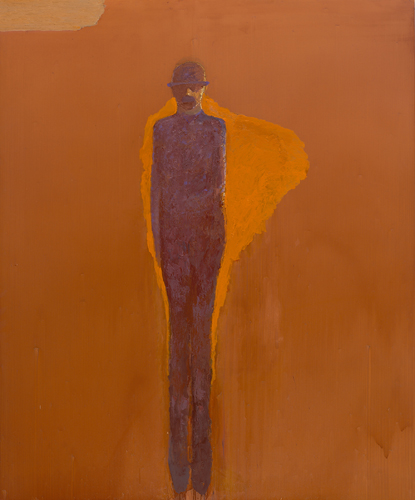 The portrait, in spite, of being a solitary, isolated figure draws you in. There is warmth emanating from the figure that shimmers behind him. In spite of Oliveira's fixation with lone figures, I do not feel alone looking at them. I feel connected to the energy of his art. I feel like Oliveira is reminding us that we are all spiritual beings but we are human beings here with eachother. It's that bowler hat. I feel like he is saying, "Here I am standing in front of you with my hat on." His spirit lives on through this illuminating art.
You only have until October 22nd to see this important show of a major California artist. You won't ever see these 13 last canvases together plus other works of the artist in one place like this again. Don't miss the sunset of Nathan Oliveira so beautifully realized at the John Berggruen Gallery at 228 Grant Avenue in San Francisco in the exhibit: NATHAN OLIVEIRA: A MEMORIAL EXHIBITION Sept. 8-October 22, 2011.
Rob Setrakian Show at the Robert Berman Gallery 11.11.11