Starting at 8:10 a.m. on Wednesday, February 4th, I watched the independent film,"Tokyo Fiance", directed by Stefan Liberski, an imaginative story about a young Belgian woman who returns to Tokyo, the place where she was born, and begins a romance with a Francophile Japanese student who introduces her to parts of Japan she never knew. I really enjoyed it.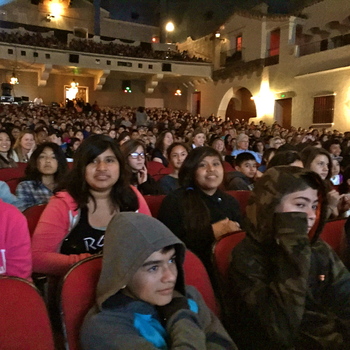 One of my highlights of SBIFF was attending, "Mike's Field Trip to the Movies," the one day event held at the Arlington Theatre where 4000 Title 1 schoolchildren were brought in to watch the film, "The Lego Movie" followed by a Master Class with the two Directors of the film, Phil Lord and Christopher Miller, with SBIFF Exec. Director, Roger Durling, moderating.To guarantee that underserved populations can experience this opportunity, SBIFF provides free transportation. Roger, and the late highly acclaimed underwater Cinematographer, Mike DeGruy, founded this special event for students to explore the art of filmmaking, to stimulate culturally aware thinkers and to empower students and teachers with a creative approach to education. Sean Pratt, SBIFF Director of Operations, calls it "our favorite event!" I can see why!

Right after the "The Lego Movie" ended, the house lights went up, with Roger and the young Directors up on the stage greeting the room full of cheering 5th and 6th graders. You could feel the energy charging through the space!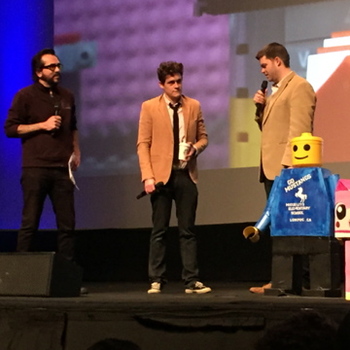 The Question/Answer period was so entertaining! Roger asked Phil and Christopher how they got the idea for the movie...
ANSWER: "When we were kids we loved playing with Legos. We thought maybe we could make a movie about the different things you can make."
QUESTION: "Was it hard to make this movie?"
ANSWER: "Oh yea. It took us 4 years. We wrote it over and over and over. Animation is a very slow process!"
QUESTION: "If you are not good at art, can you still make a film?"
ANSWER: "There are many engineers and scientists that worked on the film. The most creative people were the engineers and scientists!"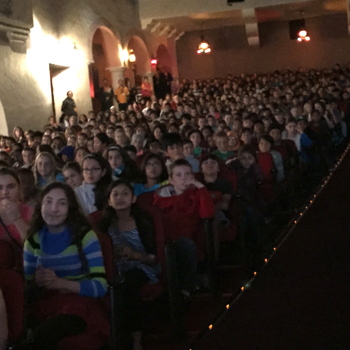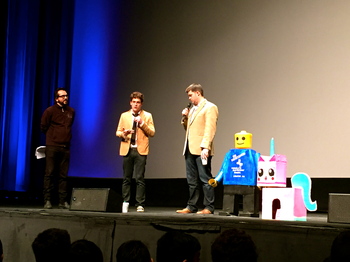 QUESTION: "When you choose a person to be the voice of the character, do you ask them to use their own voice?"
ANSWER: "We usually like people to use their own voices. Chris Pratt and Elizabeth Banks used their own voices. Liam Neeson made the voices for both the good cop and the bad cop. We sped up Allison Brie's voice."
QUESTION: "Where did the name,Lucy Wildstyle, come from?"
ANSWER: "We are obsessed with a documentary called,"Wild Style," made in 1983, about the birth of Hip Hop and Graffiti in New York City. We wanted to name a character who was rebellious and expressed herself in creativity. In 80's culture, nobody was paying attention to these creative people and they changed history. We thought, you don't have to have a crazy name, you can have a simple name and still change the world."
At 8:00 p.m. at the Arlington Theatre, the next special event was the Outstanding Directors of the Year Tribute, awarded to the directors for their vision in harnessing every element of filmmaking, from acting and story to camerawork and sound, creating an unforgettable experience. The Tribute salutes filmmaking as a collaborative effort, led by the director who guides the cast and crew in creating a film that moves you. The Honorees this year are Damien Chazelle for "Whiplash," Richard Linklater for "Boyhood," Bennett Miller for "Foxcatcher," Laura Poitras for "Citizenfour," and Morten Tyldum for "The Imitation Game." Hollywood Reporter's Scott Feinberg moderated.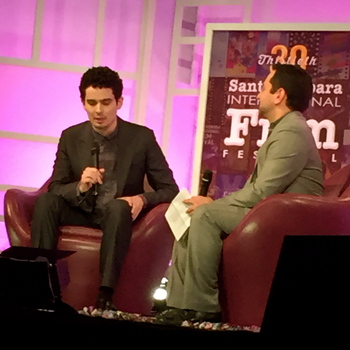 Damien Chazelle, 30, is a Harvard alum from Providence, Rhode Island. He "channelled his own experiences of having an intense music teacher," into "Whiplash," his second film as writer/director. The film won the U.S. Grand Jury Prize (Dramatic), as well as, the Audience Award at Sundance. "Whiplash" was nominated for 5 Academy Awards, including Best Adapted Screenplay and Best Picture.
Damien on "Whiplash," "10 years back I was thinking, what did that experience mean to me? Was that behavior really necessary? So I made the character (played by J.K. Simmons) more extreme."
Damien's end goal was always to make a feature. He decided to "take that one scene about a sadistic jazz teacher abasing a student for 2 hours and shoot it as a calling card. That short, made as a proof of concept, is what helped convince people to finance the feature."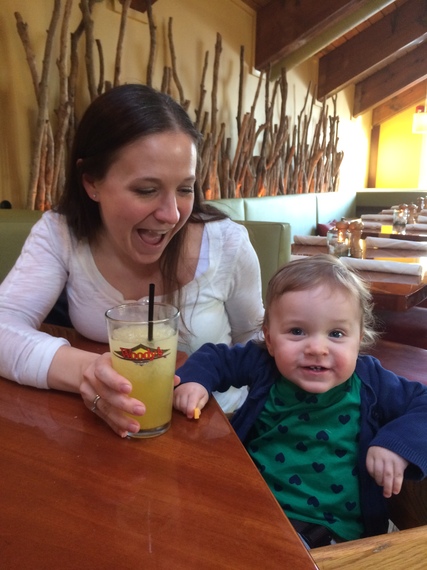 Scott Feinberg asked,"Was it intimidating to cast and direct a veteran like J.K. Simmons?" Damien answered, "Oh, I was terrified. The worst days for me were my life as a drummer, and the hour before I met J.K.!" It all turned out great though for, "It was that initial meeting that I learned that J.K. had wanted to conduct and compose. He wanted to be Leonard Bernstein. We immediately talked about music school." Damien went on speaking metaphorically, "I like filmmaking the most when it feels like music, when editing feels like drumming. J.K., as an actor, has full run of the distance of his instrument."
On the filming and the quick turn-around in 19 days, " L.A. is the slowest moving city in the world. People talk about making movies non-stop. I knew that we needed to shoot this fast and edit this fast!" On the success of it all, "Sony Classics picked it up. I sat next to Oprah Winfrey at the Oscar's Luncheon. When you are sitting next to Oprah, now that is a moment. I went from hoping the film would get made, to hoping to get it to Sundance, to hoping it would get watched, to here!"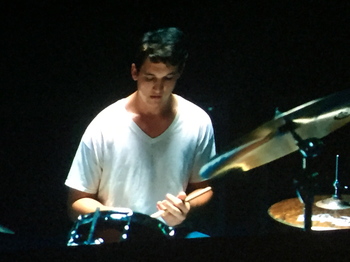 Scott's question: "Where do you fall on the issue, do you push yourself to excel?"
Damien answered, "Yes, I think you should push yourself but in education, should you push someone else? There is something about inflicting pain on someone else that is not good. Inflicting pain on yourself is another thing. It is passion for any art you choose and the effort put into that is worth it."
"Whiplash" won 3 Oscars; Best Performance by an Actor in a Supporting Role went to J.K. Simmons; Best Achievement in Film Editing went to Tom Cross; Best Achievement in Sound Mixing went to Craig Mann, Ben Wilkins and Thomas Curley.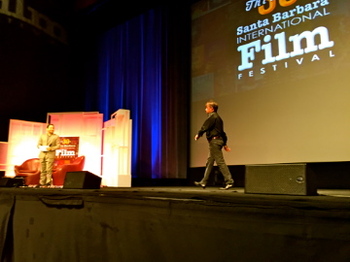 Scott asked Director Richard Linklater about, "Boyhood," (a film that took 12 years to make) "Where did your ideas come from?"
Linklater replied, "I don't know. There are a million stories coming at you every day. If there is a recurring theme in my work, that might be time."
Scott to Richard, "'Boyhood' is unprecedented in the narrative world."
Richard, "I want the audience to feel like it's real. We are all in a narrative but there isn't a lot of plot to it. I wanted to make a movie like that."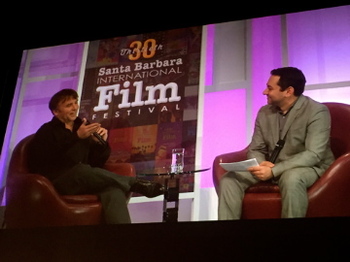 Scott, "You mentioned that there is an autobiographical element."
Richard Linklater, "I think any director asks themselves, why are you doing this one? Every actor that has taken a role feels something, identifies with the character. Even with projects that I didn't initiate, you have to feel that you are the right person to do it. 'Boyhood' is the most biographical of my work. I want the film to feel like a memory. I don't mind the autobiographical, it is a period piece."
Scott: "There are certain people that you have longstanding relationships with."
Richard, "Yes, Sandra Adair, the Editor, and Ethan Hawke. An ideal collaborator brings out the best in me and you. It is all the fun stuff to make a movie. I've worked a lot with Ethan but we couldn't have predicted it."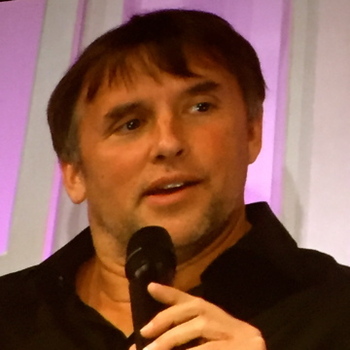 Scott: "What if one of your characters had told you 'I am out of here'?"
Richard, "We would have been in trouble!"
Finally, on there being any chance we may get another film in 12 years...Richard replied, "You've got to have something to say."
"Boyhood" won one Oscar for Best Supporting Actress (Patricia Arquette).
Next up was Bennett Miller, Director of "Capote" (2005), "Moneyball" (2011) and this year's Oscar nominated film, "Foxcatcher." "Foxcatcher" was nominated for Actor in a Leading Role (Steve Carell), Actor in a Supporting Role (Mark Ruffalo), Director (Bennett Miller), Make-up and Hairstyling (Bill Corso and Denis Liddiard) and Writing-Original Screenplay (E. Max Frye and Dan Futterman). Stars of all three of Bennett's films got nominated.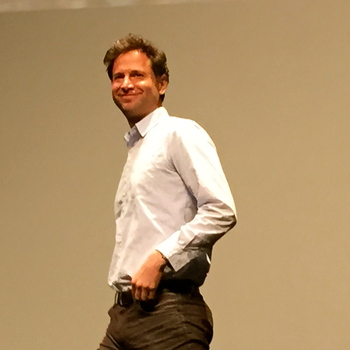 Scott Feinberg asked Bennett Miller how he came to direct, "Foxcatcher?"
Miller,"Somebody approached me with an article." Miller started with documentary films although he says, "My interest was always in making narrative film. I like when you feel through the lens a point of view, like Kubrick, Hitchcock and and Sidney Lumet."
Scott to Bennett, "All three films are about eccentric men. What is it that? Is there something about a setting or a character? What are you drawn to?" Miller replied,"I think it is eccentricity. If you are eccentric, you have a point of view, an insight as an 'outsider'. I am drawn to those characters that are in worlds where they don't really belong. I think DaVinci might have said, I know Picasso definitely said, 'every portrait is a self portrait of sorts'. There is something in these peculiar struggles that is not totally unlike the experiences of the folks that are sitting in this chair."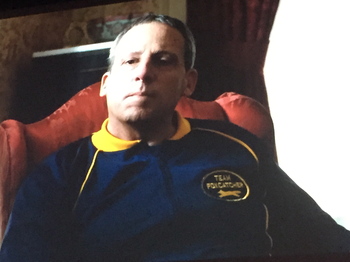 Scott, "All the actors love working with you. Do you have a secret?"
Miller answered, "I think if you asked all of them, most would think of it as finding where you are comfortable, in Brad Pitt's words, 'and not in a good way.' I am probably not that great at facilitating performances, or have a standard that I share with the actor. Everyone realizes that it will require some time out of their comfort zone. Comedic actors (like Steve Carell) have another side. Steve exhibited that potential."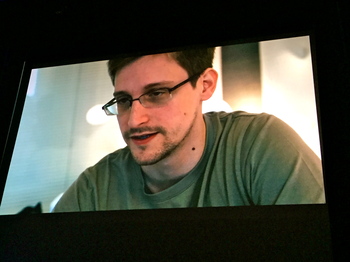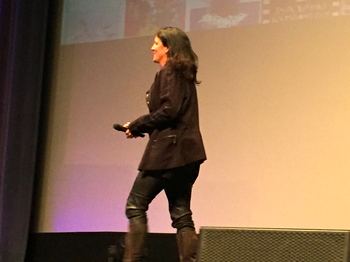 Laura Poitras, Director, of "Citizen Four," the third film in her post 9/11 trilogy, is nominated for an Academy Award for Best Documentary feature. Laura spoke about her work, "I do my own sound and shooting. When you are in front of a person confronting a life experience, when people allow me into moments of importance in their lives," these are the things that drive her documentary filmmaking.
Scott,"Can you take us back to 9/11 and the focus of your film,'My Country, My Country,' take us into the mindset."
Laura, "I made a short film of people's faces after 9/11. It was more about America's response to the build-up of the Iraq war. What really motivated me as an American was to say something about the world that I find myself in." "My Country, My Country" and "The Oath," were about the Iraq war. There were these numbers of people dying and we didn't know what was happening. I went to Iraq to make that film." She continues, "For the third installment, I was filming in Iraq in 2006, every time I went I was stopped. When you go from the 3rd time to the 20th time, it was evident that I was on a list. I got really good about protecting my source material. I sort of made a decision that this was harassment and that I wasn't going to be intimidated. "Citizenfour" is about surveillance and legalized torture."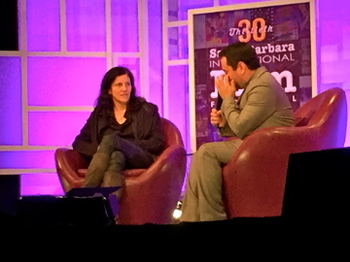 Scott asked, "How did you first hear from Snowden? Did you ever think this was a risky thing to get involved with?"
Laura, "I got a cold email. I had been working on the theme of the NSA. My first instinct is that I thought, this is legitimate. I was concerned about entrapment. What are the lines I don't cross? He told me,'I am never going to ask you to do anything. I am just going to feed you the information.' Snowden was looking for a journalist who would not cave under pressure."
"Citizenfour" won the Academy Award for Best Documentary Feature.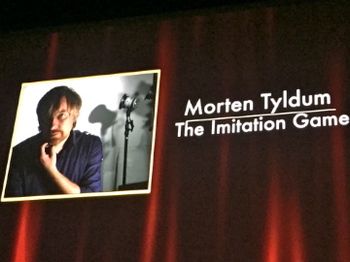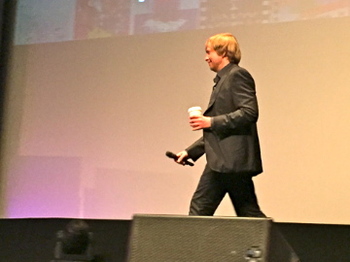 Mortem Tyldum, a Norwegian filmmaker, directed, "The Imitation Game," based on the book, Alan Turing: The Enigma, by Andrew Hodges, screenplay by Graham Moore. Tyldum's film, "Headhunters," is the highest-grossing Norwegian film of all time.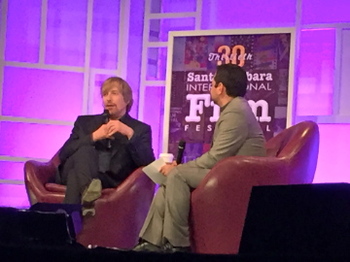 Tyldum talked about making, "The Imitation Game," "I love history. There has to be something that personally hits you. This was an outsider, this man (Turing), who sort of invented the computer."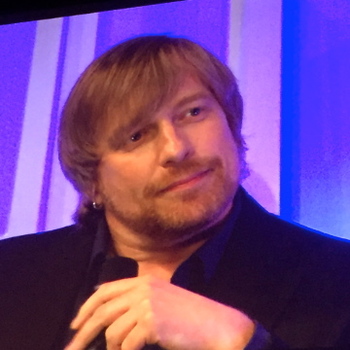 Scott, "Very early on you had ideas of Benedict Cumberbatch?"
Mortem, "Yes, there is something enigmatic about him as an actor. There is something very admirable and relatable to the characters, Benedict as Alan Turing and Keira Knightley as Joan. Alexandre Desplat wrote the music. I wanted to tell the story more as a thriller."
After Scott Feinberg had interviewed each of the Directors seperately, they all came up to be in a panel all together.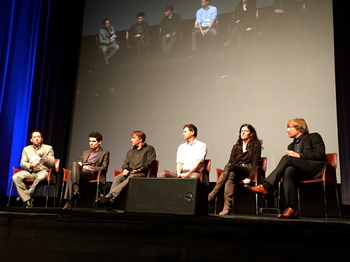 In conversation, Bennett Miller said, "There is something in me that wants to make discoveries, and find that which is revelatory to me, and share something about our common experience. As artists, we need to go deep into our souls, to say something, and that's where the thing we have to say, is. It is honoring individual voices."
Laura Poitras, "The pulse of the work I do is in the 'unknowing'."
Morten Tyldum, "We had 3 weeks of rehearsal. You are casting and you have the script and you are exhilarated! Then it is the shoot. There are logistical things that happen. Then you watch the edit and you want to shoot yourself. Every phase is extreme highs and lows!"
Richard Linklater,"I like meeting other people who share this obsession."
Bennett Miller,"Anyone who gets a film made, period, respect!"
Laura Poitras, "People who are asking tough questions. The community that has supported me, the Maysles, D.A. Pennebaker. I think it is the people. It comes down to when one person achieves something, it raises the bar, that sets a new precedent. You can point to that, "Boyhood", as an example, and say, look at that."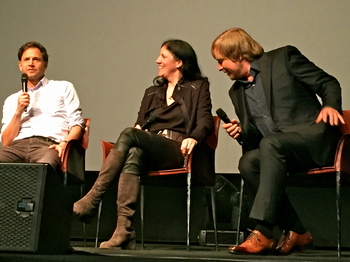 Andrew Davis, Director of "The Fugitive," came on stage to hand out the Outstanding Directors of the Year Awards.
It was an awe inspiring day!
Photo Credits: Sally Fay