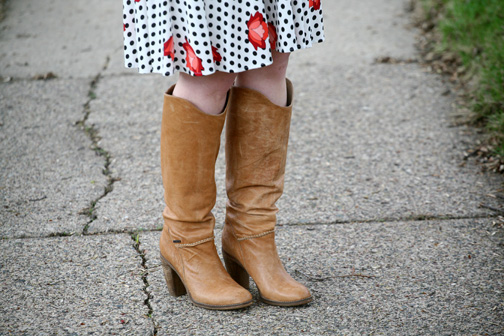 In early January, the fashion world shifts its collective gaze toward spring. Magazines begin showcasing lightweight fabrics and skin-baring designs while clothing stores start rolling out the bright colors and cropped cuts. But this parade of floral frocks and sassy sandals doesn't inspire me to begin shopping for spring clothes. In fact, over the past few years I've purchased very few new shoes, clothes, and accessories for spring and summer wear.
Now it's August. Hot, humid, bright, and decidedly summery. Once again the fashion world has shifted its collective gaze toward the coming season: Tights and boots, blazers and sweaters, scarves and jackets have been beckoning to me from editorial spreads and window displays for weeks. And this time, I'm buying. Burgundy sweater dresses, tall suede boots, layering tees, even a full-length silk slip. I'm stocking up for fall and winter like the Snowpocalypse is imminent, and feeling very little guilt about it. Because where I live, cold weather rules for at least half of the calendar year. Where I live, winter is the dominant season.
Those of us who live in climates with defined seasons should consider investing in clothing and shoes that will work during our longest, strongest season. Anyone living in New Orleans will concur that lightweight garb is essential, but one or two heavy coats will suffice. Juneau residents are well aware that stylish sweaters are indispensable, but strapless sundresses will get very little wear. Hawaiians will be summer-dominant, Londoners fall-spring-dominant, and Icelanders even more winter-dominant than I. It's easy to fall into the trap of shopping heavily for the season that you love best, but it's more practical to shop heavily for the season that you live through longest.
This doesn't mean non-dominant season clothing is utterly verboten, just that it should be versatile and worth the investment. Here are a few questions to consider when pondering a purchase that won't work during your dominant season:
Does it have layering potential? Solid-colored tank tops might seem summery at first glance, but they can get year-round use as base layers. Lightweight, silky skirts appear suited to hot weather, but layered beneath heavy wool dresses they can add warmth and a pop of color at the hem. Top layers can also prove versatile: All but the heaviest of cardigans and blazers can be worn throughout the year. Layering pieces are year-round staples for many, especially those who deal with cold or wet dominant seasons.
Is the fabric appropriate to multiple seasons? A solid colored LINEN tank top? Not quite as versatile for layering since linen is a decidedly summery fabric. A lined VELVET blazer? Might not be the best choice for mid-August wear. In my experience, twill, jersey knits, ponte, silk, and heavy cottons generally work in most weather and constitute good bets for shoppers living in areas with distinct seasons.
How many do you already have? If you live in Fargo, you will likely need a few floaty, airy sundresses to make it through summer. But you might not need two dozen of them. If you live in Cairo, you can probably justify a wool cardigan or two. But cotton, linen, and silk versions will serve you better for the majority of the year. Since retail and editorial cycles focus on shifting seasons, it can feel tempting and torturous to see endless options that simply won't suit your seasonal situation. So buy a few, carefully selected non-dominant season options, but always consider how many similar items are already languishing in your closet.
Of course, if you live in a climate that maintains a single season almost year-round (I'm looking at you, San Diego), these tips may be less useful. You folks will definitely feel frustrated when the seasons shift elsewhere, and fewer options appropriate to your own climate are available. But hopefully experience and pragmatism will prevent you from spending big on gorgeous items that won't work for your local weather.
Fall clothes are everywhere right now, but summer clothes are on clearance. I've seen several pairs of sandals that have tempted me with their gorgeous designs and rock-bottom prices. But I'm putting my pennies toward long-sleeved dresses and new black boots instead. Because winter's coming. And once it gets here, it'll stay a while.