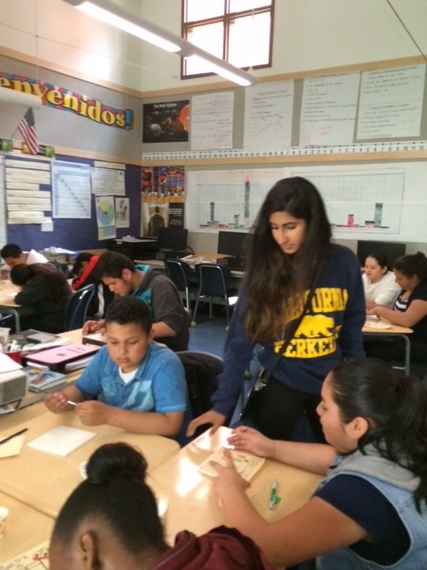 Today I'm the one who's learning something new. A team project brings me out to Ford Elementary School in Richmond, California at the end of a week in which northern California has wilted under record heat. Ford is a school I designed, and I've been invited by its dynamic principal, Dr. Penny-James, to work with the students. Nearly the school year's end and everyone is tired, and staff and students are ready for a change.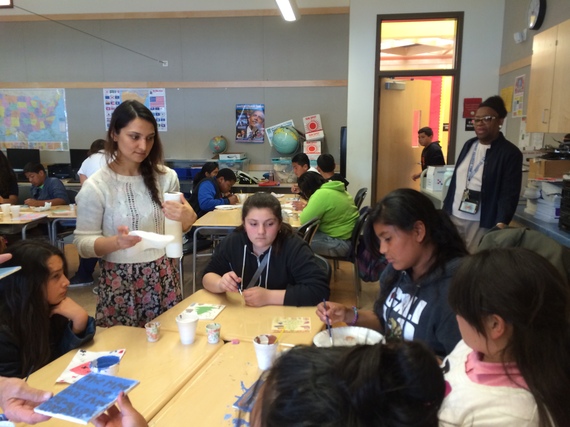 The day's activity is designated an artistic pursuit: a tile project to be completed by Ford Elementary School sixth graders working in conjunction with University of California, Berkeley students. This is a community project I instigated, designing a course with University of California, Berkeley. I am tasked with the goal of community participation which in this instance means facilitating the creative exchange between two very engaged groups of students separated in their enthusiasm only by age.
When I designed this elementary school, it was the influence of the dominant Latino neighborhood in this rough urban community that drove the selection of color and materials. Royal blue was chosen for the entry to the school because the color connotes the Latino culture and serves as a metaphor for the architecture's spiritual support system.
Today's mission, though, is a matter of problem and solution.
I envisioned the royal blue entry columns to hold cascading vines of jasmine as a balustrade over the sitting area. In this densely populated neighborhood rarely touched by fog, a sitting area needs shading from harsh sunlight. (And, despite being known for its richly-composted soil, due to mineral resources from the nearby San Pablo and Sobrante Ridges, and several rare plant species, one rarely sees much that's green and thriving.) But I digress.
Well, my original plan for the columns was not fully realized, as the columns were not detailed with tiles at the rear. But, tiles, especially in this particular bright blue, are welcoming, as well as being a durable yet simple, economic and purposeful detail. Plus, with tile there's also the added benefit of simply washing away any graffiti that might happen to occur in this most public of school areas. My goal was not to have graffiti on any of the building surfaces. It is a hardship for the maintenance staff, and school esteem is known to plummet once a building is tagged.
So, musing further, I hatched the next step. What I proposed to the school's administration was this: that the sixth graders (approaching graduation) design artwork for each tile and by signing their tiles this would become their legacy to the school as well as the finishing touch to the columns.
And so it commenced on this Friday in May, the sixth graders and UC Berkeley students and me. Many of the students, moved by their homeland drew flags of their former countries such as Mexico and El Salvador. Others were inspired by their families or smiley faces; a few wrote a few lines; and just one drew a portrait of Jesus and stated that this was who she truly loved. But there was another who, perhaps dissatisfied with his drawing, suddenly smeared the picture with the palm of his hand, creating a mesmerizing blur of black and blue. This became the Salvador Dali moment of the day, and the principal and I wondered aloud as to whether that student realized how special his drawing had become. I suggested to the students that they might return to Ford to visit someday when they were older to look at their tiles. Some shrugged and said they didn't think so, so I said in reply "one never knows," to quote a Russian expression.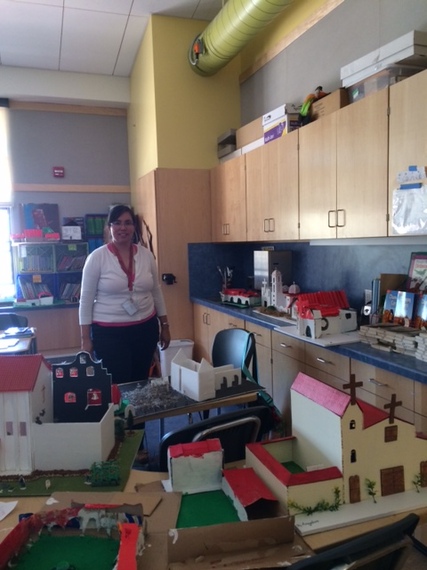 On my way out, just one more stop to visit with students in another classroom. More positives came rushing at me when I caught up with fourth graders who had just finished a class project in which each student was tasked with building one of the iconic California Missions at model scale. The architectural aspect was not lost on me, and I expressed my genuine enthusiasm for the students' handiwork -- each one was evidence of hours of hard work. One student even mentioned that they thought that Ford was like a California Mission referencing the school's red tile roof and tower details that call that type of architecture to mind. This made me very happy; my vision for an educational environment as a safe sanctuary has been realized.
Much like the feeling I had the day I spent in the garden with these same students, these are lessons that will be carried and accessed like talismans, woven into every aspect of their lives as they grow older and away from school experiences.
As I drive away from Ford at day's end, back across the Bay Bridge heading westward towards home in San Francisco, I can feel that the heat has broken and the fog, as if on cue, is rolling in once again. In the serenity of the moment I sense (as if realizing this for the first time) that it's much much better to give, and my soul smiles.
Mission accomplished; lesson learned.