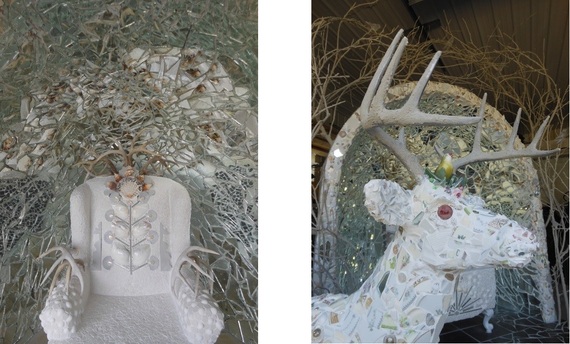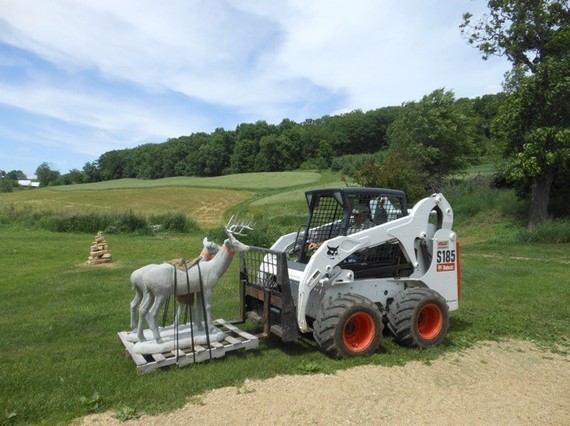 The white Christmas I'm thinking about this season has nothing to do with snow. Rather, it's all about a site specific art installation that occurred this October.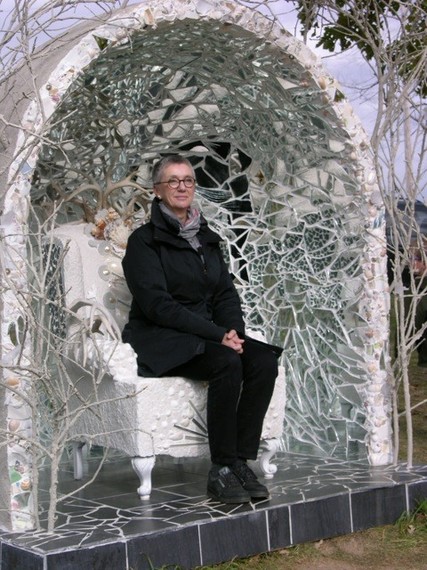 My friend (and son-in-law's mother, to be precise) Mary Dickey is an artist living and working in America's heartland -- Reedsburg, Wisconsin. Mary was selected as one of the 13 professional artists (from Wisconsin, Minnesota, Illinois, Kansas, Washington D.C., New York, California and New Mexico) to create a work of art for the 2014 Farm/Art DTour which is a 50-mile self-guided back roads tour by car, bike or buggy through the beautiful, unglaciated hills and valleys of Sauk County, Wisconsin. Mary's artwork, a roadside shrine titled "A Call to Beauty" would feel right at home in Narnia; her wonderland in white instantly piques one's imagination and stirs the soul. From Mary's point of view it's a different approach to urban design that acknowledges and celebrates the environment. And so I'd like to celebrate Mary, her exquisite talent and the local community that inspires her work.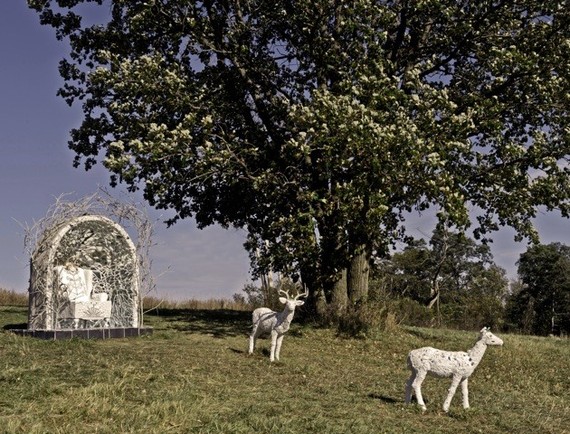 "A Call to Beauty" asks us to contemplate the idea of a creation and our place in it. It is a work of art inspired by Wisconsin's rich history of made environments and the profound unity of nature. Mary's piece invites one to leave the everyday, enthrone oneself and let the cherished white deer lead one's vision to the beauty of the Wisconsin countryside (to paraphrase the official event guide). The shrine was constructed and installed with the help of many of Mary's friends, especially Pat and Don Yanke who donated their barn and hours of expertise and hands-on help.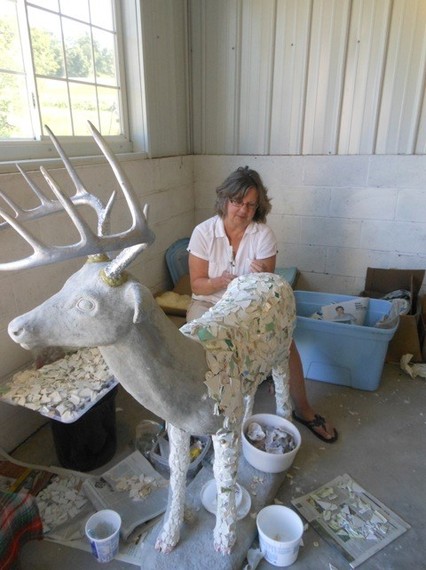 As Mary relates, "Don is a retired stonemason and problem solver extraordinaire, while Pat, retired from banking, is an artistic soul and mosaic expert. Other helpers included Nancy Appleyard, Patrice Luer, Annette Mahler, and Brandon Yanke. Actual installation was facilitated by Jeff, Pat, and Megan Wyman and Carolyn Brown, and landowner Tom Gillen."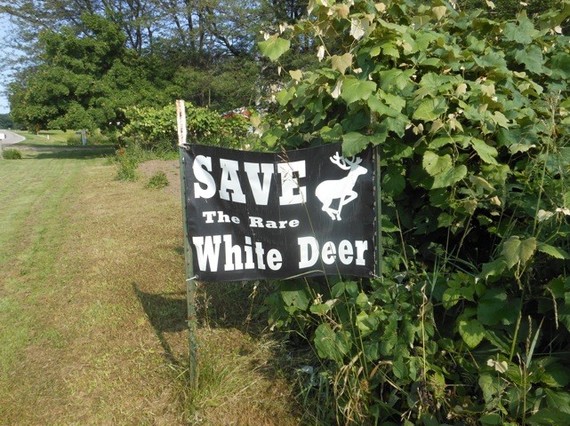 Mary's inspiration to include the white deer was motivated in part by a tragic event. There is a herd of local white deer near the Yanke property in rural Sauk County, Wisconsin. Several years ago during hunting season, hunters shot and killed several of the herd, which are cherished and protected by the neighboring farmers and landowners. Outrage at their killing led to a campaign to educate folks about the existence and importance of the white deer. Mary quotes the following from the Lac du Flambeau tribe as being influential in her decision to include the white deer in her piece: "The white deer in Ojibway culture represents the sacredness of all living things. They should be left alone, never hunted or bothered. When we see them, we should take notice of our own spirituality and think about where we are with it." (Quote attributed to a Lac du Flambeau elder telling about creation and the assignment of roles as leaders to different animals.)
This is an important moment in time for women artists everywhere. In the past month, we've witnessed Georgia O'Keeffe become "the world's most expensive woman painter" (per the Financial Times, 29/30 November 2014) following the sale of "Jimson Weed/White Flower No. 1" (1932) which made $44.4m at auction at Sotheby's -- nearly triple its estimate. And arriving in theaters on Christmas Day is the film "Big Eyes" which is based on the true story of Walter Keane, a successful midcentury painter (1950s/'60s) who gained notoriety via paintings of waifs with big eyes -- painted, in fact, by his wife Margaret who at 97 lives and still paints in San Francisco.
Mary Dickey is an artist who solidly remains true to her roots. She resides in rural Dane County and is represented by River Arts on Water Gallery, 590 Water Street, Prairie du Sac, Wisconsin. To learn more about Mary, her work and the Fermentation Fest and Farm/Art DTour, please visit the following websites:
www.riverartsinc.org
www.marydickey.com
www.fermentationfest.com
And so in celebrating Mary, I salute all women artists: be forever true to self and inspired always.
May your Christmas be merry and bright - and even white for that matter - if the fates allow.