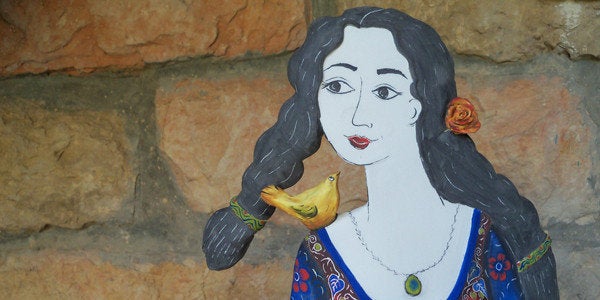 During a weekday morning in Ein Kerem, an ancient village of the Jerusalem District and now a neighborhood in southwest Jerusalem in Israel, locals stop for a leisurely chat before the day commences, a nun dawdles dreamily to morning prayer and children go to preschool. Resting in the sky, the dome of the Russian Orthodox Church engenders the image of an onion peel coated in gold petals. The real sounds of one of the most beautiful villages in the world are obscured on Saturdays, when the village is overwhelmed by the racket of tourists, processions of pilgrims murmur sacred words in tiny lanes and a long line of cars headed toward the center of the village impatiently blow their horns.
Take a day in beautiful Ein Kerem and get to know its many shades. Meet the artists, shops and restaurants that create an exceptional mosaic that is the village. Discover magical spots concealed in courtyards, pathways and bougainvillea trees concealing the secrets in veiled signs. I recommend that you don't go on a Saturday (but you can go on a Friday, for sure).
Secret Courtyard Artists
Start your day in a magical courtyard where exceptional artists have gathered to work their artistry. In a beautiful courtyard -- a restored ancient site with a blue door -- Zadok Yehuda, a jewelry wizard; Osnat Porat, a designer of beautiful clothes; and Hadar Kleidman, a folklore artist, create together, restoring its former glory by producing works and workshops that derive from ancient crafts.
Zadok Yehuda, an artist whose reputation was borne from his spectacularly simplistic jewelry, maintains the successful shop in the heart of the big city, but has settled in a place where peace and tranquility may inspire his work. Precious stones, gold, pearls and pure silver crumple under his hand, making rings, earrings, bracelets and pendants with an almost naive simplicity. They are beautiful and delicate, adorning the body, appearing natural as if they belong, as if they were always there.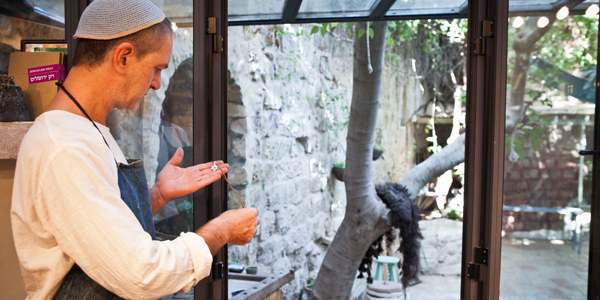 Strolling passed Yehuda's handicrafts, one will find Inbal and Osnat's fashion design studio. Both women are young and talented designers. Osnat creates the bag label OSA, and both design the clothing label Sala, a modest and simple line. There is something insane in today's era of excess, and both of their refined collections have fine and soft fabrics to enhance the style and the whole silhouette, various shades of light and dark color according to the season, taste and mood, and spectacular bags to be flung loosely on the shoulder and back.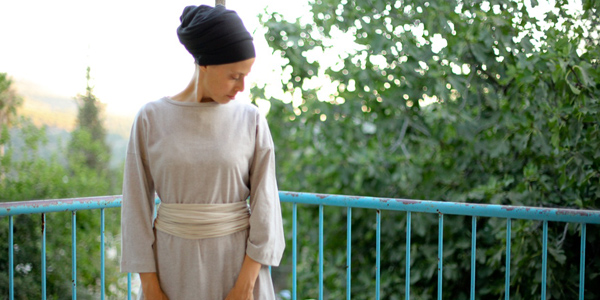 Senses are dimmed in a spot of pure beauty, such as this artist's courtyard. From Osnat's studio, cross to the other side of the courtyard and peek inside the unique shop "Objects of Coercion." Hadar Kleidman lives and works in this unique space, guiding groups and workshops in a variety of ancient crafts -- the kind that have been forgotten in the modern world and should be remembered. Are you wondering why? Then enter this house immersed in good energy and you'll understand the power and benefits of simple living. "Objects of Coercion" serves as a workshop for feminine crafts such as spinning, dyeing natural colors, knitting, basket making, weaving, embroidery and a bounty of hand crafts. There is also a shop selling handmade products. For those interested, there are also outdoor activities like gathering field plants to make natural cosmetics. If you're a group -- there are women who came for a different kind of day in the sun -- it is worth arranging a special workshop in advance, two hours of sinking your hands and mind into something and forgetting who you are. The workshop is accompanied by an assortment of Hadar's hand-baked goods.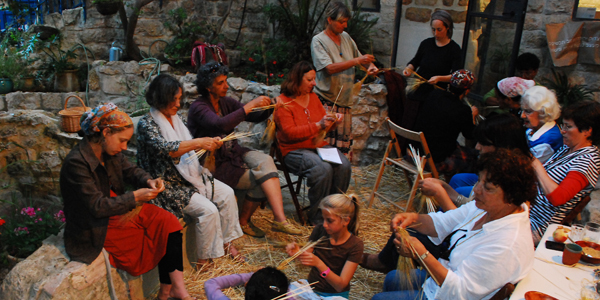 Woman and a Brush
After a short coffee break, if you will, diverge once again from the main road, this time following the beautiful, delicately painted signs to Adina Solomonovich's ceramics studio. There are many wonderful and talented artists creating ceramic pieces, but Adina's have outstanding brush strokes with her especially devoted paintbrush. Her hand-painted work is teeming with bright colors and expressive mysterious female images, and includes delicately painted tiles, mugs with flowers, sometimes also with fruit, and colorful crockery, pendants, brooches and gifts that are fun to buy, use and look at later at home. Adina possesses a distinct style, good taste and a lot of talent and beauty. Ceramic workshops may also be arranged.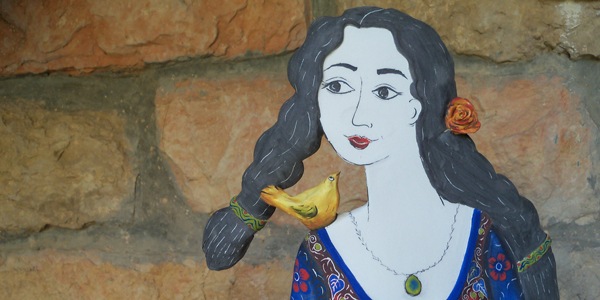 The Way We Were
Photo Antiqua is run by the photographer Hilla Gutrayman and provides an unforgettable experience -- pure escapism. Spend an hour or so in Hilla's studio, masquerading and toying with the range of 20th-century accessories. Become your chosen new character, don a dreamy expression of the period and get photographed by Hilla Gutrayman, a professional photographer who has a love for the romantic period, during which naivetᅢᄅ preceded wars.
Hilla began her business by dressing and photographing friends in the characters of stories and pictures from the period. The beautiful results led to significant demand for her work, which ultimately transformed her youthful "moonlighting" into a professional studio, specializing in period photography. Hilla's work reflects the culmination of in-depth research of the period and incorporates many details, including the photographic technique of the time, family hierarchy in family photos and the distinct posing for photos.
All you need to do is get motivated and into the head space of a heroic character that you once enthusiastically read about. After an hour of playing around, dressing up and having your photo taken, you'll have a charming memento that won't eternally leave the documentation of a family or couple as a yellowed picture. The photos can be taken as a couple, group or family, and are also very suitable for a bachelorette party or a social event.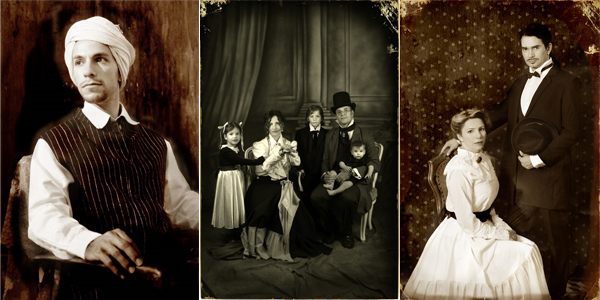 We Hadn't Yet Eaten
After such an exhausting day, one must eat -- and eat well, of course. Before giving my recommendation, I must first make a confession. Over the years, during which I covered restaurants and food establishments, I was a prisoner to the well-known conception that says that tourist areas (such as Ein Kerem on Saturdays), suffer from a lack of quality food places. This is a kind of a terrible formula, according to which there is an inverted relationship between quantity and quality. And lo and behold, during my urgent visits to Ein Kerem, I was pleased to discover a worthy food establishment, definitely deserving of a recommendation. The Brasserie is excellently located in a small side street, has a balcony with a view, a warm and inviting design, and of course, good food.
Liraz and Eran are the owners of the Brasserie -- she cooks and he welcomes the customers -- and together they take on the challenge of managing a restaurant that maintains high standards of food and service.
So what's on the menu? On the weekend there are high-quality breakfasts and brunches, and during the week, lunches and dinners. The menu is broad and diverse, with specials and winter dishes such as slow-cooked winter duck ragout with root vegetables, juicy chunks of steak,and other interesting dishes that are good looking and tasty. For a culinary adventure, it may be worth requesting Liraz's degustation menu, in which you allow her to spoil you with abundance and with her good, blessed hands.
So head to the beautiful balcony, sip a glass of wine from the region, watch the sunset over the onion peel and say thank you for this wonderful day.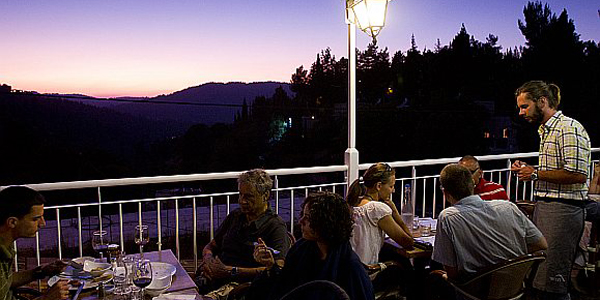 Photos By: PR, Aviv Naveh, Shay Zakai, Adina Solomonovitz, Hla Gutriemen, Yogev Doron.
This post originally appeared on Saloona.