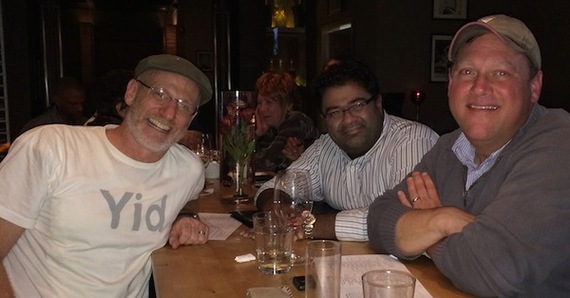 A Christian, a Jew, and a Muslim walk into a bar. The bartender says, "What is this, a joke?"
Actually, it's a true story: the Muslim, Rahmi Mowjood, ordered a virgin mojito and shared Sufi poetry. The Jew related how he became the Accidental Talmudist. And the Christian, Jason VanBorssum, proposed that we create a light-hearted lecture series called Sons of Abraham, in which we explore how our faiths augment our lives as husbands, dads, professionals and citizens.
Mulling it over, we realized we have more in common with each other than we do with secularists in our own families, despite our faiths being so different. Moreover, we all bristled at the subtle (and sometimes not so subtle) bias in mainstream media that views faith as a crutch for simpletons, rubes and bigots.
Talking religion over drinks, we learned a little, laughed a lot, deepened our bonds of friendship, and strengthened our respect for the faiths of our pals. The Sons of Abraham idea seemed promising, but many ideas sound good in a bar and amount to nothing. To test the waters, I mentioned Jason's idea on my Accidental Talmudist Facebook page.
The response was huge, with tons of encouragement and many invitations to create such a program in cities around the world. That support gave us the courage to take action.
On Thursday, May 29, the Sons of Abraham will come together at Temple Beth Am in Los Angeles for a light-hearted, high-minded public conversation about our three ancient paths to the One G-d. The event will be live-streamed, and moderated by Danielle Berrin of the Jewish Journal of LA.
We view the evening as an intra-faith dialogue. Inter-faith efforts tend to promote tolerance by putting a face on people of other religions, and that's great. But for us, tolerance is a non-issue. We're aiming for something deeper. We may hail from different religions, but we all live within a faith context, and through this intra-faith dialogue, we hope to enhance our own paths toward G-d by learning about each other's.
We tried it with our wives and kids during a recent Shabbat dinner at my house, and that was a big success, especially when we discussed what head-covering means in our respective communities. We weren't clergy tackling issues at a summit -- we were friends, talking about faith and family.
We hope next week's gathering at Temple Beth Am will provide all of us -- panelists and participants -- with the chance to explore faith as a point of commonality and compatibility instead of discord. The dialogue will be spontaneous and real. We'll be taking questions from people in the room, and from the online audience via social media (hashtag #sonsofabraham), thus enabling everyone to join the conversation.
No doubt we'll get some tough questions about unyielding traditions, confusing theology, and extremists within our communities. We'll certainly ask such questions of each other.
With Sons of Abraham, our goal is to change the sound of multi-faith dialogue through the conversation, laughter and honesty of three friends and a vocal audience. We envision this as the first of a long series of spirited dialogue programs, in Los Angeles and beyond.
I've always believed that a good conversation is one in which all participants learn something that none knew before. If that is true, so far, so good.
"Sons of Abraham: Talking Faith, Family and Friendship in the 21st Century" will premiere on Thursday, May 29, 2014 at 7:30pm (PDT) at Temple Beth Am, 1039 S. La Cienega Boulevard, Los Angeles, CA 90035.
To attend in person, email dsulzberg@tbala.org or call 310-652-7354 x215.

RSVP for the live stream, and learn more about the panelists at the Sons of Abraham Facebook Event Page
Questions may be asked during the event by commenting on the YouTube page, or by tweeting with hashtag #sonsofabraham.
--------------------------------------------------------------------------------
Salvador Litvak wrote & directed the Passover comedy and cult hit, When Do We Eat? His newest film, Saving Lincoln, explores Abraham Lincoln's fiery trial as Commander-in-Chief through the eyes of his closest friend, Ward Hill Lamon.
Sal shares a daily bit of ancient wisdom from the Talmud with a rapidly growing community at Facebook.com/AccidentalTalmudist.
To receive a brief notice when Sal posts something new at Accidental Talmudist, click here.