The seventh annual Northside Festival brought on musicians from all walks of life from all over the Earth to celebrate their craft and art in North Brooklyn. It was an incredible weekend and it needed to go out with a bang and they left it in the hands of the hottest duo in hip-hop right now -- Run the Jewels.
Walking on stage at 50 Kent to Queen's "We Are The Champions," the duo featuring Brooklyn's own El-P and Atlanta's Killer Mike, who had his arm in a sling as he still recovers from shoulder surgery, arrived to a heroes welcome as DJ Trackstar cut the music so the duo can say hi to crowd. "New York, we about to burn this the motherf**k down," Killer Mike exclaimed as they opened with "Run the Jewels." It was as if the heavens were listening or they are fans of the group, that burning that Mike wanted to do was immediately cooled as rain came pouring down on the fans who had fists and pistols made with their hands in the air, showcasing the groups logo, and created pandemonium in the sea of humanity as everyone got into the set right away. It was as if they entire weekend was building to this moment and if it was, no one was going to be let down.
"Brooklyn, I was born and raised here. This show is a life's dream for me," an emotional El-P said just a few songs into their set as he promised it to be a "Blockbuster Night," this of course was a segue into "Blockbuster Night Part 1." It was developing into what the song suggested. For Run the Jewels, this has been a blockbuster year for them. Since the release of last year's best hip-hop album, the duo released it as a free download as they did their 2013 self-titled LP, but it has been their latest that has brought them into the stratosphere. El-P and Killer Mike have been two very hard working and dedicated members of the music world but never got their full due respect -- until now. This past week alone has seen them play London, Bonnaroo and now Brooklyn, and this won't stop. The have been road dogs of rap together for two years and show no sighs of slowing down. The crowds are getting larger, the shows are getting flashier and most of all, these two look like they are having the time of their lives. "I know this is New York and most of you have brand new sneakers on, I am sorry you are wearing them, especially in the first 50 rows once this song comes on," El-P told the crowd as they went into their biggest single, "Close Your Eyes (And Count to F**k)." They know their audience, they know their fans and they know that what they have together is unstoppable. While, the reclusive former Rage Against the Machine frontman Zach de la Rocha didn't make an appearance like he did when the duo played Madison Square Garden in January opening for Jack White, the mayhem that they expected was in full effect.
As they ripped through tracks from their two album and brought out guests like Queens rapper Despot, Memphis rapper Gangsta Boo and El-P's former Company Flow DJ Mr. Len, they did have one special guest who took all of Brooklyn by surprise, another rapper from Queens but not just any rapper -- Nas. The Queensbridge emcee strutted out wearing a black hoodie as he did his classic "Made You Look." While Run the Jewels joined in on parts of the song, everyone on stage was just as thrilled to be there as the audience was to witness it. That type of camaraderie breeds creativity and it is just a wish that these three record together at some point.
This doesn't really need a witty caption: Last night during our set @Nas came out and did Made You Look #RunTheJewels pic.twitter.com/j4jP2eIoUV

— Ice Ventura (@djtrackstar) June 15, 2015
For just over an hour, Run the Jewels weren't just playing just another show, they weren't playing just another festival, they were playing to the hearts and minds of the crowd that braved the wind and rain during their set and the heat waiting for them to arrive. This is a duo that is not just the hottest names in hip-hop right now, they have been here, working their asses off for years and are proving they are here to stay.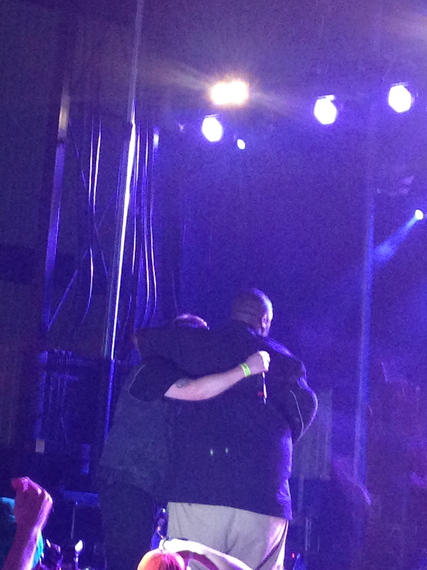 I can't even express how much that show meant to me, New York. thank you.

— el-p (@therealelp) June 15, 2015
A Version of This Article Appears on Officially A Yuppie