China presents a challenge in starting a business as a foreign firm seeking market share there. The business environment for Western-based companies is different from the typical international climate encountered elsewhere. One would be well-served to work with a Chinese consulting firm. Such consulting firm will help navigate the complex Chinese business system. The legal structure is unique, and various business models take into account the maturing nature of Chinese law.
Each of the potential Chinese business models accepted by the People's Republic of China (PRC) has its distinct advantages and disadvantages.One must evaluate their ability to meet corporate goals and financial objectives while minimizing risk. Here is a summary description of the two primary models: Sales Office via Labor Dispatch and the Wholly Foreign Owned Enterprise (WFOE).
Sales Office via Labor Dispatch Business Model
What is it?
A sales office via labor dispatch is a cost-effective solution for businesses that lack a local structure in China. This kind of service is provided by companies known as a Professional Employment Organization. A PEO can act as a subsidiary in China.The PEO provides the legal, fiscal and administrative requirements structure most companies lack when operating in China. This allows businesses to overcome many of the legal hurdles and delays in establishing a presence in China and leaves the company to operate and focus on strategy and marketing freely.
Foreign companies benefit from the fact that there is no direct employment relationship between the foreign company and their "dispatched" employees.The employee works under a contract signed with the PEO, and the foreign company enters into a contract with the PEO. This meets all the requirements of Chinese Labor Law.
The PEO usually provides a full HR and benefits package that covers: visas, payroll administration, expenses management, tax compliance, office rental (including real estate agent fees), and health insurance in compliance with Chinese labor law.
Advantages
No need to establish a local structure, saving time and money
Not limited by changing labor laws, visas, or other administrative hurdles
Allows a company to focus 100% on the business strategy togain market share in China
The most cost-effective ways to enter the Chinese market
Lower taxes as there isn't any local structure to be taxed. That burden is on the PEO.
Outsourcing of HR, fiscal and administrative procedures to the PEO, but remain with full control of the company
Disadvantages
All PEO's are not created equal. Finding a good labor dispatch partner is not easy.
Cannot request a credit bank
Time and Cost
The onboarding process varies depending on the dispatched employee's nationality. The process takes from 1 to 2 months.
The cost of labor dispatch is the dispatched employee's salary and expenses, plus the PEO monthly fee. That fee will vary according to the level of service chosen for the PEO. Issues to consider include office rental, insurance, etc.
Taxation
Social Security of dispatched Chinese employees. The Interim Regulations provide that all active Chinese employees must be enrolled under the government's social security system. The tax imposed is approximately 25% of the employee's salary.
Medical insurance must be provided for any foreign dispatched employees.
Income Tax is paid by the employer and not the employee as is common in most Western companies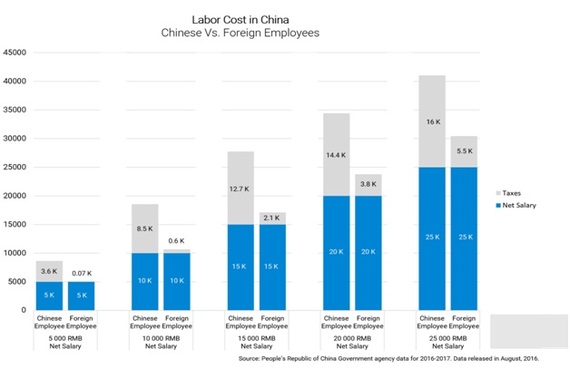 Wholly Foreign -Owned Enterprise (WFOE)
What is it?
From the Chinese government perspective, companies that are 25% or more controlled by foreign investors is a Foreign Invested Enterprise (FIE).The most common FIE is the Wholly Foreign Owned Enterprise (WFOE), which is a limited liability company. The original intent of the WFOE structure was to encourage the export of technology-driven manufacturing activities. However, in practice, it has primarily been used to set up management and consulting services for foreign companies looking to get a quick start in the Chinese economy. It is important to note that the capital used by the registered WFOE Company should be solely contributed by wholly foreign investors and not by a WFOE that already has branches established in China.
Advantages
Total independence in defining the business strategy
Makes protecting intellectual property easier
Can convert with ease earnings from RMB to EUR/USD/etc.
Disadvantages
The process of establishing a WFOE is complicated and long because of the need to develop a local structure within China.
Limits the company to a particular business scope
There are high capital requirements for certain kinds of WFOE's
Subject to all applicable Chinese taxes (Value Added Tax or VAT, Corporate, Dividend, and Income)
Time and Cost
The time required to process the WFOE application is not indicative of the total time to get it approved. Typically, it can take a year to complete the process.
A recent change to the Chinese WFOE regulation and resulting policy stipulates that there is no minimum registered capital required for WFOEs whose scope of business is consulting, trading, retailing, IT, etc. However, there is a minimum amount of registered capital that is obligatory for some industries, such as Banking, Forwarding, real estate agents etc.
Also, one must understand that the sector of activity doesn't require a minimum registered capital, but an initial capital investment is still required to be registered, as these funds are the ones used until the WFOE may become self-sufficient. A mistake in the calculation, may significate an extra capital injection, involving a complicated procedure and an additional taxation.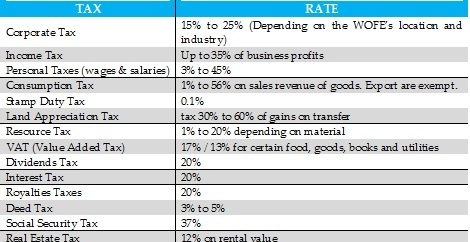 The potential benefits of competing in the Chinese market are vast. However, it takes patience, commitment, and investment to make it happen. If you're not prepared to stay the course and learn how to compete with Chinese state-owned enterprises (SOE), reconsider your business strategy.