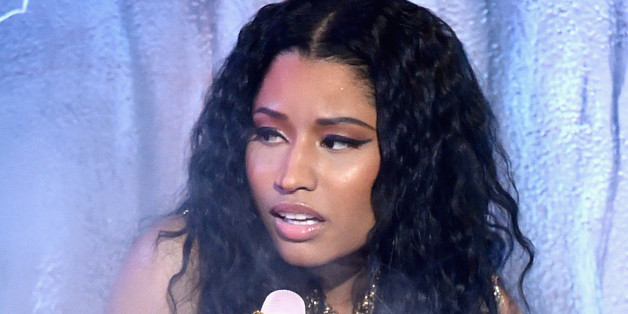 Being the father of a pre-teen girl is immensely confusing and incredibly frustrating. I have limitless, unconditional love for my girl; yet I'm petrified of the world she's growing up in. What she sees and what she experiences today -- and how those images and experiences affect her -- scares me to death. It makes my job as a father much more difficult.
It wasn't that long ago that I vehemently condemned Miley Cyrus for her lewd and promiscuous behavior during her infamous MTV Video Awards performance and the equally bizarre "Wrecking Ball" video. And now I'm faced with Nicki Minaj's latest single cover, which is a rear view of the singer squatting in a thong and sports bra. Needless to say, as a father, I'm not impressed.
I happily read the criticism that Chuck Creekmur, the owner of AllHipHop.com, levied against Minaj for presenting herself in this manner. "I was just disappointed," he wrote. "As a man, I can appreciate the virtues of your perfect posterior. The dad guy is not a happy camper, particularly now that his lil' girl is transitioning into a young lady."
"Amen, brother!" I yelled to myself.
Then I read about Nicki's response. She posted the most recent Sports Illustrated swimsuit cover that featured three supermodels in similar attire and positions on Instagram with the note: "Angelic. Acceptable. LOL."
Then she posted her cover picture again with the note "Unacceptable."
When I first saw Nicki's photo, I was appalled at the standard she was setting for my pre-teen girl, who seems to think that barely-there shorts and tank tops that reveal as much of her maturing body as legally permitted is the requisite uniform for her generation. Nicki's statement made me rethink my position, however.
Minaj is right. I saw that Sports Illustrated cover and didn't think twice about. I saw her cover photo and was indignant.
It's Not The Job of Pop Stars To Be Role Models
What struck me is that I've been approaching the issue of roles models -- and how I'm attempting to educate my daughter -- all wrong. Cyrus and Minaj have the right to present themselves in this manner if they believe it represents who they are as women.
My job is not to condemn them as poor role models for my daughter but to teach my little girl that women have the right to choose how they represent themselves. It's not the job of pop stars to be role models to my kids. That's my job.
While I'm disappointed that many young celebrities feel the need to show themselves off in this manner, instead of condemning them, we dads should use them as a lesson about the choices women have and how those choices affect them. Instead of calling young female celebrities names for prancing around naked in public, we should focus on our own daughters and instill in them a confidence that allows them to see themselves as more than sex objects. Removing the need or desire to exploit themselves will not be done by criticizing those women who do.
Our girls have choices; the world is their oyster. Let's not teach them to hate other women for their choices. If we do, they'll learn to hate themselves when/if they find themselves in a situation where their bodies are, voluntarily or otherwise, being objectified. Rather, let's lead them to make the right choices.
As the primary male figure in the lives of our daughters, we dads have an equal (if not more important) role to that of moms when it comes to building their self-esteem and the confidence they'll need to reject the pressures exerted by men or other women to be objectified. As men, we must be their role models.
Of course this conversation should be had with our young boys as well, but that's the subject of another post.

What are your thoughts? Are critics like Chuck Creekmur focusing on the wrong person when calling out Nicki Minaj?