I always kinda wanted to be a DJ, growing up, but I also knew that I probably wasn't cool enough. (My instincts were correct.) DJs seemed like people who managed the improbable balance of being profoundly passionate about music while also caring about absolutely nothing at all: From the vantage point of a clubgoer, the DJ is the one who knows exactly the right song to play, but executes it with an enviably carefree attitude. An expression of inscrutable apathy on their face with the cushy oval of one headphone pressed against their ear, the DJ was always the coolest person in the club -- but I knew I probably cared too much to ever play that part.
So last year, when a friend asked me to guest DJ at a club night she was throwing at a bar in lower Manhattan, I jumped at the chance; I learned to use Ableton, the software she said would be easiest to use (and it was!), and put together several hours of throbbing house music, matching the beats with religious intensity. But when I finally took my place in the DJ booth to a half-empty bar at Home Sweet Home on the Lower East Side, I was struck by how anticlimactic it all felt. Using Ableton was surprisingly intuitive, and as long as people knew the words and I kept the BPM high, it seemed, they'd dance to just about anything.
I DJ'd a few more times before my friend's stint at the club ended, and more or less resigned myself to a career of writing about music, rather than spinning it -- a role I was better suited for. But when I found myself on vacation in Mexico last month and I had the opportunity to DJ again, I felt certain that I'd take to it as easily as I had the previous year.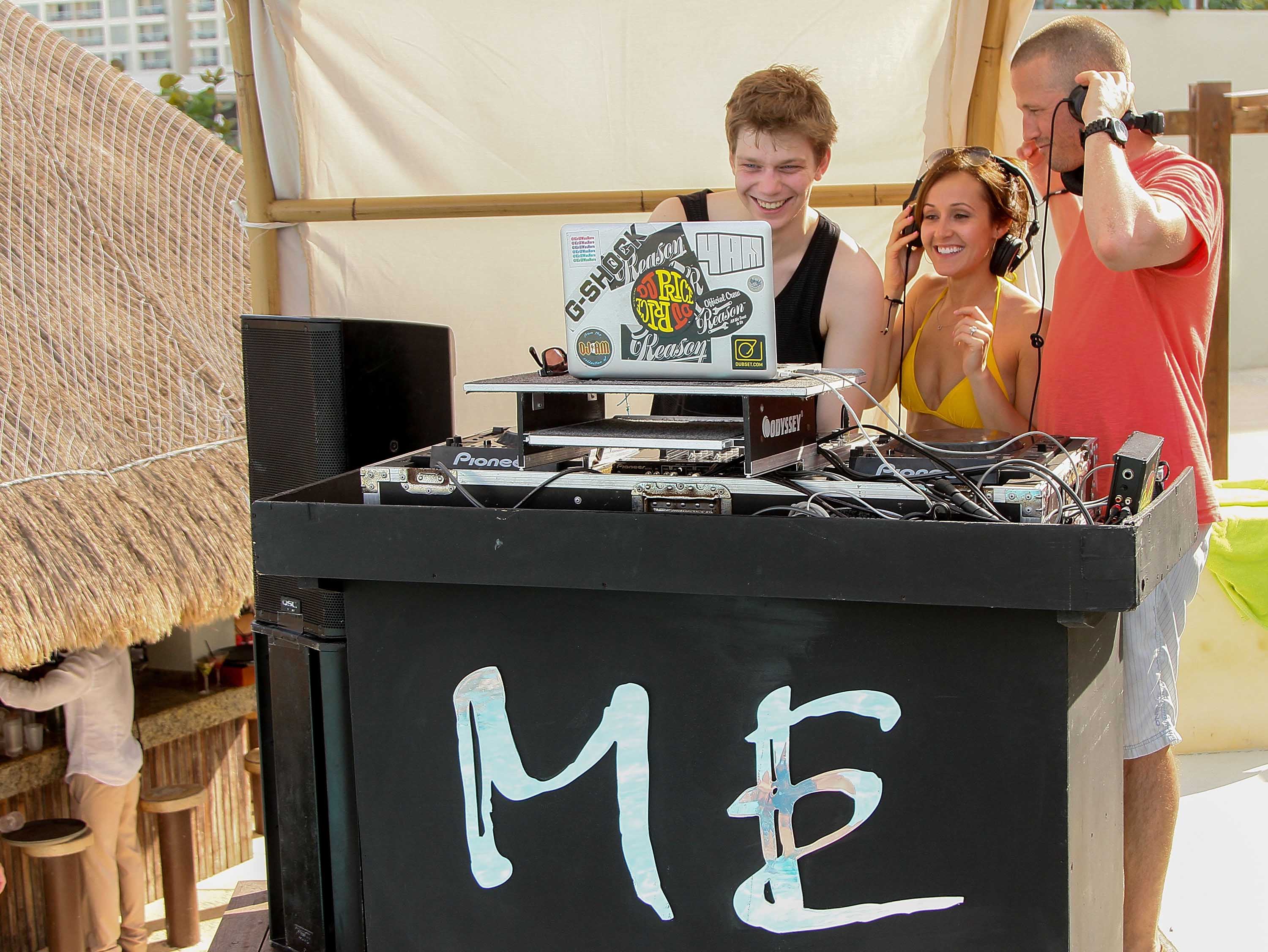 I was staying at the ME Cancun, an all-inclusive resort on the beach; they famously hosted The Real World: Cancun back in 2009, which aligns with the overall experience: glamorous and clubby, with infinity pools that sprawled dazzlingly onto the horizon and an oceanfront club packed with well-heeled vacationers. At night, house beats blasted from the speakers, the tropical air thick with hookah smoke. The resort was promoting a new amenity over Memorial Day weekend -- DJ Lab sessions, which allowed guests to receive a tutorial from the in-house DJ; in residence that weekend was DJ Price, a well-known New York-based DJ. He invited me up into the booth early one evening to teach me how he works. I felt, arrogantly, like I'd have an edge over any other guests who would have the same opportunity.
Like me, DJ Price was a kid who had gone to school on the Upper West Side and loved dance music; unlike me, he'd forged a successful career at it. I asked him how long he'd been doing it, and he said he'd started in high school. "They say you have to log 10,000 hours of something to be a professional at it," he said. I grimaced. In the club below, bargoers sat idly sipping tropical cocktails, oblivious to the education that was happening in the booth overhead.
DJ Price was using software connected to a set of computerized turntables; it looked intimidatingly sophisticated. We put on an Adrian Lux track and, per DJ Price's instruction, with headphones pressed up against one ear, I set to work playing with the turntables; nudging them forward sped up the beat. On his computer screen, a waveform showed the pulsating beat.
It took me a few minutes to get the hang of it, as DJ Price waited patiently for me to match up the bass throbbing in my ear with the tactile experience of pushing the turntable, but -- with the DJ's help -- I was able to successfully mix the Adrian Lux track, as it faded out, into a Swedish House Mafia single. It was more gratifying than I'd expected; nudging the beat forward manually was more difficult than having the beats matched automatically, and that made the reward greater in pulling it off. I felt, like a brief instant, like a real DJ -- the carefree guy in the booth, making the masses dance with one flick of his wrist.
And that night, Calvin Harris blaring from the speakers at Rose Bar, the sticky beach air heavy and fragrant, I took a walk down to the beach. I liked that I could hear the music on the ocean, so different from the urban grit of clubs in New York or Las Vegas, and I liked, too, that I wasn't responsible for it. Better to leave that responsibility where it belonged: in the hands of the professionals.