**PROGRAMMING ALERT: You can catch Sam LIVE on the air Tuesday night on WCRX Chicago 88.1 FM and WCRX.net from 7-9 p.m. CST breaking down the entire 2010 NCAA Tournament. The best teams, most prepared coaches, prime time players and of course, the Cinderellas prowling around for a shiny new slipper. Don't be late.**
Selection Sunday has come and gone and the 65 team field is finally complete for the 2010 NCAA Men's Division I Basketball Championship. Now, the best part can begin -- the bracket contests. Whether it's a cheap five dollar pool with friends, an office-wide battle royale with co-workers or just an opportunity for bragging rights, filling out a March Madness bracket has became a national staple. People of all ages throw on their thinking caps and attempt to fill in the blanks on the road to the Final Four.
The most exciting part about March Madness is that there are no guarantees. While the tournament was founded in 1939, last season was the first time that all No. 1 seeds won their respective regions. So if you're one of those people that goes chalk every game, try and mix things up. Root for the underdog. Pick your alma mater to knock off Goliath. Expect the unexpected.
Today, I've clacked away at my keyboard for six hours in an attempt to give my perspective on this year's dance. While I'm not making any guarantees or "locking" anything, I'm using my experience covering and playing basketball to predict what might happen over the next 18 days. Analyzing March Madness is about crunching numbers, dissecting matchups and most importantly, going with your gut. I'm confident in my selections (ask me how I feel in two weeks) and I've spent far too much time playing out these games in my head.
Maybe you'll reference this article while sitting down at the kitchen table, coffee cup in hand, filling out your bracket sheet ... or maybe you'll break out in hysterics and laugh in my face. Either way, best of luck to all and enjoy the Madness.
**Download Sam's cheat sheet for all you need to know about every team in the field.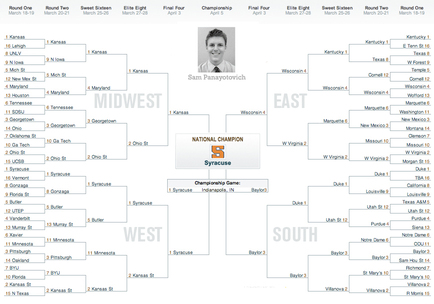 (Click to enlarge)
Opening Round
"Ring the bell you pansy."
Midwest Region
#1 Kansas over #16 Lehigh
Where the hell is Lehigh? Rock Chalk, Jayhawk.
#9 Northern Iowa over #8 UNLV
For the first "flip a coin" 8-9 matchup, I'm siding with the Missouri Valley champs. The Panthers' ability to convert at the foul line propels them at the end of the day and I'm partial to tough-as-nails Jordan Eglseder in the paint for UNI.
#5 Michigan State over #12 New Mexico State
Don't get too comfortable Sparty, the Aggies are a live dog that will make things interesting. Still, I cannot, will not, knock a Tom Izzo coached team out in the first round. Ever. Seriously. He runs the best offensive sets in college basketball and thanks to some incredible halftime adjustments, MSU rolls on for now.
#4 Maryland over #13 Houston
Love Josh Pastner, but it's nice to see Memphis out of the field with the Cougars tournament win in C-USA. That said, the inside-outside combo of Vasquez and Milbourne for the Terps holds true. Plus, how can I go against somebody named Greivis? I don't even know where to start explaining that parental decision.
#6 Tennessee over #11 San Diego State
Much love to the MWC and it's superb play all season long. Still, I think when it comes down to crunch time, Tennessee prevails because of their strength of schedule. I hate using tournament selection statistics, but the Vols are the only team in America that knocked off No. 1 (Kansas) and No. 2 (Kentucky) this year and behind the X and Os brilliance of Bruce Pearl and the orange blazer, Rocky Top will advance.
#3 Georgetown over #14 Ohio
Ohio's Armon Bassett (formerly of Indiana University) is an absolute scoring machine, but just too much versatility, especially strength down low for the Hoyas. Greg Monroe goes hog wild as John Thompson III and Co. move on to the field of 32.
#10 Georgia Tech over #7 Oklahoma State
Yes, the ACC was pretty weak this season, but the Twin Tower duo of Gani Lawal and Derrick Favors lives up to their billing and takes care of business. The Yellow Jackets are long armed and extremely athletic, hence they'll be able to close out on the Pokes' shooters. James Anderson might be the hardest shooting guard to face guard in America, but it's not a complete circus with just one lion.
#2 Ohio State over #15 UC Santa Barbara
I hate Evan Turner almost as much as I loathe the Buckeyes.
West Region
#1 Syracuse over #16 Vermont
Remember when T.J. Sorrentine hit that 26-foot three bomb in the 2005 tournament to secure the first round upset for the Catamounts? Yeah, so does Jimmy Boeheim. Revenge! Clap, clap. Revenge! Clap, clap.
#8 Gonzaga over #9 Florida State
Hate backing the Zags so far away from home, but after glancing at my cheat sheet, Gonzaga has the definite edge. Mark Few hasn't lost a first round tournament game since the Dan Dickau days (nice alliteration), and the Dog Pound lives to see another day behind the gritty play of Matt Bouldin.
#5 Butler over #12 UTEP
Scary situation for Brad Stevens and the Bulldogs. UTEP is a solid team with loads of athleticism and team speed. Still, perfect example last year wherein Michigan State slowed down Louisville and turned the game into a half-court contest. Butler's been around the block and their patience on offense guides them into the weekend.
#13 Murray State over #4 Vanderbilt
Upset alert! Out of the Ohio Valley, the Racers are going to love playing with Vanderbilt in a quick paced, high octane game. It's their bread and butter and if Aska and Jenkins can slow Jermaine Beal, I like Murray State's chances. Plus, my buddy Mark Oliver plays linebacker at MSU so there's some irrelevancy.
#11 Minnesota over #6 Xavier
I rarely have qualms with the selection committee, but how do they put Minnesota in the field and leave Illinois out? Doesn't make sense. The Gophers get pummeled by 30 on national television Sunday and yet they're still dancin'. What the hell, Lawrence Westbrook (cousin of Brian) hits some big shots down the stretch and Tubby Smith can start making some much desired moves.
#3 Pittsburgh over #14 Oakland
Not to be confused with the Californian birthplace of Gary Payton, Oakland University calls the Detroit metropolitan area home. Yay for Henry Ford and Barry Sanders. Move along people, nothing to see here.
#7 BYU over #10 Florida
Taking out my anger on Florida for bursting the Illini bubble and hijacking one of the final at-large bids. Did anybody catch Jimmer Fredette score 45 points in the Mountain West semifinals the other night? Kid's got a sweet shot and can stroke it from anywhere on the court. Talk about a H-O-R-S-E matchup nightmare. Chalk up a 'W' for the alma mater of Jim McMahon, Steve Young and Ty Detmer (chuckle).
#2 Kansas State over #15 North Texas
I side with the Wildcats only because Frank Martin made me an offer I couldn't refuse. Only kidding. Kinda. Man does he look imposing on the sidelines. He runs that team like an outfi... nevermind. K-State.
East Region
#1 Kentucky over #16 ETSU
Say what you will, but I think at this stage in his career, John Wall is a better leader and more efficient point guard than Derrick Rose and Tyreke Evans were. Question remains, will J-Wall be dancing his way to the Final Four like Rose did or find himself on the outside looking in like Evans' squad was last season? Stay tuned.
#8 Texas over #9 Wake Forest
I've got a soft spot for Dino Gaudio, but the man just isn't a great preparation coach. We saw this on the big stage last year when Cleveland State walloped the Deacs in the first round. This year isn't an upset, but I've still got Wake boarding a flight home faster than Dexter Pittman polishes off dinner rolls at the Old Country Buffet.
#12 Cornell over #5 Temple
One of the better games of the entire tournament will feature two old-fashioned styles of play from two upper northeast teams. The Big Red are sensational from downtown (43 percent) and their clutchness (is that even a word? where's my dictionary?) at the charity stripe in the closing seconds pushes the Ivy Leaguers onward bound.
#4 Wisconsin over #13 Wofford
Bo Ryan's team is going to be DANGEROUS this March. Be on the look out for the Badgers, the nation's most efficient defense by far. Wisky's tenacity on the glass, length in the paint and the senior experience of Trevon Hughes makes the Cheeseheads a true force to be reckoned with.
#6 Marquette over #11 Washington
The Eagles can thank their strength of schedule in the Big East, which prepared them mightily for the much weaker Huskies. You know the Pac-10 is experiencing a recession when California wins the regular season tournament. By the way, former Marquette swingman Wesley Matthews is playing very well for the Jazz in the Association.
#3 New Mexico over #14 Montana
Steve Alford the recruiter: excellent. Steve Alford the coach: meh. The Lobos should coast to the finish line against Montana, but I question their ability to make a deep run. It's too bad, because Hobson and Martinez are fantastic guards in the New Mexico backcourt.
#10 Missouri over #7 Clemson
Is the curse of K.C. Rivers finally over? No. Because Trevor Booker can't win an NCAA tournament game either. The easterly Tigers are brick layers at the foul line and I love the westerly guard combo of Kim English and J.T. Tiller. Mizzou made a nice run last season in the dance and the majority of that core is ready for more.
#2 West Virginia over #15 Morgan State
Wait, isn't West Virginia University in Morgantown? I'm confused.
South Region
#1 Duke over #16 TBA
Duke in a nail biter...
#9 Louisville over #8 California
(Something about how bad the Pac-10 was this season).
#12 Utah State over #5 Texas A&M
My boy Ron Franklin loves him some Aggies, but I look at the glass half empty. Utah State has the luxury of playing in close proximity to their home fans and they will hurt you from just about everywhere. USU is one of the purest shooting teams in the entire tournament and they're starving for a Sweet 16 berth.
#4 Purdue over #13 Siena
Last year, Ohio State fell victim to the Saints in the first round. In fact, Siena has pulled first round upsets the last two seasons. Still, I really question their ability to contain a HUNGRY Purdue team, one that was flat out embarrassed in the Big Ten tourney against Minnesota. This team is extra motivated and I really don't see JaJuan Johnson being stopped. I feel kinda bad eliminating the underdog, especially because I wanted to see Just-in'love Smith advance. What a name.
#6 Notre Dame over #11 Old Dominion
Banged up knee and all, Luke Harangody is logging less than 25 minutes a game. And to be quite honest, I think the Irish really only need five good ones from their wounded superstar and it would probably be enough. Huge mismatch in favor of Notre Dame.
#3 Baylor over #14 Sam Houston State
One of my sleepers this season, the Bears are an extremely versatile team that can do damage from just about every where. I love their swagger, but they need to remember not to overlook their inferior opponents. Stay focused, play nice and step right this way.
#10 St. Mary's over #7 Richmond
My boy Apathy and I cannot stand Omar Samhan. Seriously. Still, Mickey McConnell's game is silky smooth and I've got much respect for the Gaels, a team that boasts five players from down under. Fosters. Austrailian for beeeee-uhhh.
#2 Villanova over #15 Robert Morris
Is this the Robert Morris University of Chicago? Lifeline anybody?
--
Second Round

"Does the slipper really fit?"
Midwest Region
#1 Kansas over #9 Northern Iowa
Ongoing proof that senior point guards are ever-so important, Sherron Collins single-handedly wins this ball game for the Jayhawks. His combination of talent, quickness and athleticism alone should be more than enough against a mid-major team like the Panthers. Jordan Eglseder will have his hands full with Cole Aldrich and Northern Iowa never really gets a chance to lift their wheels off the ground.
#4 Maryland over #5 Michigan State
Hate myself for knocking the Izzone out in the second round (and I hope it comes back to burn me) but I really feel this team is one year away from another special run toward the Final Four. Not having Travis Walton and Goran Suton -- two backbones from last season -- hurts Sparty defensively and I question whether or not young shooters Chris Allen and Durrell Summers are ready to carry the load offensively with the bright lights shining down. Greivis Vasquez, who's been in college forever it seems, gets a chance to experience the Sweet 16 for the first time in his storied career.
#3 Georgetown over #6 Tennessee
The clock strikes midnight on the Vols as yet another ballclub has no answer for Greg Monroe. The big man from the bayou has the advantage of going up against a much smaller Tennessee frontcourt, and the guard play of Austin Freeman and Chris Wright has the Hoyas ready for a showdown with...
#2 Ohio State over #10 Georgia Tech
Still hate the Buckeyes more than any team in America and laugh at the comparisons of Evan Turner to Scottie Pippen (give me a break)! Still, with how Ohio State has heated up since Turner's return -- running total has Brutus at 17-3 -- it's hard to imagine Thad Matta's bunch out of competition until at least the Elite Eight. William Buford and David Lightly steal the spotlight and send OSU to the Sweet 16.
West Region
#1 Syracuse over #8 Gonzaga
In search of a deep tournament run, The Bulldogs run into yet another wall in what serves for all intents and purposes -- a home game for the Orange. Playing in Buffalo just hours away from campus, Wesley Johnson, Andy Rautins and Co. have one mission on the mind: Indianapolis. Cuse wins handily over the Zags.
#5 Butler over #13 Murray State
It's real simple: if Butler sloooows things down like they did against UTEP, they win. Murray State is another team that's going to try and race out of the gate, but the patience of Shelvin Mack and Gordon Hayward will control the outcome of the game. Matt Howard and Derrick Caracter will be a very interesting battle in the paint, but Butler's poise and familiarity with the NCAA tournament wins out.
#11 Minnesota over #3 Pittsburgh
I've said all season long that I'm not sold on Pitt at all. You don't lose three stars (Sam Young, DeJuan Blair and Levance Fields) and make deep runs in the tournament. After struggling against Oakland in the opener, Pitt is unable to keep up with the athleticism of Minnesota. Westbrook, Davoe Joseph and Damian Johnson are difficult to matchup with and while Jamie Dixon's a solid coach, Tubby Smith gets the last laugh.
#2 Kansas State over #7 BYU
Just like Cuse at the top of the bracket, K-State enjoys a very easy road in Oklahoma City to the regional semis. The Wildcats are a well-fueled machine with two upperclass guards and massive bodies on the low block. Denny Clemente and Jacob Pullen are finally living up to the hype and should place the purple and black in the West final.
East Region
#1 Kentucky over #8 Texas
I really had high hopes this season for the Longhorns, who collapsed out of nowhere in late January. The loss of true point guard Dog Balbay prolongs the hurt for the Hook 'Ems and unfortunately for Texas faithful, Avery Bradley and Justin Hamilton are going to want to run out in transition. Too bad that's exactly what Kentucky wants as I feel the Wildcats are the best fast break team in the nation. Dexter Pittman is big and bold but even he can't handle the combo of DeMarcus Cousins and Patrick Patterson.
#4 Wisconsin over #12 Cornell
Never getting the credit they deserve, Cornell will open a lot of eyes, keeping this one relatively close in the first half before Trevon Hughes simply takes over down the stretch. The senior point guard has ice water in his veins and with an extra week to let his sore ankle heal, the Badgers move forward for perhaps the most interesting Sweet 16 matchup against John Wall and Kentucky.
#6 Marquette over #3 New Mexico
Buzz Williams has himself a dangerous ball club as Marquette is one of the most efficient offenses in the country. They share the sugar better than most and rarely turn the ball over. Running the tempo of the game will be key for the Golden Eagles against New Mexico... that and keeping the Lobos from getting open looks from downtown. Both teams are perimeter-oriented and Lazar Hayward will be the ex-factor in a big win for the city of Milwaukee.
#2 West Virginia over #10 Missouri
The Tigers are one of the most difficult teams to match up with, however, the Mountaineers have a huge advantage in the low block. With DeMarre Carroll no longer battling the paint, the key to knocking off Mizzou is banging down low. And with the formidable combo of Devin Ebanks and Kevin Jones inside, WVU can do just that. De'Sean Butler's perimeter game only sweetens the pot.
South Region
#1 Duke over #9 Louisville
Love me some Rick Pitino, but Edgar Soso is one of most erratic, irresponsible point guards in college basketball and I would not trust him running my offense. Louisville lives and dies with the three ball which isn't the greatest game plan against a long, athletic Duke team. Samardo Samuels will get his for the Cards, but the three S's -- Singler, Scheyer and Smith -- live to see another day.
#12 Utah State over #4 Purdue
I always give the Big Ten its due in the NCAAs and usually guide its teams to the Sweet 16 in my bracket. However, I give the Aggies the slightest nod because of the competitiveness they possess and a possible letdown for Purdue after a blowout opening round win. Utah State is a team that just doesn't make many mistakes.They limit their opponents to tough, contested shots and on offense, ball movement is crucial. One of the better games in the tournament, USU moves on with a huge shot from Jared Quayle in the final minute.
#3 Baylor over #6 Notre Dame
With the revival of ND basketball and the heroics of Luke Harangody off the bench, you'd think Mike Brey could pitch this script in return for a Hollywood blockbuster. However, the luck of the Irish runs out as Notre Dame frankly has no answer for the versatility of Baylor. You simply cannot slow the Bears down; you can only hope to contain them. LaceDarius Dunn and Tweety Carter are two underrated playmakers and with size inside, Baylor is poised for Indianapolis.
#10 St. Mary's over #2 Villanova
This won't be a popular pick by any means, but I point directly to Nova's struggles down the stretch. The Wildcats started out on fire, jumping out to a 20-1 start, but have dropped six of their last 10 games. Many feel it was the physicality of the Big East that wore Jay Wright's bunch down, but honestly, I never really bought the hype. Scottie Reynolds is a special player, but without viable options in the paint to cover Omar Samhan, Villanova is certainly vulnerable. And with the way the Gaels can light up the nets from long distance, watch out for this live underdog.
--
Sweet Sixteen

"Where dreams become reality."
Midwest Region
#1 Kansas over #4 Maryland
The key to beating the Terps is to play big and be aggressive on the low block. Luckily for KU, they've got an absolute bison in Cole Aldrich and the twins Morris have matured by leaps and bounds in the past couple months. The speed of Sherron Collins will have General Greivis dead tired in the final eight minutes as the Jayhawks cruise to a fairly easy victory to move on to the Elite Eight.
#2 Ohio State over #3 Georgetown
As much as it pains me to say it, there's something special about the boys from Columbus this year. All signs point to Evan Turner igniting the Buckeyes and stirring the proverbial drink, but in reality, they have three very adept guards. Don't sleep on Buford and Lighty in the backcourt. Their ability to wreak havoc and force turnovers on the defensive end opens up three-balls (especially for Jonny Diebler) in transition. Greg Monroe will be a force for the Hoyas, but knowing that OSU can interrupt the flow of G-Town's offense, I like the Big Ten to move on in a game consisting of a much slower, more comfortable style of play for OSU. Winners of 11 of 12, the Buckeyes are rolling at the most important time of the year.
West Region
#1 Syracuse over #5 Butler
Sheer and utter domination as the Bulldogs simply do not have the horses to keep up with the Orange. Cuse can score from everywhere on the floor and I have a hard time believing that Butler will be able to run up and down the floor hand-in-hand for 40 minutes. Team speed and fast paced play will be two huge pluses for Syracuse as they keep on keepin' on toward the Final Four.
#2 Kansas State over #11 Minnesota
The Gophers are the type of team that can give K-State fits, however, I really believe in Denny Clemente and Jacob Pullen, two guards that have been surrounded by controversy and question marks throughout their careers. They seem to have everything together finally and seem destined for a showdown with Cuse. If the Wildcats stay aggressive and drive the ball to the bucket, they'll prevail.
East Region
#4 Wisconsin over #1 Kentucky
In one of the biggest possible upsets of the entire tourney, the Badgers stingy, half-court style of basketball will give Kentucky fits. When able to run and gun all game long and bust open in transition, the Wildcats are second to none. However, in order to beat Kentucky, you have to swing the pendulum and make John Wall beat you in the half court game. I cannot recall one time all year in which the Cats have been pressed to convert offensive sets. The SEC is a free-for-all with fast breaks and broken plays and that's why Kentucky has thrived. I love Trevon Hughes matching up with Wall and the efficiency of Jon Leuer and Jason Bohannon on both ends of the floor. Wisconsin doesn't take bad shots and on defense they force their opponents into low percentage areas of the floor. You heard it here first, Bucky Badger is going to shock the world.
#2 West Virginia over #6 Marquette
This Big East battle will come down to the wire just as it did in conference play when Marquette fell to the Mountaineers by a mere point. Still, I feel the outcome will be much of the same as WVU's presence in the paint will be the difference. Marquette is a small, guard-oriented team that does not want to bang down low. They'll have no choice though as Bob Huggins will pound, pound, pound to Ebanks and Jones.
South Region
#1 Duke over #12 Utah State
Believe me, it's hard trusting the Dookies knowing full well that they haven't reached the Elite Eight in six years. Still, with this cakewalk of a region, I would be utterly shocked if the Devils don't make the regional final in Houston. Utah State's Cinderella story can only go so far and I hate the way their long ball barrage matches up with Duke's stingy perimeter defense. Singler and Zoubek will be the ex-factors as post play is non-existent for the Aggies.
#3 Baylor over #10 St. Mary's
Playing a little over 160 miles from Waco, the Baylor Bears have a wide-open path for a showdown with Duke. And while I love me some WCC, the Gaels (like Utah State) are not going to shoot themselves into the Elite Eight. Omar Samhan will find it much harder to maneuver around BU bigs Udoh and Acy and with the two-headed monster of Dunn and Tweety Carter leading the charge, Baylor -- I still can't believe it -- will be playing for a berth in the national semifinals.
--
Elite Eight

"Separating the men from the boys."
Midwest Region
#1 Kansas over #2 Ohio State
Finally, poetic justice for the Buckeyes, who have absolutely no answer for the depth of KU's frontcourt. After Dallas Lauderdale gets into foul trouble about ten minutes into the game, the next line of defense will be... Ryan Madsen? Hm. That's what I thought. Big ups to Evan Turner for transforming this team into a serious contender, but Aldrich, Henry and the Morris twins prove to be far too much to handle for a guard-heavy Ohio State squad. Then there's that Collins guy too.
West Region
#1 Syracuse over #2 Kansas State
Both teams have two-headed monsters: Johnson and Rautins for Cuse, Clemente and Pullen for K-State, so this game will come solely down to the better supporting cast. In that scenario, the Orange have a definite edge with five players averaging double digits. Don't forget about the Jardine/Triche combo either, those two young guards score nine points per as well. Cuse's zone defense will challenge the Wildcats to win this one from the perimeter, which is exactly where Boeheim wants this one to go. The only chance K-State has of winning is penetrating the lane and with how happy-go-lucky their triggers are from downtown, that's highly unlikely.
East Region
#4 Wisconsin over #2 West Virginia
A definite dark horse to make it this far, the Badgers continue their magical run to Indianapolis with a huge win against the beasts from the Big East. I'm sticking with the same reasoning as the previous round: Wisconsin's style of play is going to frustrate the garbage out of WVU and have them on their heels all game long. At this point, fouls will add up and Huggins worst nightmare will come true -- he'll have to go to his bench. The Badgers commit the fewest turnovers in the nation, have five scoring options and boast the highest defensive efficiency. Congrats to Bo Ryan, if Wisky makes it this far, he's a shoe-in for National Coach of the Year.
South Region
#3 Baylor over #1 Duke
Home court advantage cannot be underestimated in any round, let alone with all the added pressure of the Elite Eight and what's on the line. Baylor has developed quite a following in the southern United States and like Wisconsin in the East region, the public will be cheering hard for the underdog. On the floor, the Bears are one of the biggest teams in the entire field, they're not scared to attack the basket on offense and on defense, they dare you to shoot over their zone offense. Granted, Duke isn't a team you want picking apart a zone, but the Devils can feel the heat and they are extremely vulnerable away from the eastern seaboard. Playing in front of loyal Texans, the Bears punch their ticket for Indy, making their first Final Four in 60 years.
--
Final Four

"Heroes get remembered, but legends never die."
#1 Syracuse over #1 Kansas
Everybody in their mother is underrating the Orange because of the blow to Arinze Onuaku's right quad and their back-to-back losses coming into the dance. First off, let me point out that Syracuse lost only one -- that's right, one -- road game all season long. When Cuse is firing on all cylinders, I honestly don't think there's a team in the nation that holds a candle to them. Coming out of the toughest conference in America, the Orange had multiple convincing wins including: at home vs. West Virginia, at Notre Dame by 13, vs. Georgetown by 17, at Georgetown by 4 and a beatdown of Villanova by 18 in late February. Sure, Rick Pitino outcoached the Orange twice, but do you really think Bill Self is going to win the Xs and Os against Jimmy Boeheim? Think about it. And is the competition that the Jayhawks faced in the Big 12 better than the strength in numbers that the Big East offers? No chance in hell. The Orange start four upperclassmen and sophomores Kris Joseph and Scoop Jardine are special players. Outside of Collins and Aldrich, in all reality, KU is very young. Do you really trust the Morris twins going up against the physical combo of Rick Jackson and Onuaku in the battle-tested 2-3 Cuse zone? Is All-American candidate Wes Johnson going to be outplayed by freshman Xavier Henry? Highly doubtful. Syracuse is more experienced, they're deeper, they're stronger in numbers and Boeheim is twice the coach Self is. I love Sherron Collins's swagger and Aldrich's toughness, but the best team is going to win this national semifinal -- and overall, the Orange are the better team.
#3 Baylor over #4 Wisconsin
The Badgers knocked off Kentucky in my bracket because of the Cats inability to get the job done in half-court sets. Baylor on the other hand, is an entirely different monster. They can play you fast, run with you or slow things down and run offensive sets with great experience out of the backcourt with Dunn and Carter. The Bears are a tough, physical team not to be confused with the flashiness of Kentucky. Scott Drew is one of the best in the nation at making coaching adjustments and he will pound the ball down low to his bigs. Plus, they don't need to knock down triple after triple to win this game. They're smart enough to attack the basket and get to the foul line where they've been connecting all season long. 6-10 Ekpe Udoh has developed into a huge asset down the stretch and paired with 6-7 Quincy Acy and 7-0 Josh Lomers on the frontcourt, Baylor has a size and experience edge over Wisconsin. This game will be a constant chess match between Drew and Bo Ryan, but in the end I think Baylor just has too much strength for the Badgers. Don't think for one second that "the Bears are a bunch of fast athletes that can do nothing but shoot," because you couldn't possibly be more wrong with that assessment.
--
The National Championship 

"One shining moment."
#1 Syracuse over #3 Baylor
Let's take a trip down memory lane. After the end of the 2008-09 season, after Syracuse lost Eric Devendorf and Paul Harris to graduation and Johnny Flynn to the NBA Draft, many forecasted a hit-or-miss year for the Orange. That is, however, until the entire landscape of the team changed when Mr. Wesley Johnson cleared his transfer from Iowa State and joined the squad. Scoring can literally come from anywhere on the court for Cuse. Onuaku and Rautins are both 1,000 point career scorers and Johnson adds another dimension -- the ability to attack the defense off the dribble and open up his spot shooters or the entry pass into the bruising big men. Baylor will try and stick with zone defense, but just as Cuse has done all year long, they will hit their three balls. Rautins is pure from deep, Johnson has improved tremendously and as a unit, the Orange shoot 40 percent from three-point land. It's more than just Johnson's slashing though; Cuse's top three scorers are all playmakers. They all create for each other. It's very rare in today's college game for multiple players this talented to share the rock as fluidly and intelligently as Syracuse does. They're the most unselfish team in the country and like mentioned earlier, when they are all on the same page, I do not think anybody can beat them. They've handily dispatched some of the best teams in the entire tournament (some more than once) and behind the X and Os knowledge of Boeheim, I love Cuse to cut down the nets for the second time this millenium. The Orange don't have a Carmelo Anthony this time around, but this bunch is better overall and what's even scarier -- they might even be more dangerous on defense than at putting the ball in the cup.