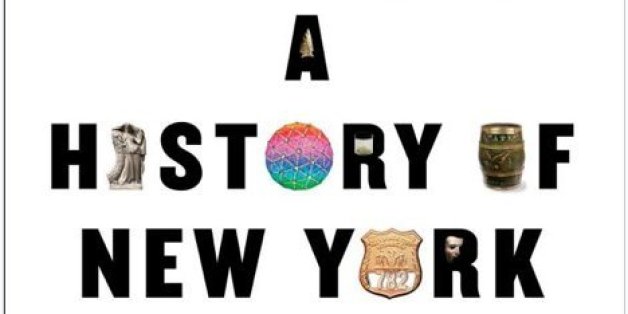 A few years ago, after agreeing to write a book celebrating the centennial of Grand Central Terminal, I casually suggested an audacious but catchy subtitle: "How a Train Station Transformed America." Almost immediately, I was struck by second thoughts: Individuals and events shape history. Could a single building?
Luckily, Grand Central's hundred-year imprint on commerce and culture, its pivotal role in urban development, codifying landmark and air rights law and in shifting Manhattan's center of gravity from downtown to its very doorstep in midtown turned out to validate the subtitle after all.
A building, albeit monumental, was one thing, though. Could a single object be transformative? That question arose after the British Museum and BBC's collaboration on A History of The World in 100 Objects inspired a spate of centuplicate collections on subjects including bird-watching, the First World War, Cricket, The Future, The Beatles and Shakespeare, as well as the Civil War and Religion (in a more modest 50 and 5 ½ objects, respectively). The Smithsonian gamely professed that the history of America demanded 101 (and now, with Dorling Kindersley, has produced a catalogue-like History of the World in 1,000 Objects).
Inspired by the Brits, I decided to attempt my own historical objects list about New York, first as an article for The Times and now as a book. Its conceit: 100 might suffice for the world; New York needed 101. They had to have been transformative or emblematic of a cultural recalibration. They had to exist (I couldn't find only one). They couldn't be too much bigger than a breadbox or be human (that ruled out the Statue of Liberty and former Mayor Ed Koch, respectively). They could be iconic but also provocative, which is why I abjured the obvious for the quirky: What, for example, could an artichoke, the mechanical cotton picker and an 1803 missing persons notice possibly have to do with New York?
And they couldn't all be about food (so many comestibles were nominated by Times readers -- from every variety of pizza to egg creams, knishes, snow cones -- that, given declining crime rates, maybe the city's official motto should become, "Leave the gun. Take the cannoli").
The challenge wasn't finding transformative objects. It was winnowing them down to 101. Most of all, deconstructing history this way was fun.
Only two decades ago, Francis Fukuyama was audaciously declaring "The End of History" altogether. A decade later, one of the students in Alan Bennett's play The History Boys indifferently defined history as, more or less, one damned thing after another. But probing history through authentic objects enables you to embrace the past. They endow history with a unique dimension, allowing you to explore it, as the British Museum's director, Neil MacGregor, explains, "by deciphering the messages that objects communicate across time."
"Objects let you tell a narrative that encompasses everybody," he said. "Texts don't." Moreover, said Dr. Jeremy D. Hill, the project's lead curator, "a finite number certainly makes the project comprehensible."
Focusing on 100, or 101, says Dr. Richard Kurin, editor of the Smithsonian's History of America in 101 Objects, "is a way of taking stuff and putting it in a digestible format." His choices ranged from the The Spangled Banner that flew over Fort McHenry to the birth control pill.
"There is something magical about the survival of human-made objects from the past," the historian R.G. Grant writes in the forward to Smithsonian's new History of the World in 1,000 Objects, because an object that has "often arbitrarily, survived the general tide of oblivion seems in some degree to bridge the gulf of years that separates us from the world of our ancestors."
T.S. Eliot wrote, "It is only in the world of objects that we have time and space." And where better to find those objects than in museums of history. "The greatest happiness a museum can bring," Orham Pamuk's fictional protagonist observes in obsessively curating his lovers quotidian artifacts in The Innocence of Objects, is "to see Time turning into Space."
No matter how much spare time he had, a layman might be hard pressed to conjure up 100 objects that epitomize bird-watching or The Beatles. But keep in mind that even the humble potato has inspired at least two recent full-throated history books, one of which, a reviewer wrote, endowed the spud with a vital role in the ascension of European imperialism, the Industrial Revolution and modern China and even a role someday in space travel to Mars. Hyperbole, perhaps, or surely food for thought.
My book (which includes a potato, too) has already prompted a clamor of, well, objections, over what got left out -- including Grand Central Terminal. Can an object be transformational? Which ones were? The book invites readers to send their suggestions to ObjectsOfNYC@gmail.com. Let the parlor game begin.
__________
Sam Roberts, urban affairs correspondent of The New York Times, is the author of A History of New York in 101 Objects just published by Simon and Schuster.