Some long-awaited good news for Los Angeles residents has finally arrived. LA is poised to see record employment numbers soon, says the Los Angeles County Economic Development Corp. and it just keeps getting better. There will be 150,000 new payroll jobs in 2015 with record level employment numbers according to the forecasts. The unemployment rate could even descend to its lowest level in eight years, 6.6 percent by the end of next year. L.A. County could see a 1.9 percent employment growth with 80,000 new jobs this year.
That means an employment level of 4.27 million (another new record), transcending the pre-recession peak of 2007. Experts say there will be another 70,000 jobs next year achieving an unheard of employment level of 4.34 million. That's some good news.
This all translates into big gains for personal income and sales tax revenues. Personal income should increase 4.6 percent this year with sales taxes posting gains exceeding 5 percent this year and next, adding revenues to local government coffers. More money for the government!
According to Los Angeles job sites, there are 58,565 current openings. In a county of 3,884,307 with an average income of $72,145 that's really good news for job seekers.
One minor glitch is that you'll need to make about $33 an hour or $68,640 a year to pay the rent on the average apartment in Los Angeles County. Turns out about 800,000 workers in L.A. County earn minimum wage ($9 an hour or $18,720 a year), which means their going to need to find some more cash or inhabit one of the county's many varied substandard living accommodations.
But in more good news, L.A. Mayor, Eric Garcetti says he's going to raise the minimum wage to $13.25 by 2017, and though that doesn't help so much at the moment, it's a nice idea. $13.25 equals a $27,560 salary, so we're still short a couple grand a month for the rent on an average place, and that might have something to do with why Los Angeles was rated as the most unaffordable city to rent in America by Harvard and UCLA.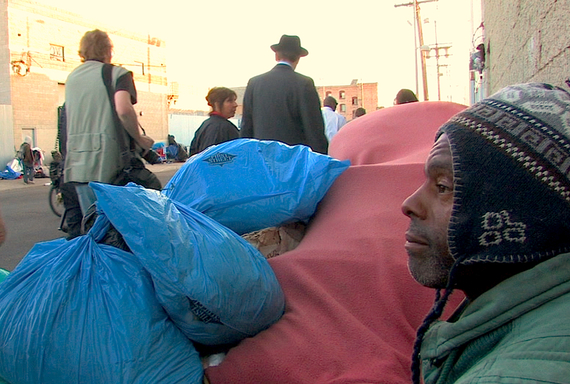 Photo Sam Slovick
But wait, there's more good news. If you pitch a tent downtown near the financial district, perhaps you can eat for free at one of Los Angeles' many missions or homeless shelters just a few blocks away on skid row. And though you might be harassed by law enforcement and private security, you will be sleeping within the law. The U.S. 9th Circuit Court of Appeals recently decided that, in addition to sleeping legally on the sidewalks of Los Angeles from 9 p.m. to 6 a.m., you can now legally live in your car. That, of course, is great news for the other 254,000 men, women and children who will experience homelessness in Los Angeles this coming year.