"Mommy... what are you eating?" my son asked.
Damn it, I was busted. He interrupted me exactly at the moment I was just about to bite a crunchy chocolate caramel (one of the only sweets I eat happens to be a Swedish Chocolate, which is a rare find in Cleveland!).
I turned around and with a look of guilt asked if he wanted a bite. Of course he said yes, and while reaching to grab the whole chocolate he said, "I thought we only eat ONE unhealthy snack per day, mommy!"
He was right. This is our rule. We eat our healthy food... and if we have any unhealthy food we choose one per day and hopefully once in a while.
Today, however, my so-many-sleepless nights had caught up with me (and this time it's not because of the news, but because of my sick younger son). My sweet-resistant nature was taken over by my need for any sort of sustenance and I ate three chocolates (which, considering my dislike for sweets, was extraordinary).
However, when interrupted by my son, I tried to encourage myself by thinking that I deserved to treat myself after such a hard week. I just had to indulge my sleep-deprived self, right?
Now wait a minute... anyone who indulges without resistance can make an argument for his or her weak nature. There are perfectly self-regulated people that behave in accordance to well-thought-out plans of action in many aspects of their life; yet, they end up shockingly "will-fatigued" in other aspects.
For example, although President Clinton was absolutely a picture-perfect student and must have had tremendous self-regulation to make his way to the White House, he was nevertheless very weak and unregulated when it came to his intern.
So what happens to those types of people? Right now, who cares about those people, frankly, because really I'm talking about myself here! Have I become the president who prefers to relax with the intern after a long and difficult day?
We always have an excuse for our actions. The feeling of "I deserve some fun because I am entitled to the reward" could be part of the problem faced by people like President Clinton (and, right now, myself). At the end of the day, however, if Clinton had a stronger self-regulation skill and actually used it, it wouldn't matter how entitled he might have felt -- he could have exercised his resistance to "harmful" rewards...1 and he might have ended up going to bed with Hilary and watching John Stewart -- instead of being a joke on the show.
Going back to my problem here, my sleepless nights have given me the right to go for not one but three chocolates because I deserved them. Now this is alarming!!
Why?
Because I set the rules at our home and if I can't play by the rules then how can I expect my children to be conscientious and self-directed?
What if it's not about the chocolate, or cleaning up after myself... washing my hands every time I come home, and not using the phone at the dining table? What if we're talking about things like no texting and driving, wearing a helmet when biking, not cheating when playing, and not hurting another person no matter how stressed or sad my own mood and feelings may be?
What if my children witness my husband or I breaking one of these rules? What if every time I lose self-control, I justify it with some external unrelated or (even related) cause?
Some would argue that this is a perfect example of abusing parental power by creating arbitrary rules that apply only to my children and not to me, the parent. Indeed, this is true, and thank you for pointing it out.
When I broke my own chocolate rule, I showed disloyalty to my own rule and, most importantly, to my son. Every time that I model a positive behavior, I demonstrate strength of character. I reinforce my own set of rules that become common and regular behavior no matter how silly the rule is.
Because if I don't model positive behavior, I shouldn't be surprised when my sons text and drive, get expelled for cheating on a test or become a bully at school. After all, I set the standard -- even if it was with something seemingly less significant like eating extra sweets.
This is not to say that every child that witnesses an erroneous behavior will repeat the unwanted action. But, role models play a great part in everyone's life. And, this is especially true when the model is as loved and respected as parents usually are to small children.
The old-age wisdom of the Greek Philosopher Aristotle defined a virtuous character not only as one that possesses attractive inner characteristics but also one that acts accordingly.2 After all, we become just by acting just repeatedly and consciously.
At the core of virtuous ethics lies moral education and development. 3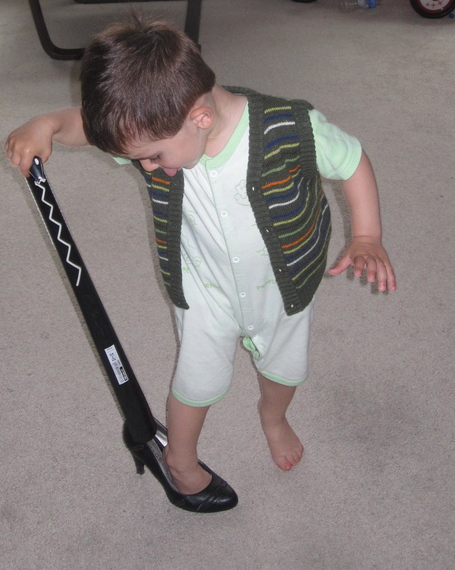 Early on, children rely on excellent role modeling to develop moral actions. The virtue of character becomes a stable personality trait by proper guidance, correction and repeated action. The effectiveness of consistency between modeling of our preaching has been documented in recent research as well.*4 Children who were guided by consistency in action as well as verbal guidance were the ones who had more "stringent standards for self-reward."5
One more chocolate today might not harm anyone, but an accident caused by a texting driver could have devastating irreversible effects.
So, maybe the next time my child says, "Mom, you didn't brush your teeth..." instead of answering "yes" with my fingers crossed behind my back, I should just say, "You are right. I was waiting for you to do it together!"
And maybe Aristotle would argue here that I'm on my way to set the stage for true happiness in my children and myself. After all, isn't it the cultivation of the virtues that makes our lives complete?
1.Mischel, W., The marshmallow test : mastering self-control. 2014, New York: Little, Brown and Company.
2.Nicomachean Ethics, BOOK II By Aristotle Written 350 B.C.E Translated by W. D. Ross
3.Virtue Ethics at http://www.iep.utm.edu/virtue/
4.Effects of discrepancies between observed and imposed reward criteria on their acquisition and transmission. Mischel, Walter; Liebert, Robert M. Journal of Personality and Social Psychology, Vol 3(1), Jan 1966, 45-53.
5.Ibid.1, p.224