(Content note: Vulgar language!)
Tens of thousands of women across the United States are starting to break out their granny thermals for the Women's March on Washington, slated for the day after the inauguration of president-elect Donald Trump. But a few thousand of the most foul-mouthed among them are stoking their resistance beforehand with needlework projects that -- ahem -- "wouldn't necessarily make your grandma proud." On January 21, 2017, the Subversive Cross Stitchers will lay down their needles and take the future of the country in hand.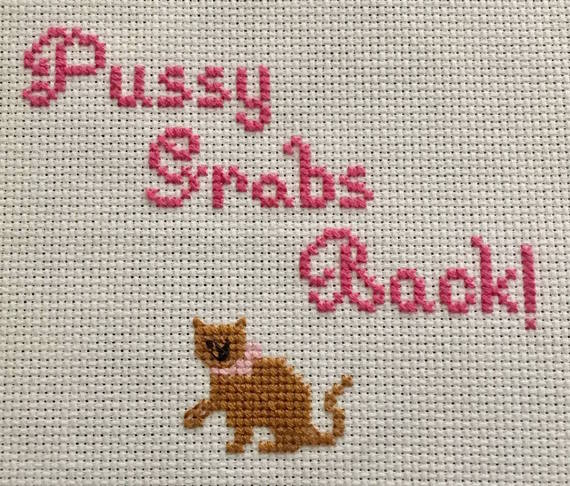 Founded in 2003 by the "charmingly disgruntled" Julie Jackson to help manage her anger during a stint working under a "cruel bully of a boss," Subversive Cross Stitching has since attracted other alienated needleworkers in their thousands with its collection of hundreds of epithetic patterns and kits.
Its closed Facebook community now boasts more than 3,000 members, who fondly refer to each other as "fuckers" and "bitches" and share patterns with filigreed flowers and hearts flanking cathartic quips like "Because fuck you that's why" and "I would call you a cunt but you lack depth and warmth."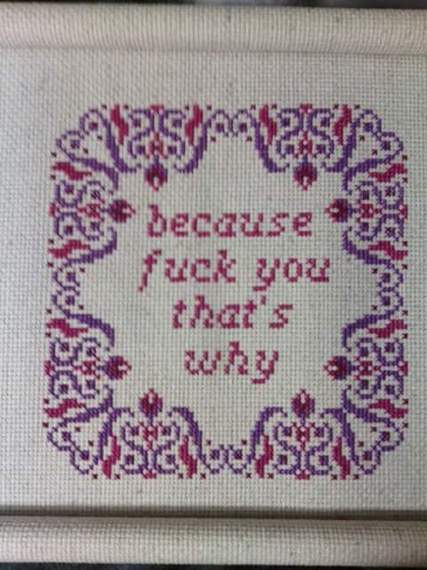 Though political debate is not a priority in the Facebook group -- Jackson's ground rule is that "If you have to argue, you have to stitch your argument" -- its members are unabashed about their feminist bent. Favorite projects among them include embroidery hoops bearing slogans like "Nasty Woman," "Empowered Women Empower Women," and "A Woman's Place Is In The Revolution."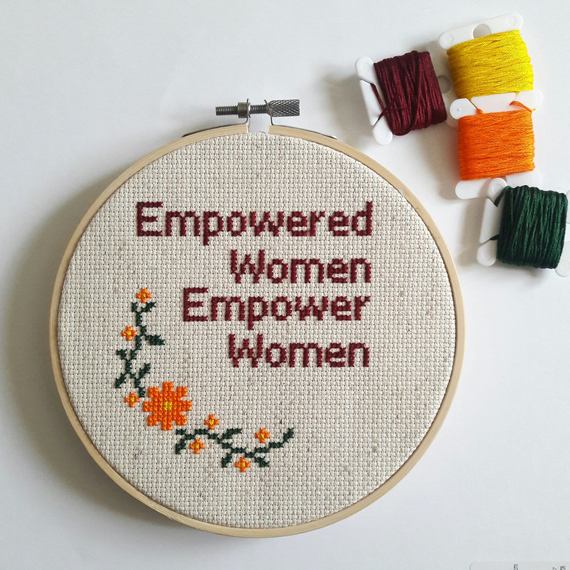 Given their knack for sublimating rage into concrete action, it's hardly surprising that the Subversive Cross Stitchers are sending a contingent of energized marchers to Washington on Inauguration weekend. I spoke with several Stitchers traveling to the March from all over the United States and asked them to share their reasons for marching along with some of their favorite projects.

Heidi from Syracuse, NY:
I am heartbroken by the election. I feel betrayed by my country, like this isn't the place I thought it was. I will not be silent. As a woman, a mother and foster mother, a lesbian, an artist, as a survivor - I must not be silent. I want us to show up in numbers too great to ignore or dismiss. I want to send a message to those in power that we are here, we are strong, we are smart, we are pissed off and we refuse to be afraid.
Sarah from Arlington, VA:
I am marching for hope. I am marching for a better future for the daughter I hope to have one day. I am marching for those who can't march. I am marching for my mother, my sister, and every single woman who has ever touched my life or will in the years to come. I am marching for love and for unity and justice. I am also marching because I'm pissed and frustrated and something has got to change.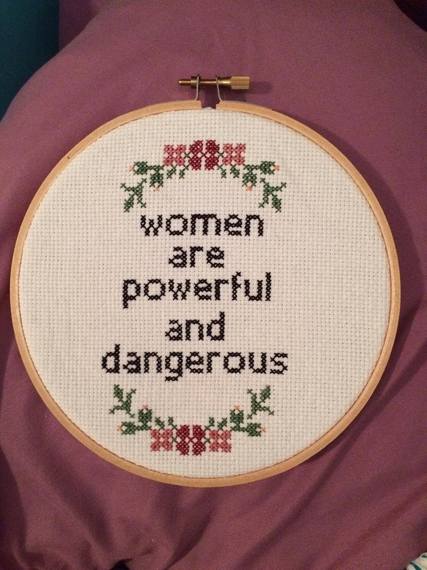 Jessica from Massillon, OH

I'm marching for several reasons, but mostly to stand in solidarity with others who value tolerance and decency, acknowledge women's rights as human rights, and reject bigotry in all its forms. My husband (who is marching with me) and I have talked about it, and it's important for us to take a public stand against all the ugliness of the last election with the hope that our future children will inherit a better world and know that we fought to create it for them. We were both history majors, and since we've studied the past, we're hoping that standing up to hatred and bigotry now will prevent history from repeating itself. I'm attaching a picture of something I stitched after the last debate, using a pattern from weelittlestitches. If Hillary Clinton is a "Nasty Woman," then it's an honor to call myself one as well!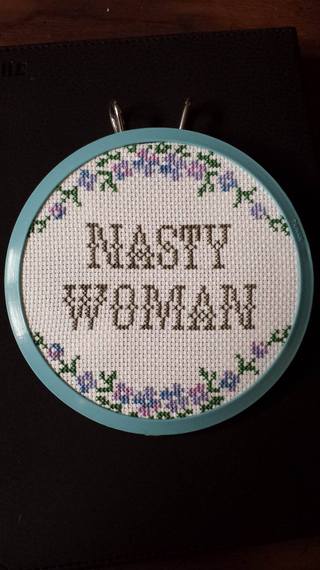 Suzie from CA (Honorary Subversive Cross Stitcher who in fact knits. See below for photo of her knit pussy hat.)
I am going to the march because I was invested in the election (donated and volunteered) and horrified at the outcome. I cried on and off for three days afterward. I'm a feminist, environmentalist, scientist (civil engineer) mom who believes that we need to stop cashing in on our environmental capital to leave a sustainable world for the generations to come. As a wife of a diabetic and auntie to two lovely nieces with spina bifida, I am a strong supporter of the ACA. As a bonus, I'm from Maryland, so I'll get in a visit with my liberal and supportive family including my cross-stitching sister, aunt, cousin and father. I hope to see you there, waving some signs in support of inclusion of all communities in the fight against bigotry and greed!