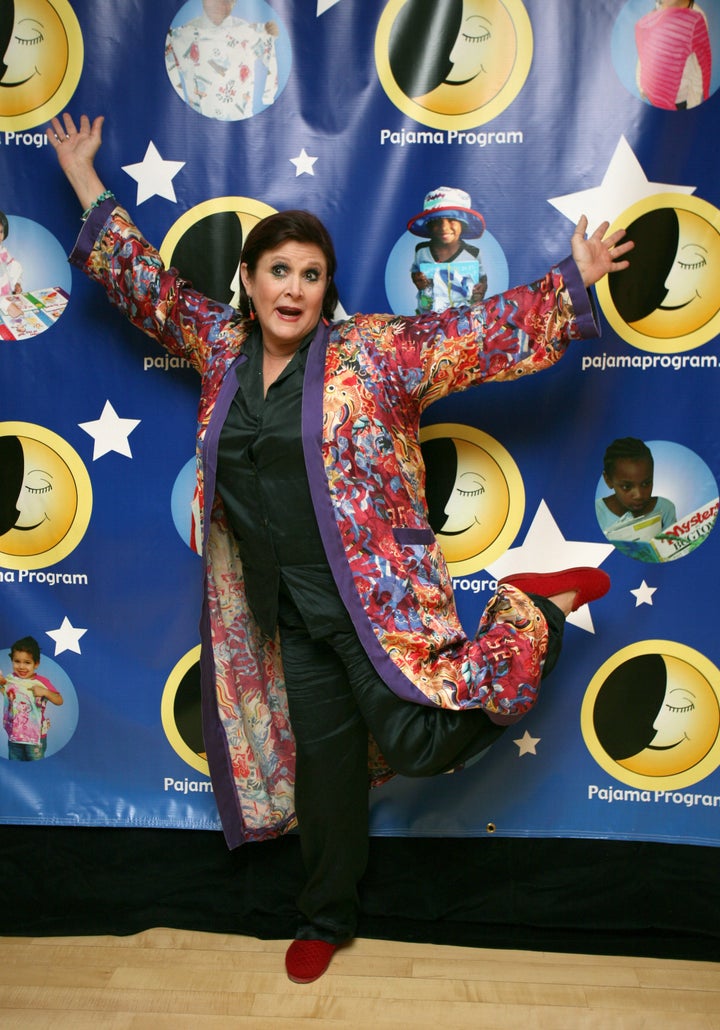 Carrie Fisher's one-woman show turned memoir Wishful Drinking is coming out as an HBO feature-length documentary in early 2011. The memoir is a witty and hilarious account of her dark and twisted life--growing up as the child of celebrity parents Debbie Reynolds and Eddie Fisher, becoming immortalized as Princess Leia, and battling drug addiction and bi-polar disorder. She says, "if my life wasn't funny, it would just be true, and that's unacceptable." She owns all of her problems and has turned them into something else--into this Wishful Drinking trifecta--into a success. (Interesting that it has three parts, like Star Wars, which maybe she can't escape after all). I asked her a few questions and got to hear more about the upcoming documentary and the past and future of Carrie Fisher.
Tell me about documentary version of Wishful Drinking.
Well, you know I did the play here for a while, and its not going to be changed that much from what it was on Broadway--but it'll be better. I have a lot of audience participation and they've done some really interesting things with visuals, so I can't wait to see how that comes out.
So is it basically just a taped version of the show?
Yeah, basically, yeah. You know, with it kind of adjusted, so it wont be just me standing there talking, but--you can get away with a lot more on television.
To clarify--which came first the book or the show?
The show was first, and then my publishers wanted to make a book of it, but if you just went straight from the show to a book, there wouldn't be enough content. So, there's actually double the stuff in the book, there's stuff that's in the book that isn't in the show--obviously.
And are you going to add that stuff into the documentary?
We may--we can do more, we can try stuff out, but you are restricted by time, so I can't do all the material that's in the book of Wishful Drinking, but I can do quite a bit of it.
What kind of audience participation do you have?
CF: Well they're my scene partners, so that's why its always fun for me to do.
What else can you tell me about the show?
CF: Well I don't wear my metal bikini in it. Lets see--you know I just talk about different subjects that at the time they happened were not funny--but I like to say, if my life wasn't funny, it would just be true, and that's unacceptable, so I talk about being an addict, being manic depressive, being left by a man for a man, or how I like to think of it, as me having turned him gay, that's what he told me, and stuff along those lines.
Did he actually tell you you turned him gay?
I can only imagine there are so many more stories, do you have any crazy stories you left out?
CF: Well there are some that are in the book, there are certain things--I had to check with everybody that I wrote about, I didn't want anyone to be really uncomfortable. If their involved in the story, then they had the chance to sort of--not have it in there.
I don't tell the story about my mother when she was worried that I was taking LSD. She did what any normal mother would do, she called Cary Grant, and she had Cary Grant call me because he had experimented--it was known, he experimented with LSD with his doctor. Now, I just never understood that. Like was he wearing like a hospital gown? Did the doctor do acid too? Anyway, so Cary Grant talked to me for a long time about LSD, that was done, and Cary Grant's my idol.
Cut to--my father goes to Grace Kelly's funeral, and my father didn't know Grace Kelly but he went to her funeral anyway and he ran into Cary Grant. He didn't know Cary Grant--so I had told him obviously that story about my mother calling him-- and he was searching his mind -this is how I imagine it happened--for something to say to Cary Grant, so he says to Cary Grant, my daughter's addicted to acid, so Cary Grant now calls me again about my acid problem.
CF: Well that time, I was truly embarrassed. I mean you know there's always certain amount of embarrassment in show business, but this really pushed it over the edge. He was very nice though.
So people had to check the stories about them in the book--did anyone pull out?
CF: Some people wanted things maybe adjusted or whatever. That's not part of my master plan to make anybody uncomfortable so--
Wishful Drinking has been such a success-- It feels like you've done everything, is there anything left you want to do?
CF: Swim the English Channel, no you know, there's probably something, I want to see the Aura Borealis, I want to go to the ice festival in China, I don't know if I wanna run with the bulls but I'd like to watch other people do that. You know there's places I still want to go, but you probably mean is there something I still want to do professionally...
CF: Life stays varied and that's fun for me, I want to watch my daughter keep doing as well as she's doing and having a good life.
In the book you talk about all the ridiculous Princess Leia likenesses- like the PEZ dispenser, so what's the weirdest or most shocking one you've seen?
CF: Well I mean there's the thing they sell, the sex doll, and they have--I'm a soap, a shampoo, a LEGO figure, there are things that I am that I don't even know that I am. I have no any control over the merchandising, nor do I get any money from it, so the list goes on and on. Oh, they have a Mr. Potato Head Princess Leia, there's pretty much everything Princess Leia-wise available--I wish being merchandized was aerobic, that's all.
So is everything in the book and the show completely true?
CF: Yeah. You couldn't make--I mean you could make that shit up but why would you. Yeah, no it's all true.
Also I saw you're going to be on this season of entourage?
CF: Oh yeah, it's just a brief thing where I have a kind of fight with Ari. [...] He's hilarious so that was fun to do. And Beverly D'Angelo is a good friend of mine, and she's in the show so, we get to indirectly work together.
What else about the documentary?
CF: I really enjoy doing the show. It's like--I have to act, when I do the show I present the best version of me--and you know--fake it 'til you make it--by the end of the night I am the best version of me!
It's sort of like what Cary Grant said--he said he pretended to be Cary Grant and he finally became Cary Grant.
So is this taped performance the last performance of the show?
CF: No, no, no--we're filming it, then we're taking it to more cities.
Are you going to come back to the ones you already went to?
CF: I would love to come back to New York, but I'm probably gonna be going to hopefully England, Australia, and a bunch of cities.
BUY TICKETS for Carrie Fisher's Wishful Drinking One Woman Show:
WHEN: Friday, June 25 at 8PM or Saturday, June 26 at 2PM & 8PM
WHERE: South Orange Performing Arts Center (SOPAC), One SOPAC Way, South Orange, NJ
TICKETS: $85, $65.
Call 973.313.ARTS (2787) or visit http://www.SOPACnow.org or the SOPAC Box Office.