The Middle East and North Africa (MENA) region suffers from severe youth unemployment that is further compounded by a talent mismatch between the demands of job creators and the supply of human capital that is too often trained with irrelevant content and outdated methods at stagnant centers of higher education. As Steen Jorgensen, the MENA Director for Human Development at the World Bank has said "Young people in the region need a clearer path from school to work."1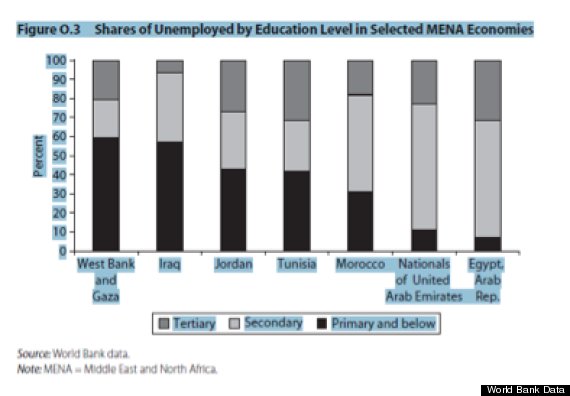 Economic and political instabilities obviously result and ensue. Youth faced with an outlook of hardship and severe unemployment will in many instances adopt radical views.
Can the private sector have an enhanced role in reversing this trend and help in spreading social stability?
Absolutely! In fact, the private sector is the best engine to counter this trend given that MENA governments are already among the largest employers in the region, employing between 14 and 40% of all workers (see figure below)2 and are therefore maxed out in terms of their ability to absorb additional workers.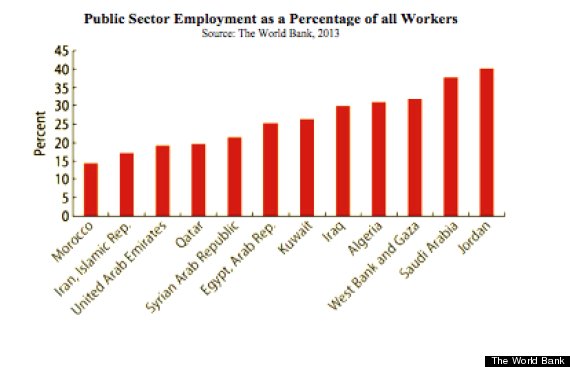 Among other things, the private sector can address youth unemployment through job creation, job training, and private sector regeneration.
Let me elaborate.
JOB CREATION
Private sector companies can create new jobs in economically depressed areas by analyzing internal business processes and outsourcing complete workflow cycles to be physically executed within local economies and with the use of local resources.
In some areas, local universities may not be producing graduates familiar with the latest and greatest state-of-the-art methods. But the basic knowledge is there and we have found that the motivation, energy, and adaptability of young hires is usually sufficient to overcome any deficiencies, particularly if given a bit of training.
CCC has had first-hand experience with this. In Palestine, for example, our Knowledge Center of Excellence in Building Information Management CAD Technology proved to be a leaner and cheaper production center capable of producing faster and better quality output than if we had the same type of work done on our project sites. This helped create over 70 decent paying middle-class jobs in less than 18 months. We also worked with a leading university in Palestine to fine-tune its engineering curricula and include training on this new technology, thereby better preparing future generations of graduates.
This was a certain win-win for all. Our company reduced costs, Palestinian youth were gainfully employed and the capacity of the university was enhanced as its graduates were made more attractive to prospective employers.
JOB ENHANCEMENT TRACK
When the capabilities of local human capital fall too short, "value-add pre-job training" is a cost-effective method of bringing it up to international standards. This is a very focused training model for potential entry-level workers in return for specific job commitments. CCC has tried the model with great success in the MENA region in partnership with the NGO Education For Employment.
EFE's approach is to examine a corporation's recruitment needs and then deliver specialized training (in collaboration with major US universities) in return for guaranteed job commitments for successful graduates. In response to CCC's needs, for example, two categories of jobs were targeted to produce Accountants and Construction Management Engineers whose skills were better oriented to address our job requirements. This program allowed us to meet our bottom-line requirements for top-notch human resources while providing jobs and brightened prospects for young people that might otherwise have remained unemployed or underemployed for years.
REGENERATION TRACK
Over the longer term, the private sector can engage in Public-Private Partnership (PPP) style investments that will shift conservative government-owned bodies into more enterprising growth industries, rebalance the typical government over-employment, and create vibrant and fast-paced job opportunities that are driven by market demands. PPP applications in utilities (water, electricity, gas distribution) and e-government activities (citizen services like issuing licenses and civil certificates) have been particularly successful thus far. In addition to generating jobs for the youth, such activities upgrade a country's overall capabilities and introduce more productive and shorter delivery cycles to the public.
In conclusion, there is no shortage of ways for private sector companies that sincerely wish to relieve youth unemployment to engage in a manner that is consistent with the demands of the bottom line and shareholders. But there must be an internal directive, wish and drive for this reflected in internal corporate core values through CSR (Corporate & Social Responsibility) or Sustainability activities and above all visibly supported by the CEOs.
A win-win for all. My message to the Private Sector: have no fear and engage.
This post is part of a series produced by The Huffington Post and the Middle East and North Africa not-for-profit Education For Employment (EFE), in conjunction with the third anniversary of the self-immolation of Tunisian street vendor Mohamed Bouazizi on December 17, 2013. That event kicked off what has come to be known as "the Arab Spring" and brought the Arab youth unemployment crisis into the global spotlight. EFE's mission is "to create job opportunities for unemployed youth in the Middle East and North Africa." For more information about the Education For Employment, click here.
References:
1. http://menablog.worldbank.org/governance-and-public-sector-employment-middle-east-and-north-africa
2. World Bank, 2013. Jobs for Shared Prosperity: Time for Action in the Middle East and North Africa. Washington, DC: World Bank.