If you had to write your entire life's story in six words, what would those six words be?
Seems impossible, right? I mean, how can anyone sum up an entire life with just six words?
As a novelist, I understand this initial gut response: at least 300 pages and 100,000 words are needed to begin the long process of understanding our complex selves.
But as the Curator of the International Museum of Women's current exhibition, Muslima: Muslim Women's Art & Voices, I had to find an efficient and effective way to bring as many life stories and perspectives and voices into the exhibition as I possibly could. I was inspired by Six-Word Memoirs® from SMITH Magazine.
The result: short Muslima Stories.
The rules are simple.
I pose the question: "What does it mean to you to be a Muslim woman today?"
Women around the world must answer that question with six words and up to three images.
Why the images? First, because an image of the woman or the object she's holding can help deepen the meaning of those six words.
And second, because there's a predominate image of the Muslim woman that some mistake to be real - veiled, victim, Arab - so it was important to provide a medium where Muslim women both speak and portray their true realities.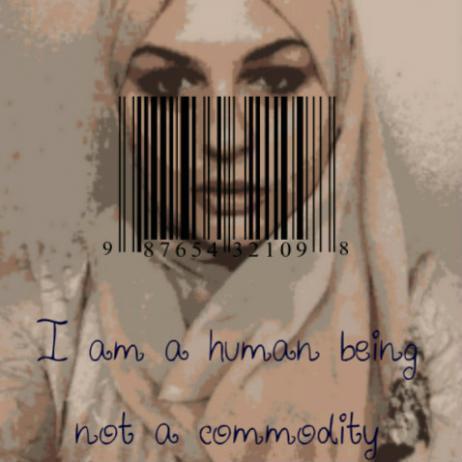 As you can imagine, I received countless emails from women complaining about the rules, those damn six words. I felt like a high school teacher trying to maintain control of an unruly class.
"You can do it," I found myself saying over and again. "Rise up to the challenge."
And women from around the world, even those women whose first language isn't English, actually did rise to the challenge and began flooding the museum inbox with their submissions.
I was floored by the stories that came in, the quality of the images and the diversity of the experiences.
A few of the women turned to multiple adjectives to help expose the various parts of their identity, like Deeqa Said, a Somalian immigrant to Denmark.
"Fighter, Free-Spirit,
Optimist, Activist,
Talkative, Leader..."
Some had a life event that came to define them, like Hana Baba, a radio host for KALW Public Radio whose work has appeared on various NPR programs and PRI's The World. She wrote:
"Cancer Didn't Kill
The Radio Star."
Her objects? Her tape recorder and headphones, of course, but also her bright headscarf and a sandal essence holder - objects that speak to her Sudanese heritage.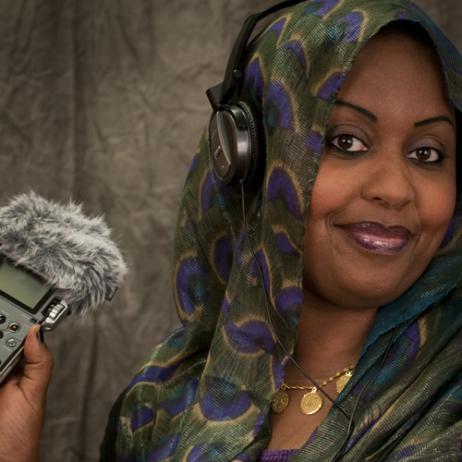 I have to confess that I was most impressed with the women who not only understood themselves clearly but were able to then succinctly express that understanding, like Paula Thompson, an American Muslim working on issues of social justice:
"Always In Need
Of A Struggle."
And this from Katie Miranda, another American Muslim:
"Create My Way
Or Die Trying."
What's surprising about the majority of the Muslima Stories is that religion often didn't come up. In fact, if you didn't know the short narratives were written by Muslim women, it would be impossible to tell.
Take a look:
"A Blossom Out
Of Muddy Waters."
-- Debra Schubert
"Learning to Unlearn,
Finding New Answers."
-- Haafiza Sayed
"Rising Above Limitations,
Expectations And Conditions."
-- Sadiqua Hamdan
"Seeking Answers In
The Wrong Places."
-- Naima Abdel Wahed
"I Have Many
Issues to Ponder."
-- Fadhilah
"Life Is Hell,
I'm Not Worried."
-- Nadia Hussain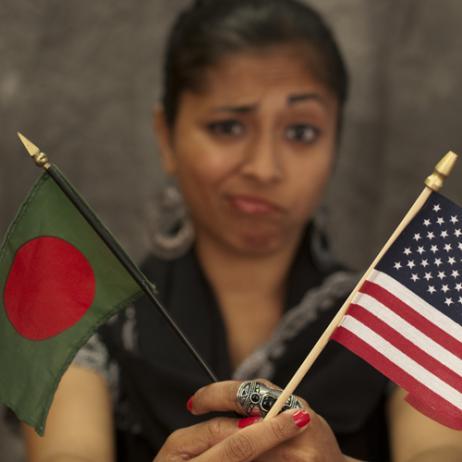 And those few times religion did come up, it came up as it should: as something deeply personal.
"Me: Woman, Artist,
Seeking The Divine."
-- Fatima Zahra Hassan
"Lady Rumi: Thinks
Outside The Mosque."
-- Zainab Khan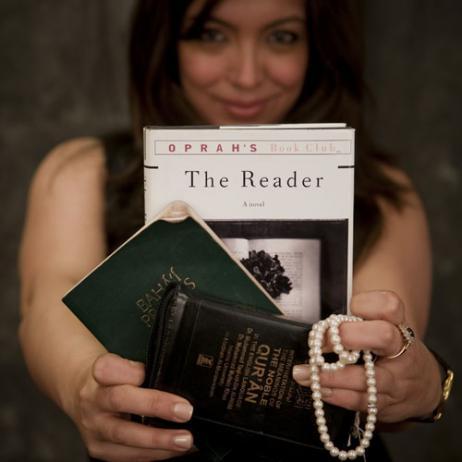 "Seeking The Spiritual
By Exploring Nature."
-- Minoosh Zomorodinia
"Scarves As A
Tool Of Empowerment."
-- Nancy Hoque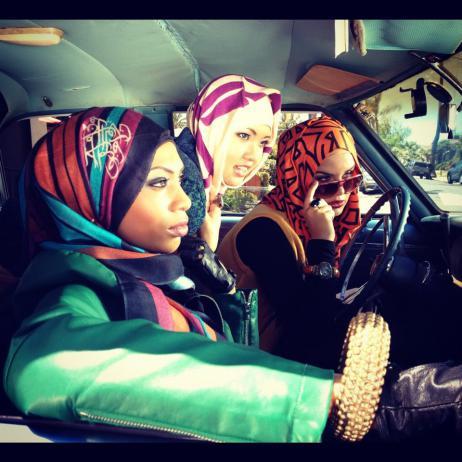 Here's one that surprised and - dare I say - educated even me:
"I Am The
Salafi Feminist."
-- Zainab Bint Younus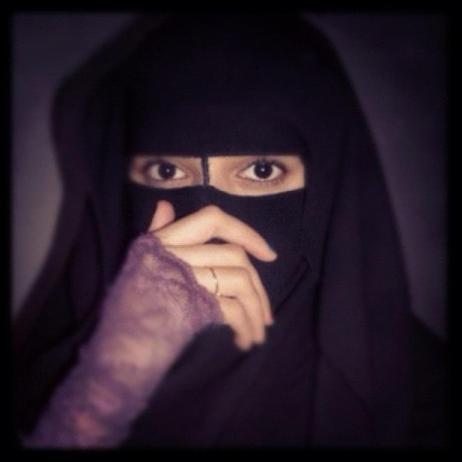 Not just a Muslim feminist but a Salafi feminist! How can a woman who covers head to toe be a feminist?
And here's why it's crucial that the women have all been allowed to speak for themselves.
In Zainab's own words, she refuses to believe that "women are either pretty covered-up lollipops or trashed unwrapped candies being bombarded with flies."
She goes on to explain:
"I am a happy wife and mother, and I loathe those people who try to tell me that I should only be happy in my role as a wife and mother. I believe in pursuing knowledge, Islamic and otherwise (and in fields other than gynecology or teaching kindergarten), and would really like to flip the bird at those twits still debating 'women's education in Islam.' ... I believe that men and women both have control over their actions and desires, and that a woman looking at a male speaker is not going to send her into a frenzy of lust, or that any man is incapable of keeping it in his pants when he sees a woman whose body is not covered from head to toe in black."
How's that for feminist thinking?
Suffice to say, her five words (she didn't even use the maximum allowed!) along with this backstory to explain them, widened my eyes. I came away believing that she is, in fact, a Salafi feminist.
In telling you this, I guess I've inadvertently exposed what my own six words could potentially be:
Muslims Can Also
Stereotype Other Muslims
So it's not just the West that needs to broaden its ideas of what a Muslim woman truly is but also the Muslim communities themselves.
A quick and entertaining starting point is to visit the Muslima Stories and read the short memoirs from women around the world.
As curator, if I had to choose one Muslima Story that pretty much sums up the goal of this exhibition, it's this from Nasreena Sampaco-Baddiri in Manila:
"Empowerment - Weaving Lives
Of Muslim Women."