My alarm clock is pounding in my ears at 5:30 in the morning. Not the best thing in the world for a 13-year-old to experience but it's worth it. Today I am headed to Washington, D.C to meet the President of the United States. My grandmother Lynn Sherr, a journalist, has been invited to the White House Holiday Press Party and invited me to come with her. I am so excited!!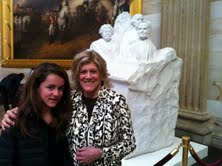 Here's how it went:
We walked around all day. First, we went to the Holocaust Museum to look at the artifacts from the concentration camps and death camps -- depressing, but I learned a lot about it. After that we took a cab to the three House office buildings: the Cannon Building, the Longworth Building and the Rayburn Building. These are all related to the most well-known building for the legislative branch, the Capitol. My grandmother and I went into the Capitol and got to meet the House Democratic Leader, Mrs. Nancy Pelosi. She was very warm and friendly when we met. Instead of shaking my hand like everyone else did, she held onto it and we walked into her office holding hands. She was very welcoming and gave me a copy of her book Know Your Power and she signed it for me. She said: "To Sammy, You are the Future." I will take this powerful message into consideration and reflect on it throughout my life.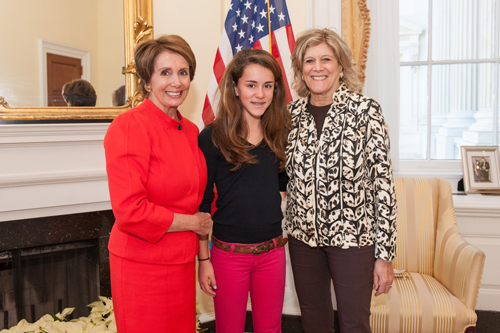 Photo credit: Steve Plantin / U.S. House of Representatives

After meeting the Leader, we got a tour of the Capitol and went into the Rotunda and saw all of the paintings and read about what each one meant in their biographies. After that we went into the Old Senate Chamber and there were spittoons everywhere because of their disgusting chewing tobacco habits of a long time ago. Then, we went into the Crypt and stood in the exact "middle" of Washington, D.C. Our last stop on our tour was in the Gallery part of the House of Representatives and we got to see where the President sits when he delivers the State of Union address. I found that extremely cool because now, when we see it on TV I can say that I was in that exact room in the Gallery.
After the Capitol tour we went back to our hotel and got ready for the best part of the whole trip: meeting the President of the United States. We went to the White House and met all sorts of different reporters and editors. As we walked in, we were given a red card, which was the first picture group to take pictures with Mr. President and Mrs. Obama. When we went into the room with the President, they were very, very welcoming and nice. Mr. Obama gave me a hug and asked me about my school and when I told him about John Read Middle School in Redding, Conn. -- he wanted me to report back "Hello Everyone at John Read!!"
Then when I met Michelle Obama she gave me a hug too, and also wanted to say hello to everyone back home. My grandmother told them about my softball career so far and they were very impressed and reacted with surprise and interest. So we took our picture, and then went up into the dining room.
The whole White House probably had 43 Christmas trees at the least. Okay, maybe 10. But the decorations were extraordinary and out of this world like a gingerbread White House and a tree decorated with bubbles made of glass.
This was the most wonderful experience of my life and I will never, ever forget it. Now I understand why people want to be President, the house is huge!