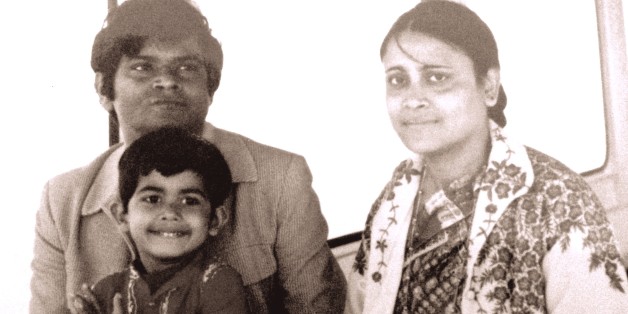 I was born in London via the migration patterns of my parents from India to the US: Land of Opportunity. Land of immigrants. Immigrant is such an interesting word. If you break it down it is: I'm a Migrant. A Traveler. A Nomad. A being that goes from one place to another to find something. I often call myself a Global Nomad because as an artist, I get to dawn new boarding passes for opportunities to create art in different lands. So if you think about it, A Global Nomad and an Immigrant can be considered the same thing. The difference is that I have the luxury to call myself a Global Nomad because my parents were Immigrants first.
My parents migrated to the US, possibly in search of the American Dream and a better future for them and their next of kin: me. I can't imagine what they must have gone through. The language barrier, the economic shift, being so far away from home. They had to assimilate, adapt and survive the rat race at a time when "Google" was in it's early stages of conception. In today's world, the equivalent would be for me to migrate to Mars, permanently. In college, when I decided that I wanted to become a professional actor, I was challenged by a lot of my parent's peers. As good friends of my parents and ones that loved me like I was their own kid, they had reservations for my career choice as such a step into the unknown. They were mostly Doctors and Science Professionals. I didn't blame them. In fact, I started asking myself the same thing. But then I thought, well, if my parents had the courage, strength and stamina to traverse the world and take a flight into the unknown, then what is a mere step?
It's true, even to this day, when I am going through a tough moment, I just close my eyes and imagine my parents' first boarding pass and it gives me strength. Their perseverance gives me power. Their ferocity gives me fire. Their resilience gives me relief. For they were not only immigrants but they were also pioneers. Audacious adventurers exploring a new country and then calling it their own. I can't picture the hardships or the struggles they had to endure, but will be forever grateful and remember that I am a Global Nomad because they were Immigrants first.
One of the duties of an artist is to preserve stories, journeys, and tales of victories, so they can give strength to future generations. As a storyteller, perhaps that's why I have always been fascinated by the Immigrant Experience -- to preserve the beauteous backbone that holds up the present. The most recent story that I co-authored, with fellow artist Sanjiv Jhaveri, is called "BUMBUG The Musical". It is a light-hearted musical reinvention of Charles Dickens' "A Christmas Carol" told through the looking glass of immigrant life in New York City. In Dickens' classic, there is a bitter yet loving character named Scrooge. In "BUMBUG The Musical", our hero's name is Scroogewallah who twists the classic "Bah Humbug" into "Bakwas Bumbug!" Scroogewallah is an immigrant who feels lost and alone in an unknown land, but through Christmas past, present and future, he is reminded of what truly matters: a community he can call home.
When Sanjiv and I were writing and developing BUMBUG, inspiration stemmed from our own parents' trials and tribulations. A lot of the show is stories we imagined they had gone through, as well as challenges we personally encountered. For example, there is a scene when Sunita, Scroogewallah's romantic interest, is having a heart to heart with her dad, trying to find her true calling. She wants to be a writer like Jhumpa Lahiri, but feels guilty for not following in her dad's footsteps as a doctor. She sings to him, "I feel like I've let you down, not doing my duty, never around. And yet you've crossed oceans and sacrificed so much for me." This particular scene is a very meaningful one for Sanjiv and I, since both our dads are in the medical profession and we opted to pursue the arts. In a way, "BUMBUG The Musical" is a gift to our parents and all the immigrants who have enriched our lives and helped shed some light in moments of darkness.
"BUMBUG The Musical" was originally commissioned by Desipina Productions in 2010. It was later produced by LAUGHistan and has had a successful run in NYC every year since, becoming an annual tradition in the local South Asian community.
This year, I decided to go back to the essence of what the show is really about: The Immigrant Experience and Recognizing Community. With the help of our sponsors, Verificient Technologies and Bombay Sandwich Company, in true Christmas fashion we are donating 100% of all the proceeds to two amazing charity organizations that assist with Minority & Immigration Issues: Chhaya & Drum. It's a great way to give back to a community that we owe a lot to.
Whether you call yourself a Global Citizen or a Global Nomad, let's celebrate all those who have come before us, those who are amongst us and those who are yet to come. Here's to all the Immigrants!
This blog post is part of a series produced by The Huffington Post in conjunction with the launch of HuffPost India (December 8, 2014). To read all posts in the series, visit here.