It's a chilly winter Saturday, and the gray flooring at Roominate's headquarters/toy-testing space in a Mountain View office park is littered with scraps of old socks and brightly colored felt, teal and sky blue building pieces, battery packs bristling with wires, and three very intent little girls.
Michaela, 11, clicks two plastic squares into a rectangle, completing a tiny couch exactly like the one in the package insert. She's making replicas of everything shown- -t he dining table, the bunk bed, the table saw, the treadmill -- and lining them up in front of her in a pastel parade.
Her nine-year-old sister, Anneka, meanwhile, has slyly hoarded every circuit around and is attempting to get her night light, washing machine, and fan to run off a single switch. But the multiple wires tethered to the dollhouse walls are proving awkward, and she's trying to Scotch-tape the problem away. Seven-year-old Emma, in a magenta tunic, could care less about electronics. She's enthralled with the dozens of stickers that come with the dollhouse kit, arranging them across the three white plastic walls she's configured into a bedroom. "There are even teensy ice cream cones," she sings out.
Roominate's creators, Alice Brooks and Bettina Chen, watch with feigned casualness. This isn't some impromptu playdate, after all: It's a focus group.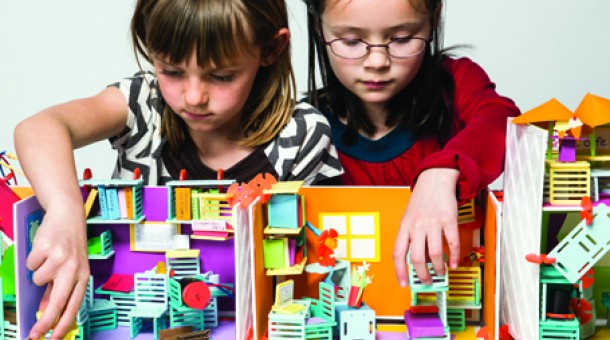 ...Click here to continue reading on sanfranmag.com