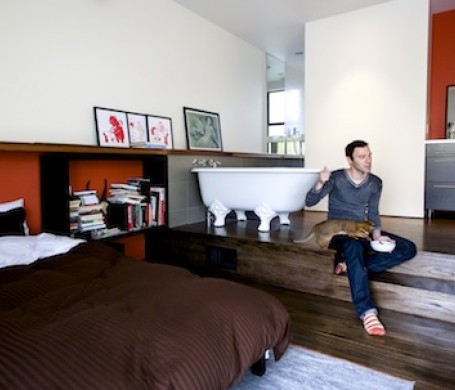 A modesty-free Noe Valley designer prefers bathing in the bedroom.
You don't have to be the jealous type to envy aspects of Nir Stern's life. The thirty-something architect turned user-interface designer is a wanderlust-driven bachelor whose work-from-home schedule allows for frequent international jaunts. A consummate tinkerer, he refurbishes vintage motorcycles, mends his own clothes, plays the guitar, and builds furniture. Stern champions engineered utility -- design that's streamlined, but clever. If it's not to his liking, he'll alter it; if it doesn't exist, he'll make it.
So when Stern saw potential in this Noe Valley Victorian five years ago, the first thing he did was tear down walls and rip out doors. "I wanted a big, open space where people would naturally drift between rooms," he says. For the overhaul, he enlisted James Hill, an architect and friend who made his name retrofitting historic Victorians. The result is a quirky but cohesive mash-up of old and new: restored original elements up front, a gut-renovated social space in the back, and a palette of stainless steel, wood, and orange accent paint tying it all together. Stern's taste skews toward the clean and functional, "like an early 20th-century insane asylum," he says.
Click here to continue reading on sanfranmag.com