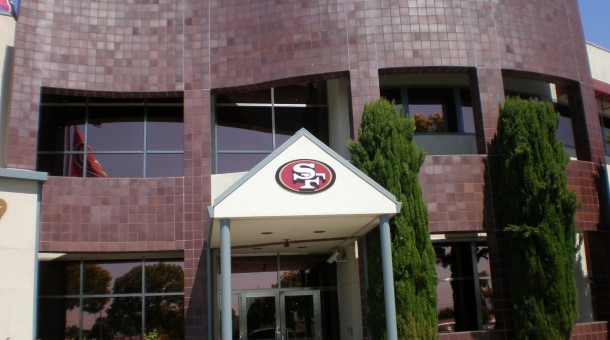 TO: Ownership Group, Marketing Dept.
FROM: Jed York, Owner and CEO
DATE: April 30th, 2013
SUBJECT: Stadium Naming
It has come to my attention that six companies have submitted serious bids for the naming rights to our new Santa Clara stadium. I've posted the shortlist below, complete with my argument "for" or "against" each contender. Please consider the following options for our next meeting:
1. Anchor Steam Stadium
We all love Anchor Steam. Hell, I'm drinking some right now. But let's be honest: Our fans are drunk enough already. Do we really want to give them another excuse to make a mockery of this organization's professionalism? Oh, and that reminds me: Please RSVP for the Cinco de Mayo kegger at Michael Crabtree's house before Friday, or you will not be attending.
2. Zynga Center
Saying "Zynga" never gets old. (Zynga. Zynga. Zynga.). Plus, a partnership with this company would align us with a very cool, interactive, disruptive company with a severely undervalued stock price. But aren't the Seattle Seahawks known as the "Angry Birds?" And don't angry birds crap all over Farmville?
3. Pixar Paladium
The world's awesomest animation studio has been cranking out top-of-the-line inked content for years, much like our own Colin Kaepernick. However, between their insistence on rebranding the team "The San Francisco Incredibles" and their refusal of Vernon Davis's plea to join the Pixar art team, can we really take them seriously?...
Click here to continue reading on sanfranmag.com
NOTE: This piece is satirical. All quotations are fabrications for the purpose of satire.