We are in the backseat of a well-worn minivan, heading south from Berkeley along Martin Luther King Jr. Way. It is a rainy Tuesday night in January, and the vehicle is pungent with taqueria, its passengers gingerly dismantling burritos as flurries of tinfoil shards and tortilla chips drift down to the floor mats. Dinner, pregame-style.
We are headed to Oakland to see the Golden State Warriors host the Oklahoma City Thunder. Our driver is John Fike, a 51-year-old high school teacher in Berkeley and, like the two friends he is ferrying, a season ticket holder for some 15 years. Fike is an unrepentant basketball junkie, a former middle and high school coach and referee and, until hurting a hip last year, an active member of two regular pickup games. When he's not at Warriors games, the married father of three is posting on Warriors message boards and watching the team play on TV. His basketball identity is defined not only by a love of the sport, but also by a wry acceptance of the sustained awfulness of the team he adores. The Warriors have embodied mediocrity for most of the last 20 years, making the playoffs only once since the 1993-94 season, while finishing below .300 twice as often (four times) as above .500 (two).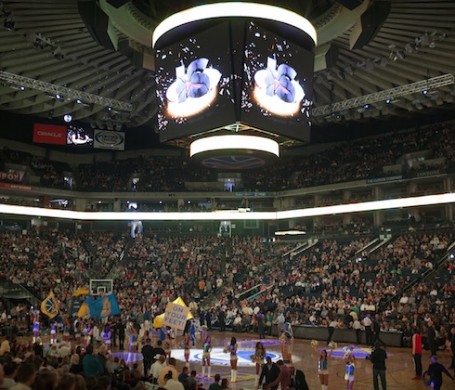 "One year, they passed out shirts at the arena with a picture of [marginal prospect] Larry Hughes on them and the phrase 'We're on to something,'" says Paul Lecky, 52, an Emeryville attorney who is sitting shotgun. "Then John crossed out the word 'to,' so that it read, 'We're on something.' That just seemed more appropriate."
In spite of its losing tradition, Golden State has somehow managed to fill an average of more than 95 percent of its seats over the last seven seasons -- a testament to the loyalty (and patience!) of its East Bay fan base. These days, however, fans are actually coming to see the Warriors win...
...Click here to continue reading on sanfranmag.com