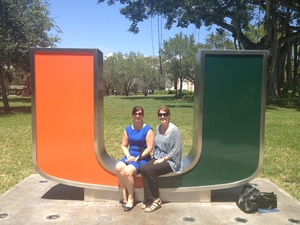 Author Sandi Vidal, and Royce Gomez visiting the University of 25 years later
Several years ago CBS, Sunday Morning used Christian HELP's job fair as a backdrop for a story they were doing on people over 50, the "new unemployables." I was interviewed for the piece and let them know at 44, I did not feel 50 was old. Recently though, a friend of mine was traveling through Central Florida and was telling me how hard it was for her to find a job. She plain and simply stated that she believed it was because of her age. Since we are the same age, that one just stopped me in my tracks!
For me, my 40s feels like the prime of my life. I know who I am and what I can do. I have established my resume and honed my skills. I am well-networked and above all, I have never had trouble finding a job. The fact that my high school classmate is not alone in her struggles to find a job gives me cause for concern.
In the past year, my organization has launched an intensive job skills program designed to equip and empower job seekers to become successful employees. Originally we geared it towards new college graduates and the chronically unemployed because they are a higher percentage of the unemployment rate. We have has to adjust our thinking though as we find that 49 percent of the class participants are over the age of 40.
So what does it mean to be 40+ and job seeking? For some people it means a longer job search, less pay or being flexible to take a job that is part-time to start. For others it may mean reporting to someone old enough to be your child. One employer we work with for the initiative says that they have a tough time hiring over 40 because many of their managers are so young and the new hires feel like they know more than their managers. For the rest of the pack, it may mean that your job is just one more interview away.
The other new thing I learned is telling people you have 15-20 years of experience is no longer impressive, it just makes you sound old. With the increase in technology at exponential speeds, older is not necessarily better and new does not mean it has no credibility. It is better to trim the resume, and just keep the essentials to show that you can do a job, not how long you have been doing it.
Lastly, technology is your friend. Embrace it! I do have to admit I don't have time for Instagram, and Pinterest has become boring to me except around the holidays, but Facebook, Linkedin and Twitter are regular stops for me during the day. Networking never gets old, online and off. Don't be so hung up on technology that you fail to connect in real life.
My name is Sandi, I am 47 years old, and I am not washed up!