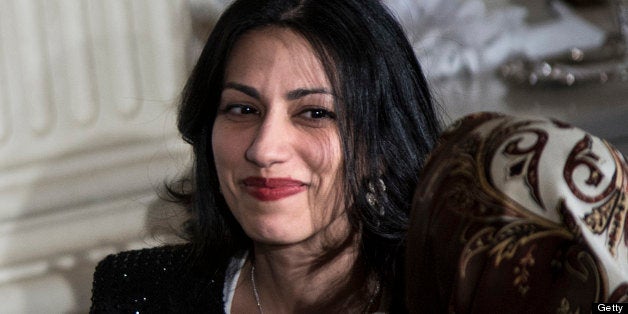 Somewhere along the way Huma Abedin just became the love child of Jackie Kennedy and Hillary Clinton.
The Indian/Pakistani American, a former top aide of Hillary Clinton, was already reputed to be so beloved of the Clintons that she was pretty much regarded as their "other daughter." And those connections came in pretty handy for her husband Anthony Weiner when he decided to run for mayor of New York.
And now that her husband has been caught with his pants down (albeit sexting rather than sexing) and Abedin decided to stand by her man, the comparisons are painfully obvious. Politico writes she "might just be taking a page out her boss's playbook for her own future benefit." "Huma comes from the Clinton school of forgiveness -- power is more important than dignity," writes Adam Weiss in the New York Post.
But the media has always been much kinder to Huma Abedin than it ever was to Hillary Clinton who was regarded as cold, manipulative and power-hungry in her days as the First Lady. The media treats Abedin as if she was the style avatar of Jackie Kennedy. She is the supermodel of our model minority.
She approached in a knit white top and navy-blue business skirt, her dark, almost black hair down to her shoulders. She wore bright-red lipstick, which gave her lips a 3-D look, her brown eyes were pools of empathy evolved through a thousand generations of what was good and decent in the history of the human race. The harsh, cheap buck lighting in the coffee shop couldn't lay a glove on her. By the time she sat down, the harmony of angels had vanquished the tiny background music from every corporate space on the planet. Of course, you'd seen pictures before. But you'd also seen pictures of the Taj Mahal. It didn't quite come up to actually being there.

There's something almost lecherous about the media gush around Huma Abedin -- "her black Prada suit is wrinkle-free, her skin is flawless, and her long luxurious hair is blow-dried into the kind of bouncy waves you see mostly in shampoo commercials."
Poor Hillary Clinton's pantsuits never evoked that kind of adulation. It's as if the media is over compensating for how it treated Candidate Hillary by treating Huma Abedin largely with kid gloves. Now that she is the damsel in distress, Sheila Weller in the Washington Post confesses to a "lady crush" on her as she writes about her press conference.
I was riveted. We were all riveted. Everyone thought Abedin was painful to watch, and I don't disagree. Still, I thought she sounded real, and plainspoken, and, even in that excruciatingly awkward situation, she retained the poise and dignity that I've always admired in her. No small feat.

Only a few grumble and wonder why everyone is so gaga like David Weigel who calls her "overrated" on Slate.
Sorry, but what else was she supposed to do? Are we praising her because she didn't run over a paparazzo or pull a Britney Spears and attack one of them with a golf club? For some reason -- maybe it's the "wrinkle-free suit" -- Abedin gets extraordinary praise for doing the most ordinary of things.

This is not to say there should not be sympathy for Huma Abedin. No relationship wants to be put through the wringer in public like this. "I have no way of knowing whether Huma, for whom I have great respect, is responding out of new motherhood, the Stockholm syndrome or a mystery," Gloria Steinem, the feminist activist, wrote in an e-mail to the New York Times.
But the real mystery is why Huma Abedin was even married to Anthony Weiner. Abedin's father, Syed Zainul Abedin was educated at the Aligarh Muslim University. He became an academic himself and an Iran expert who taught in Saudi Arabia. She grew up in Jeddah. Her mother was a sociology professor there. Abedin speaks Urdu and Arabic and is supposed to be an expert on the Middle East.
And here's Anthony Weiner's record as described by Richard Kim at The Nation:
He was one of 82 Democrats who voted for the Iraq War, and he continued to support its funding long after its flimsy rationale had evaporated. But it's on the subject of Israel/Palestine that Weiner truly distinguishes himself. At least twice in public, he has insisted that the West Bank is not occupied, denying a fact that even right-wing former Israeli Prime Minister and settler movement architect Ariel Sharon admitted a decade ago... As Stephen Zunes points out, Weiner's denial fits squarely in a disturbing pattern of squelching criticism of the Israeli state and of making patently untrue statements to do so, including claiming that the United States recognizes the PLO as a "terrorist organization" 20 years after it ceased using that designation.

In his twelve years in Congress, the New York Times notes he "sponsored and wrote only one bill that he steered to enactment: a a measure pushed by a family friend who gave his campaigns tens of thousands of dollars in donations."
Huma Abedin might or might not be the new Hillary Clinton, but Anthony Weiner is definitely no Bill Clinton.
Even his sex scandal screams "loser." He is accused of being a compulsive "sexter" which in my book is far more ignominious than being a true blue adulterer. A garden variety adulterer is actually getting something whether it's from a mistress a la John Edwards or random prostitutes a la Sen. David Vitter. Unlike Bill, Weiner gets all the humiliation and as far as we know, little of actual action. His Carlos Danger sleaze-alias was clearly not a danger to anything but his own political ambitions.
The unanswered question about the great Abedin-Weiner affair is not will you still love me when I am sexting. Or whether she is the Jackie O of our times. Or whether she should stick with her man which ultimately is her decision and no one else's. But why did Huma Abedin marry Anthony Weiner in the first place?