The news that the Pac-12 Conference jumped to the head of the class in 2012-13, earning $330 million in record revenue comes as no surprise.
Welcome to the new college sports business model.
In August 2012, Pac-12 Conference launched its "non-profit" Pac-12 Networks and became the first college sports television network 100 percent owned by its members, which include UCLA, USC, Stanford, Cal plus eight other public universities. During 2012-13, the Pac-12 Conference surpassed the Southeastern Conference and Big Ten in revenue on the strength of its incredibly lucrative broadcast contracts.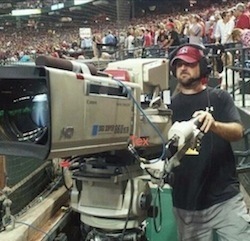 These include Pac-12 Networks' $3 billion dollar deal with Fox/ESPN to televise one Pac-12 Conference "Game of the Week" over the next 12 years. It also retained the rights to its other sports entertainment broadcasts, signing distribution pacts with multiple cable companies for undisclosed amounts.
Live sports represent the last bastion of enormous advertising revenues. And real-time college sports like football and basketball attract a significant chunk of this change.
Think about it. You'll set your DVR to record the latest episode of 24 and feel confident that no one will reveal the plot to you. But when USC plays Notre Dame, you're not willing to take that chance.
So who's collecting the cash?
The Pac-12 Conference is investing its recent wealth in new and improved sports facilities, generous contracts with marquee coaches and the highest paid commissioner in college sports.
While select college athletes receive full scholarships, many players lack funds for basic living expenses including medical insurance. At Northwestern University, some football players have said "Enough" and requested union representation in an effort to secure, at the very least, health care coverage during their tenure as students.
Credit Pac-12 University Presidents for seeing the handwriting on the wall with their recent memo to 53 University Presidents outlining a 10-point plan for reform, addressing athlete injustices.
Unfortunately, the Presidents' concern does not extend to some of their employees at Pac-12 Networks where these same University presidents serve as the Pac-12 Networks' "CEO Group."
For almost two years, broadcast technicians in the International Alliance of Theatrical Stage Employees Union (IATSE) including camera and graphics operators, audio technicians and statisticians, have been locked in battle with Pac-12 Networks to preserve their wages and secure health care and pension benefits.
So far, Pac-12 Networks has turned a deaf ear to the broadcast technicians' plight by hiding behind the Networks' "unwavering commitment to the academic missions of their universities."
Translation: Pac-12 Networks prefers to hire free or cheap student labor.
As the leading trainer in the entertainment industry, IATSE supports workforce training, safety and development. But the IATSE does not support using training as an excuse to underpay skilled technicians and cut their benefits.
What good is training if the students who want to make careers as broadcast technicians can't earn enough after they graduate to sustain a middle-class existence?
Pac-12 Networks and our taxpayer-supported universities are using their non-profit, educational mandate to hurt middle-class working men and women.
If we are truly committed to fixing income inequality, we must begin with the public institutions over which we have control and join our brave brothers at Northwestern University and say "Enough."
Please write your congressperson and let him or her know that you object to Pac-12 Networks undercutting broadcast technician wages and refusing to pay their benefits. If you live in a Pac-12 Networks' state, please e-mail your state representatives and tell them the same. Sign our petition at pac12playfair.com.