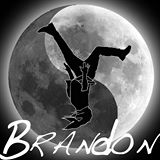 The story of the 1993 accidental death of the actor Brandon Bruce Lee at age 28 while filming the underground comic book inspired film, The Crow, is now well-known. Haunted by his father's legacy and resistant to the constant comparisons in his professional life, Lee had finally come to terms with himself by the end of his short life, at the helm of his first feature film that was not martial arts related. What screenwriter and co-director Daniel Kennedy of Brandon, will explore in his upcoming film is Brandon's life before this period. Kennedy intends to capture Lee's transformation from an angry, grief-stricken young man (his father, Bruce Lee, died when Brandon was 8 years old) desperate to step out of his father's shadow, to someone who was finally at peace with himself and achieving his dream of being an actor.
A Queens, New York native, Daniel co-wrote, produced and starred in the multi-award-winning indie action short, Metal Gear (2012, Orion Studios), based on the Metal Gear Solid video games by Hideo Kojima. While working on his autobiographical screenplay in 2012, Daniel, a fan of Brandon Lee, began to notice that certain aspects of his own story were beginning to mirror Lee's. He immediately began a new script whose several drafts were mentored by the Academy Award nominated screenwriter for JFK, Zach Sklar. Daniel also received help bringing his 95-page finished script to fruition from the founders of The Brandon Lee Movement (www.brandonleemovement.com), a website created in 1999 as a tribute to the actor that makes its mission to dispel rumors and misinformation regarding Lee. The Bruce Lee family is aware of the Brandon film but has chosen not to be involved at this time.
The Brandon production team launched its Kickstarter campaign in August and hopes to raise $200,000 by September 7. There are great pledge levels starting at $1 to $40 for a custom designed logo t-shirt, to backers appreciation screenings, lessons with a Sensei master, to even a film role with a line of dialogue at the highest level. The team has a section on Kickstarter titled "What are you really doing with my money? Come on," for investors to see where the money goes in financing the film . Besides Daniel, the production team includes co-director Travis Williams, producer Petol Weekes, fight choreographer Mike Mullero, director of photography Peter Sennyuen, director of development Martha Kennedy and set designer Yin-Chiao Liao. Guro Richard Bustillo, original student of Bruce Lee as well as a father-figure to Brandon, has recently offered his support as an adviser on the film.
To find out more information on the Brandon project and watch a promo video visit these websites:
http://www.kickstarter.com/projects/1592216458/the-brandon-lee-movie-project
Sandra Kwesi Cameron is a writer who lives in New York City. She has reviewed The New York International Fringe Festival (FringeNYC) for nytheatre.com.