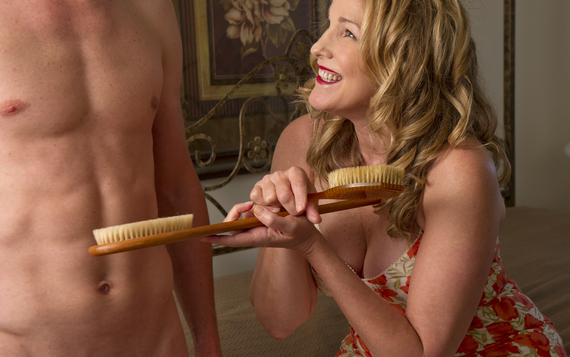 Photographer: Barbara Nitke
My sweet six-month-old baby is lying on his dressing table looking up at Mommy with a big smile on his face. He is the happiest at changing and feeding time. He seems pleased when the cool baby powder covers his bottom, and I gently press down the sticky tape tabs that secure his diaper, which is covered with blue teddy bears. Now that he's clean and dry, I will fill his belly with warm milk while I rock him lovingly and tenderly in my arms.
Once he's fed and his belly is full, I allow him to suck on his baby blue butterfly pacifier to relax and fall asleep.
Nearly all mothers experience this at least three times a day when raising a little one. My baby, however, is not really six months old... he's sixty-three.
The first time I had a potential client contact me for an "Adult Baby" session, I was taken aback. It wasn't as if I judged the request or the powerfully successful middle-aged man asking, but the situation forced me to take a deep look inside of myself. Could I step into the role-play authentically? Could I be a positive facilitator of this man's sexual authenticity? Or would I find myself making a personal judgment? Would I find the scene so unbelievable that I would crack and not be able to stay in character?
In spite of my doubts, I decided to try, and I'm so happy I did.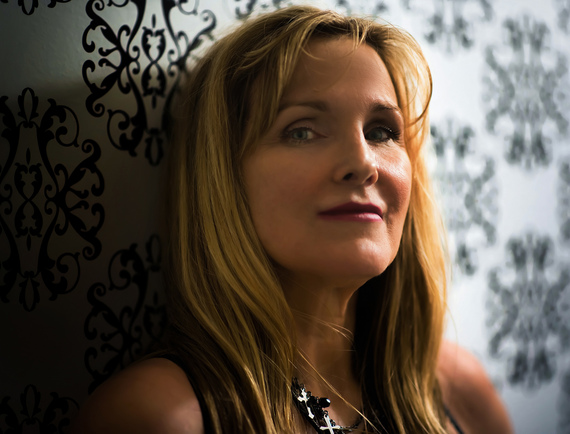 Photographer:
Craig White
As a practitioner in fetish and domination, my role is to help facilitate a client's authenticity and sexual expression. Many times, I am contacted by men who are expressing their deepest desires and feelings out loud to another person for the first time in their entire lives.
The first time I spent a session powdering and diapering my client, I realized that when I leave judgment at the door and embrace curiosity, the physical modality stops being the forefront of the experience -- and what's left is the positive energy and enthusiasm generated between my client and myself.
The intimate and non-judgmental relationships I have with my clients are built on trust and respect. During our sessions, clients may take on a feminine role and dress in lingerie, make-up, nail polish, and wigs to help assist in the expression of being female, while others may have a foot fetish, adult baby fetish, or kidnapping and death fetish. For example, I have a client who takes on the role of a little lamb, and I role-play that I'm going to slaughter him for dinner. The client I mentioned earlier needs to act out like a baby, so I powder and diaper his bottom and feed him a bottle while rocking him in my arms.
Many may wonder, What kind of person likes this sort of thing?
The answer has to do with the dual nature of sex (dominance and submission), which is freely explored in BDSM. Most people who are looking for a dominant partner (professional or personal) are naturally dominant people themselves and want to have the submissive experience. For instance, a powerful CEO who spends his days making important decisions and running the world may desire a partner who will temporarily take control.
Often, the only option these clients have for acting and living in a way that matches how they feel inside is through a secret life, due to social taboos or preexisting relationships. But, by embracing the sexual and emotional outlet of the sessions, they can still leave feeling happy and fulfilled in the end.
During our sessions together my clients often experience a release of dopamine and serotonin, the brain's feel-good neurotransmitters. These two chemicals are associated with feelings of happiness, tranquility, joy, self-confidence, emotional well-being, and motivation. Mental relaxation also comes from authentically expressing sexuality and truly being present in the interaction. Individuals who seek out a fetishist or a dominatrix tend to be middle-aged, high-powered men with very stressful positions in life, and submitting during a session gets them out of their heads for an hour or more. When my clients and I are 100% engaged in our sessions, the constant chatter and noise in their minds quiets down, even if the physical activity of the role-play is intense, as in a bull-whipping.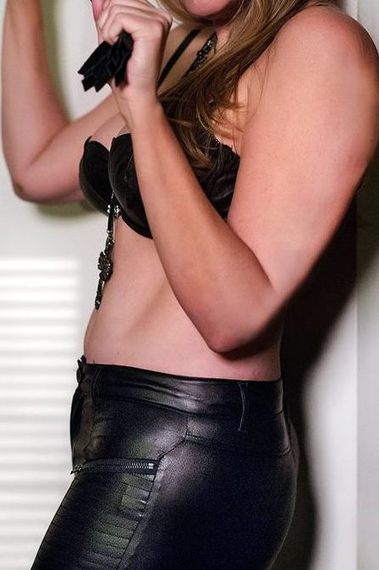 Photographer: Craig White
My sessions are intimate exchanges of power and sexual energy, and for the most part, it's not what I'm doing that really matters -- it's how I make my clients feel. The props and the costumes are there to intensify the drama, but the real play comes from my relationship with my client. The practice of fetish involves trust, compassion, love, acceptance, erotica, and surrendering control.
...That, along with a few necessary beatings.