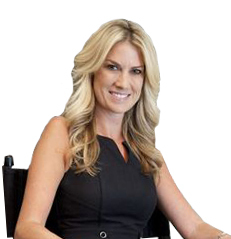 Elisabeth Swardstrom began working at PixelFish in 2008 with a background in production for both television and film before transitioning to advertising. Working as part of the management team at PixelFish was going well for a few years and then along came an opportunity that she couldn't pass up. Here's how the she went from working at the firm to owning it:
How did the opportunity present itself?
"The company operated as two separate entities, with an office in Los Angeles and another in Temecula. As head of the LA office, I remember sitting at dinner with the CEO and CFO, knowing that they had not made the two hour drive from San Diego just to treat me to a sushi dinnr. It didn't take long for them to ask me to take over Operations for the entire company. I was truly honored. However, my counter offer took them off guard. I proposed that they breakup the company and sell me the Los Angeles office. I don't recommend anyone going to the CEO of their company and asking them to split their company and you buy a portion of it. In this case, it made sense."
In 2012, Elisabeth and business partner Jeff Briggs acquired the business. PixelFish delivers video production solutions to businesses--from 30-second commercials for cable and local television to video for websites, mobile applications, internal company training, testimonials and tradeshows.
Why Buy A Company Rather Than Start From Scratch?
"I never doubted owning my own company. However, buying a company comes with existing responsibilities and obligations. There is nothing simple about purchasing a business, but I had a very detailed non-compete with the former ownership. Although non-compete clauses do not hold in the state of California, soliciting employees and/or clients is prohibited. With the foundation already established, it was wiser to purchase the existing company than to begin from scratch. It is more expensive and (usually) a longer process, as there is a price tag on all assets, and legal fees associated with negotiating contracts that come with any acquisition. However, you have to weigh the initial investment with the long-term gain. The foundation had been built and there was a great opportunity to take the company to the next level. As we embark on our second year of ownership and see continued growth, it was the right move for us."
How did you choose your business partner? What makes your partnership successful?
"Jeff chose me - at first. He was a long-time friend that I trusted a great deal and respected as a successful entrepreneur. We both know our strengths and, when aligned together, we have a strong synergy. In any partnership, you aren't always going to agree but we respect the other's perspective and reach resolution together. As an attorney and entrepreneur himself, I always valued his perspective. When he heard what I wanted to do he didn't even hesitate to ask if he could join the crusade. I, on the other hand, had to think and pray about it before I signed on but I'm glad I did!"
Tips for others on choosing a partner:
"Know who the person is, both personally and professionally. Equality is key, so make sure that you complement each other and, most importantly, respect one another."
What are your goals for the future?
"We know that not every company has the budget to produce a million dollar commercial, so we strive to work with all our clients to produce a quality piece for their company within their budget. We form long-term relationships with our clients, valuing them as extensions of our team."
How was the transition to owner for those involved who knew you in the other capacity?
"I was incredibly fortunate to have the support of my team. Therefore, internally the transition was (nearly) flawless. Talking and listening to employees and clients was key, allowing us to identify things that needed to be addressed with staff and processes. From there difficult but necessary adjustments were made. It is easy to ignore the squeaky wheel when you become accustomed to it but "if it isn't broke don't fix it" does not work in a successful business. You constantly need to focus on how to exceed expectations across the board and make the necessary changes. Our clients have been incredible throughout and their loyalty and support during the transition was amazing. When I say they are an addition to our team, it is exemplified through their actions."
How have you made changes to reflect your style of leadership?
"I have a great deal of respect for each person and what they bring to the table. I don't claim to have all the answers but am fortunate to work with a group that has such a diverse knowledge base and am constantly amazed by the creativity and knowledge that comes out of the team. Each employee has the freedom to express their ideas and we work collaboratively to reach resolution."
What advice do you have for others who may be working for a firm and aren't able to acquire it, but want to leave corporate life to hang their own shingle?
If you want to start your own business talk to people you trust and listen to their advice. Find people that you respect, that have succeeded in a specific field (even if not your own) and are willing to give you pearls of wisdom. You may not always agree, but value what they say and learn from their accomplishments, as well as their mistakes.
Create a clear roadmap with realistic goals. Exceeding your own expectations is a much better feeling than realizing that you did not meet the mark, especially when you first start. When we purchased PixelFish I wanted to see 20% revenue growth the first year but, realistically, I should have set the bar between 10% - 15% . We hit over 17% our first year, which was great, but setting realistic numbers helps for long-term planning.
For a start up, I recommend measuring your growth weekly then monthly before moving up quarterly. Looking at the numbers in a finite manner will help you identify things you need to change in real time, rather than realizing changes that you should have made two months down the road. If you are on a downward curve don't get discouraged, but make the necessary adjustment(s) with overhead so that you can navigate with ease.
If you have increased sales, be a steward of the money. Invest in things that will help with the long-term growth, not short-term gratification.
Elisabeth has a clear sense of direction and goals that keep her on track as she now leads this team to build her brand and her own vision for PixelFish. "You will trip and perhaps fall along the way but what sets you apart is your willingness to continue on the journey."