Why put your car in the garage when you can park indoor spin bikes and run a spin class there instead? This was the humble beginning to the now thriving Fit On Studios start-up in Los Angeles in 2010.
Angela Bennett and co- founder Franca Stadvec had an idea about starting a spin and barre fitness studio but before taking the plunge into retail space they bought five indoor cycle machines and had classes with neighbors from Angela's garage.
The garage door would be open, music blaring and we would be riding hard. Cars would slow down. People walking their dogs would stop and check out what we were doing. Now that we look back, it was hilarious but it got our neighborhood talking.
Five bikes quickly turned into ten and their proof of concept seemed ready for the marketplace.
Angela says:
I was into [indoor cycling] and Franca was into barre exercise and there was no place in town where we could do both. We did not have the luxury to workout for two hours and did not like the big gym anymore. We were more into the boutique studios so we decided to combine both. The void in the market place definitely sparked our interest but it was the idea of owning a business in our beloved community that gave us the desire to make it happen. Both Franca and I have always been into fitness but to be doing it for a living with our friends and neighbors is really a dream come true.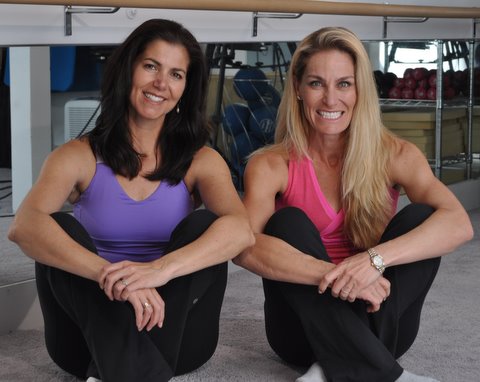 There had been a few small boutique fitness studios locally that they had seen open and close, they knew many stars had to align to make this venture possible and successful long term. The stars began to align with the two couples all having combined skills that allowed them to plan, build and execute their vision.
Franca's parents were small business owners so she understood first hand the dynamics and benefits of owning a business in her own community. They started by making a long list and assigned duties. Franca's husband Michael had set building experience, is music buff and had worked opening Mari Windsor's Pilates studio. He knew about construction, websites and software so he was in charge of overseeing the build out and the all important stereo system. Angela's husband Taylor is in commercial real estate and has a finance background, so he was in charge of negotiating the lease and figuring out all the numbers for the business. Angela was in charge of hiring spin/cycling teachers, setting the schedule, advertising, marketing and buying furniture and bikes. Franca, being an avid barre student was in charge of everything to do with the barre room and also handling the insurance matters.
They were fortunate to quickly find a space with ample free parking, which they felt was critical in a beach town known for lack of parking and frequent parking tickets. Once they settled on that space, they all worked tearing down walls and painting. Angela says:
Our kids, grandparents and even our brother in laws helped. While we were getting our space ready (it only took three weeks, working 24/7), we had acquired a local barre physique business that had recently closed and over night we moved their equipment into Fit On Studio. Paint was dry and everything was up so we could start classes the next morning.
Since none of them had ever owned a service based business like this Angela says:
It was a 'learn as you go' experience. Some things didn't work so we would stop doing them. We welcomed suggestions from our customers and we listened carefully. At first all of our customers were our friends and friends of friends, so they wanted to help us make this work. Our community is so supportive they were patient with our early mishaps.
Angela found her past professional experience in both medical sales and work as a fitness instructor at big gyms very helpful in implementing customer service and scaling the business. They wrote a two- to five-year and a five- to 10-year plan. They also realize the benefit of having been active in their community for many years before opening this business. "Both of us are very active and involved with the schools, (we were both PTA presidents at different times) church and local causes so we had this terrific built in network to help market our studio."

Angela and Franca have known each other since college so they are confident in each others abilities to make this a success. Angela's parents lived in South America while she was in college so going home for Easter and Thanksgiving were not an option. Instead she says:
I ended up at Franca's house for holidays and then after college, I moved to a beach town about two hours north of San Diego and convinced Franca it was a great place to raise a family. We ended up living across the street from each other and now, this makes for easy business meetings! We always say that we are like sisters, we can really tell each other how we feel about decisions and not worry too much about feeling being hurt.
One major change that both Angela and Franca faced was having to be away from home much more than usual. Angela explains:
My kids were eight (twins) and six years old when we opened the studio and Franca's were 8 and 10. They were pretty miffed at first, saying 'Why you are leaving again? I hate Fit On' but thankfully they saw how much we loved it there and they heard people telling us that they loved our studio. Now, after two years they ask to come along and they even want to work with us! They now have a sense of pride that we serve our community. They know their friends Moms and Dads come into the studio and now they are even old enough to enjoy a class themselves. Franca's son wanted his 10th birthday to be a cycling party taught by his Dad! The kids also love the studio space for when they need a room with a mirror to practice for Talent Show or Dance Rehearsal. But as busy moms, we are always adjusting our schedules since we are open days 364 days a year. We close only on Christmas... We want to be good role models for our kids, we want to teach them how important it is to be able to take care of yourself and be a productive citizen.
Their households went through transition but Angela credits their husbands with being extremely supportive. "They have each really stepped, Taylor actually does a better job getting the kids showered, helping with homework and ready for bed. Both Taylor and Michael have had to help out with driving kids to practices and appointments and pitching in more with making dinner. They know we are doing this for our families and it's become a real team effort."
Angela & Franca's tips for other Mompreneurs:
Trust your instincts.
Seek out advice and help from friends.
Hire Moms; they are reliable and are hard workers.
Involve the whole family....it makes them more supportive if they feel part of it.
Give things time; a new class may take 3 months to catch on.
Angela says:
I know we made mistakes but I must say they've made us what we are today. We learned from each mistake but the best part of this type of business is that every one is happy, or at least they are when they leave! Working out produces endorphins which make you feel good. We did not realize how rewarding Fit On would be for us. Having our customers say 'I have never felt better... My Dr. says whatever I am doing keep it up... I have lost 30 pounds... My wedding dress had to be taken in again... I was the best one in shape at my high school reunion... My teenager loves working out at Fit On' and so on... It's comments like this that is by far the most rewarding part of our job. We really feel like we are helping our community get fit!
Now Angela's garage is empty again and ready for the next big idea, which may very well come from the kids next time!