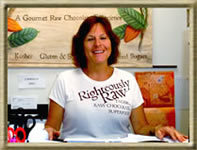 Even in the midst of an extremely stressful time dealing with a breast cancer diagnosis, Audrey Darrow, CEO and Founder of Righteously Raw decided it was the right time to start a business.
It turned out to be a life changing experience that now allows her to help other startup entrepreneurs with her co-packing manufacturing facility and raw food expertise. This is one strong woman who continues to grow her business while inspiring others with her story of triumph over tragedy. Chocolate brought back some sweetness to her life. Here's how she describes her journey:
How did you start your business, Righteously Raw?
"I started my business in 2007 after having gone through breast cancer, chemotherapy, radiation and multiple surgeries. I wanted to be able to buy the foods I needed to heal from all of the after effects of treatment. I took a job at a local health food store to get the discount on the foods I needed to heal my body and prevent recurrence of the cancer."
"My vision was never to be a chocolate company but rather an empire of raw food manufacturing. After renting our facility out to some chocolatiers to help me pay the rent I quickly realized that raw food had a short shelf life. I realized if I covered my raw food ingredients in chocolate it would extend the shelf life. The cost for a raw chocolate bar was $14.00 in 2006 and I could not afford that even with the discount from the health food store, so I knew that millions of other people would not be able to afford it either. I felt that I could create a better more affordable product so that everyone could be able to afford to heal their bodies. The chocolate line Righteously Raw was born with three chocolate bars and now has a line of fourteen products."

How Did You Expand the Line?
"We started with three flavors Maca, Goji and Caramel for the first two years. Then we created the Acai Bar to much fanfare from our customers. After my daughter passed in 2008 I felt a burning passion to create a bar in her name so after trying to find the right flavor profile with our friend Dennis Shamahd, we introduced the Rose Bar in 2010 with an inscription inside the label and a silhouette of Jaymie. The inspiration that we sent out to our customers came back to us in amazing ways."
"We had debuted the Righteously Raw line in March of 2008 at the big industry trade show and the economy tanked right after. With the economy suffering, again, not everybody would be able to afford the luxury of our $6.00 chocolate bar, so Dennis and I went about creating three flavors of Bite Size to sell for $.79 a piece. I knew it would give everyone a chance to enjoy raw, dark chocolate. It was an instant hit. We also introduced two new flavors this year and a new bar called the Pure Dark Bar which is our first with no truffle inside."
What was your background before launching?
"I was a stay at home Mom for 15 years prior to starting my first business in 2002. I started a tiny deli with no previous business experience or education in that field. In 2003 I got diagnosed with breast cancer and became too ill too work so I had to close down the business (fortunately I was renting a tiny space in my friends coffee shop). After I went through treatment I needed something to take my mind off of cancer and recurrence so I created my own line of organic teas. I got myself to the World Tea Expo and onto store shelves but I didn't believe in myself or my ability to build a business since I never had any education relating to business, only to Physical Education (BA). The tea company helped me to inspire others to get up after illness and do something positive. I got myself onto television in newspapers and I inspired so many people but I wanted to do something bigger. I had no money to grow the tea business and to wait for profit and I was afraid of all the competition already on the shelves. My parents came to me and said they wanted to invest in me
and so after knowing I wanted to build an organic, raw food manufacturing facility the dream and vision began."
"I had to learn that I did have what it took to build a successful business but I also realized I had things I was very good at and other things I needed help with so I made sure I hired someone who could handle the day to day operations while I was the visionary for the company. It took me about four years to find just that person whom I knew could do it all and then as the company grew I hired an amazing sales person and so on. Having a great team on my side has made it all come together and I no longer need to worry about how the business is running because in addition to having an incredible front office team, my 26 year old son (recent graduate of UCSD in Management Science) has joined our team and it is truly a family."
How did you begin to sell your first batches of product?
"In the beginning I sold to small Mom and Pop shops but then got into chains like Whole Foods Markets. I did a lot of store demos to help spread the word. I continued hiring people around the country to do demos and to keep educating people about raw chocolate."
"I knew I was on to something when I was able to sell to retailers over the phone without sending samples first. I would simply pick up the phone and say: 'Would you like to try my fully certified Organic, Vegan, Kosher, Gluten Free, Non-GMO, No Refined sugar, dark raw chocolate bars?' all in one breath. The answer at least half of the time was yes send me some information or send me the product. I got to a place where I knew it would sell so I offered a No Risk Intro Offer whereas they could try the product for 30 days and free shipping."
"If it sold they would send me a check and re-order, if it didn't I would pick it up , they would pay for what did sell and they had no out of pocket expenses to try the products and I had no high costs of sending samples to everyone who wanted them. I still offer this because it works 95 percent of the time. The other 5 percent is usually when they do not have a raw section in their store or they put us somewhere where the customer cannot see us."
What was it like when you realized you were on to something?
"It was exhilarating but also difficult because there were so many obstacles and lessons along the way. As I look back now I am grateful for the lessons even though they were very trying however you cannot have success without some failure."
How did you manage your growth while bootstrapping?
"We started out with only three bars and did not introduce another flavor for two years. We created a demand in the market place for something new from Righteously Raw. We never went with distributors the first couple of years, only selling direct to the stores. This allowed us to do store demos, give out free passive demo chocolate samples on every order for each account. By not going into distribution it allowed us more money to do more for our customers and offer more to get new customers. We went into distribution after a couple of years with a small distributor for only one region of Whole Foods Markets but managed to sell direct to many accounts because of our quality product."
How Did You Decide to Utilize Your Facility to Generate Revenue?:
"We started co-packing to help fund our growth. It has allowed us to become the company that I always dreamed of. The extra revenue allowed us the ability to re-brand this year. I knew we had a kind of organic look but I wanted a more gourmet, organic look. A graphic design overhaul was something I knew would get our line into venues that may not have purchased otherwise. I wanted the chocolate to scream "gourmet!" This year at the industry show was the first time I ever had that feeling of knowing I was 'there' and nothing else mattered!"
"I have used my experiences good and bad to help other new startups. I offer co-manufacturing for like-minded companies and I help them from inception of idea to store shelf. I help these companies avoid the mistakes I have already made and learned from. I counsel people on
the phone and through email as often as I can. I have been so filled with gratitude from my customers who believe in me and appreciate what I do for them. I love helping other people who are trying to build their vision into something. Constant obstacles and making big decisions can be overwhelming without having a mentor there for you to find your way and keep your sanity. It's so rewarding to be that mentor."
What Were Your Biggest Challenges?:
"Along the way we hit a wall with trying to find ingredients that had all of the certifications we needed. This became a full time task. Also trying to find good business people who could follow through with supply in a timely manner, as that was a real issue within the industry. In addition to those issues, we had to let go of some employees who dragged the company down rather than add to it's success. This was hard because I take my relationship with employees very seriously and want to give everyone opportunity to be successful. Sometimes the fit is not right and you have to let go and that was such a difficult process for me. Now the team that is in place has a shared mission, a shared energy and love for what we do and create and are compassionate, unselfish and incredibly hardworking people who have made this company their home and family."
Overcoming the Self Doubt:
"Not having one day of education in the business field, I was told by many friends and family that I needed to do a business plan, do focus groups, studies and you name it they thought I needed to do it. Instead, I found a disgusting building that was affordable and built from the ground up my own fully certified manufacturing facility for raw foods. I never wrote that business plan but I had a vision that I knew somehow I could achieve. Those who told me I needed to do all these things were graduates of business schools."
"I now understand that you can have all the best books and teachers but building your own business takes an entrepreneurial spirit that is not taught in business school. You have to have a powerful feeling of knowing that what you need will be there if you ask for it. You have to feel that you deserve it and work hard toward your vision. Having been told I can't do something after having gone through cancer is like telling a child they can't have candy. I was going to get it no matter how hard I had to scream, cry, jump up and down. Eventually I got my candy and so much more."
Audrey's Advice for Other Startups:

Without a burning passion the journey can be very difficult.
Have determination in everything you do.
Know you deserve success and believe in yourself!
Surrender and know that if you keep moving forward in action, you will have success.
"I had such a burning passion to build something huge and employ many people, give back to the employees and to the communities and organizations that I admired to pay it forward. Having gone through so much, my life was in need of a spirit boost. Building something from the ground up is such an amazing journey and seeing my accomplishments every year has really fed my soul!"
The curative effects of chocolate have gone above and beyond for Audrey Darrow, starting a business was her best medicine.