"I forgot to wear my ring!" Mary Kay exclaims as she climbs into my car. She is referring to the silly cocktail ring I presented to her on her recent birthday and seeing the silly but quite fabulous cocktail ring on my right index finger reminds her she forgot to wear hers tonight.

We chat non-stop throughout the ninety minute drive and then we finally arrive at our destination, The Tattered Cover. Except for the fact that I'm wearing a fabulous red wool coat and gray scarf, the journey looks an awful lot like traffic on I-95 and could be any shopping center in South Florida. I've been living in Boulder for exactly 367 days and I've barely left the bubble of Boulder (unless you count the weekend ski trips to El Dora). I've enlisted my friend, Mary Kay (also another recent South Florida transplant) to be my director/producer/camera-woman for the evening.
I'm at the Tattered Cover to interview author Gretchen Rubin about her latest work, The Happiness Project, which she has just learned is #2 on the NY Times bestseller list for the 3rd week in a row. I am met at the door by the fabulous Jinx McDonald, event coordinator for author events at The Tattered Cover. She is a lovely woman with short gray hair and a sparkle in her eyes. She leads us to a quiet corner in the middle of the gift and card section, explaining, "It will be quieter over here away from the books."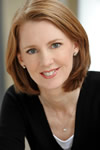 As I set up our two camera shoot (which consists of a tripod, Flip camera & my iPhone) Gretchen Rubin approaches the "set." She looks exactly like the photo on her blog. She is petite, poised, reserved and right on time. She removes her black puffy down jacket and is dressed in a cream turtle-neck sweater and a lovely black and cream print blouse that skims just above her knees with black skinny pants and black boots. She looks effortlessly dressed and I wonder if it took her much planning to decide what to pack for a nine city book tour that is taking her from New York, Boston, Washington DC, Chicago, Denver, Kansas City, Los Angeles, San Francisco, Seattle and back again. I make a mental note to ask her after our interview.
Gretchen is relaxed and overflowing with great tips during our interview, she describes the revelation she had while sitting on a bus one day staring out the window, that "The days are short but the years are long" which led to the creation of a viral movie and the beginning of her own happiness project. Now, it seems she has started a happiness revolution, in which people sign up on her blog to start their own happiness projects and really, isn't that what everyone wants? To be truly happy?
I've attached an excerpt of my interview below. You can watch the entire interview at the
The Road to Fabulous.
In her book, Gretchen takes the reader along for the ride on a year-long journey of her own personal happiness project.
My favorite tip from talking to Gretchen was that people are happier when they are learning something new. This gave me peace, as I sometimes feel like an ADD multi-passionate artist, writer, "hot mogul" unable to "pick just one thing and focus on that" for the rest of my life. My latest obsession with editing movies conveniently becomes the perfect new skill for my own happiness project.
The trip to Denver, the interview and the entire evening went beautifully with Gretchen speaking to a packed house at the spacious Tattered Cover's Highland Ranch location. Jinx busily added more and more chairs to accommodate the growing crowd.
It wasn't until the following evening when I was headed out the door for another birthday celebration that I realized I didn't have that fabulous cocktail ring.
A little bit of detective work revealed that I was not wearing my ring in the interview footage, which could only mean one thing: I left my favorite ring in the bathroom of The Tattered Cover book store.
In South Florida, that ring would be long gone. But this was Colorado, and after living here only a few short months, we were shocked to learn that living in Colorado is like going back in time, or perhaps stepping through a "nice portal." When my daughter left her purse containing cash and an iPod in the bathroom of a movie theater, my husband and I told her to "kiss that stuff goodbye", (I know, not a super-supportive thing for parents to say), but she insisted we go back to check and, sure enough, someone had turned it in to the theater manager.
Still, I prepared myself for the loss of my favorite ring. I reminisced about the decision to splurge on the giant, aqua-marine cocktail ring several years earlier. It's the one piece of jewelry I grab every time I am going someplace special or just want a little extra mojo. It's unusual, it makes a statement and it makes me happy. And now I had carelessly left it in the bathroom of an extremely busy book store. I was sure someone stumbled upon it and thought "Wow, I would never actually buy such a crazy looking ring, but how fabulous! I love it!" She could slip it on her finger or into her pocket and have a new treasure.
These are the thoughts that were going through my mind as I dialed the bookstore and carefully explained to "Thomas" at The Tattered Cover the details of my dilemma. I dropped Jinx's name hoping that would give him incentive to stop what he was doing and go look for a ring in a giant bookstore. (Needle in a haystack?) Thomas patiently listened to my story of the interview and Jinx and the cocktail ring and took my number. I let out a deep sigh as I hung up the phone and went back to video editing.
Within moments the phone rang and it was the delightful Jinx, my new best friend. She asked me to describe the ring and cut me off at the word "aqua" saying "I have it here, it will be in an envelope in the manager's office for you."
Wow. Happiness is......
Someone finding a very fabulous aquamarine cocktail ring and turning it in when they could have so easily kept it.
Happiness is.....
Believing that there are still places in the world where people care about other people, even complete strangers, and treat them as if they are family.
Happiness is....
Looking out my window and seeing mountains and feeling my soul has come home.
Happiness is......
Meeting incredible people who start Happiness Projects and spread good mojo all over the world.
Happiness is....
Feeling that this new decade is bringing some incredibly awesome energy into the world at a much needed time.
Happiness is....
Looking at my fingers as I type these words and seeing my big, shiny, silly aquamarine cocktail ring smiling back at me.
Happiness is.....
Living in Colorado and totally Loving it.
Excerpt: The Road to Fabulous- Gretchen Rubin Episode
You can watch the entire interview here: The Road to Fabulous