I am JUST the wedding planner. That means I help brides and grooms choose venues, vendors and arrange logistics. The bride (and sometimes groom) choose the colors, the theme and the general spirit of the décor. My only job here is to execute their plan, even if the color scheme makes me want to throw up in my own mouth. Or laugh my ass off.
After almost eight years in the Caribbean destination wedding planning business, and nearly 500 weddings under my belt, I have seen some really truly hideous color schemes, and some painfully stupid ideas. I've seen beautiful inspiration too, but that's not the funny stuff to talk about today.
Even before Pinterest took over the world, girls were coming up with really bizarre ideas that made me wonder if they were pregnant as well as engaged (pregnancy was how my friend Liz's mom explained their turquoise front door). And now that bridal professionals are labeling things "color of the year," it's pretty funny to see what some brides believe will look good with the Pantone Radiant Orchid. No, actually, it doesn't go with "everything." Teal and orchid? Barf.
Rather than really hating some of the décor I have to create, I try to find the humor in it. Really I do. We do a lot of laughing around this office. When a bride wanted a decorated Porta Potty, I sent her 20 pictures with different options. I almost peed myself laughing in the process of finding the pics online (no really, go Google images for them), but I did it. She wisely opted against the Porta Potty later on. I think my suggestions scared the hell out of her.
But to be fair, I tell the clients my honest opinion about everything they ask for, and I laugh with them as I'm ordering the neon fabric, or burlap, or emerald green and turquoise cupcakes. My opinion doesn't matter in the least -- but I'm allowed to have a sense of humor. If I didn't, I'd lose it. How do you keep a straight face when you're listening to someone describe their dream peacock wedding in the Caribbean? It's a good thing I rarely Skype.
With all that said, there are some things that just have to stop. I know that you won't all agree with me, but if you did what I do every day and you saw the pictures some of my brides send me, you'd probably agree more than you realize. And anyway, it doesn't really matter what I think because my clients will continue to want what they want, and my company will always deliver. But, if I had my druthers, the following five things would go away. Forever.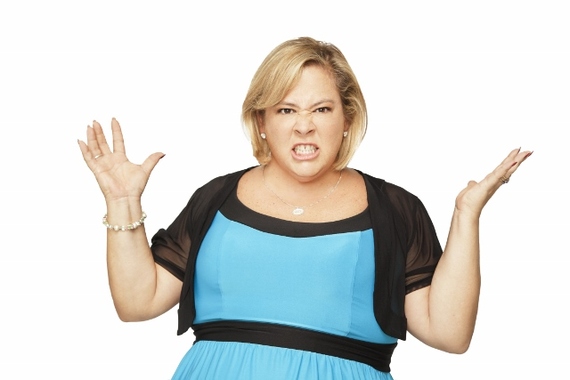 #1 -- It's time to stop it with the burlap. For real, that shit is nasty. It molts everywhere, doesn't cut well without running, and frankly, it smells bad. And it looks like... burlap. If you must have table runners, for God's sake use something that was intended for use outside of a barn or packing plant. There are plenty of affordable options online. Cheap burlap actually catches on delicate fabrics on your guests' and wedding party's dresses.
#2 -- No more tying lace around everything that stands still -- including the cake. It does not make your wedding "vintage." It reminds me of my deceased mother-in-law who spray-painted everything gold. Tying lace around mason jars makes your wedding shabby-chic, and if that's the look you're going for, let's do it. But if you want "vintage," let's get a little more creative and spend a little bit more money than just sending me yards of random lace remnants you picked up without thought or reason. It's cute, I'll admit -- but the look is not elegant.
#3 -- Seriously consider WHERE you're getting married to avoid being tackier than necessary in your décor. I'm sure that a peacock theme, for example, could be lovely up north, using jewel tones for a fall or winter wedding. But on the 4th of July on Vieques Island, Puerto Rico, making your bridesmaids wear emerald green and turquoise satin dresses is just mean. It looks stupid. And kinda ugly, to be honest. And carrying through your theme into a tower of 150 turquoise and emerald green cupcakes makes your wedding reception look like a birthday party... for an eight-year-old. Just sayin'.
#4 -- There is a fine line between planning something "different" and planning something weird. Don't feel like you have to be the first bride ever to try something. It's okay to follow some traditions. I'm still on the fence about the teepee my April clients are sending down (cool or weird?), but I'm going to make sure that they get all the pictures they want of it and will reserve judgment until after the wedding weekend.
#5 -- Let's avoid the creepy, weird, edible, bobble-head-looking dolls of yourselves as cake toppers. Giant paper cut-outs of yourselves to have everybody sign as a guest book are weird and scary. And I'm not even going there today with the whole dressing up a chair to resemble a dead loved one thing. I've blogged about appropriate ways to honor your passed relatives before. Read that and take heed.
Look, maybe you're thinking I'm judgmental, but it's not just me. I hear what your wedding guests think because they babble to the wedding planning team like we're a confessional booth. And when they think burlap tied on the tiki torches is tacky, they let us know on no uncertain terms... almost challenging us. My response is always a very diplomatic "it's what the bride and groom wanted." And my tone never indicates that I think your choices are anything less than fabulous. But my point is that I'm telling you guys to stop doing the things your wedding guests are making jokes about.
Sometimes brides and grooms get so wrapped up in the magic of wedding planning that they lose perspective on reality. It's one thing to have all the bells and whistles, but you don't have to tie a bow on every whistle, and you don't need to dip the bells in glitter, if you know what I mean. It can be difficult for some clients to stop planning even when everything is finished and decided. And that's when the weird stuff starts arriving in big boxes because somebody's been shopping online at 3 a.m. again.
I tell all my clients that my opinion is only that -- an opinion -- and they should do whatever makes them happy. Which is why I have to sign off now and start cutting burlap and tying giant lace bows for an upcoming wedding. I'm just the wedding planner.
Until next time, happy wedding planning from Weddings in Vieques and Weddings in Culebra!
Sandy