I want to take a moment to talk about the perpetually panicked bride (PPB) -- it's a legitimate label for a syndrome we invented that a few of our clients have earned over the years. It's such a serious condition that we have to joke about it around our wedding planning office, or else, we'd have to start taking out hits on certain brides.
What does the PPB do to warrant such frustration and cause such humor for the people she's paid to plan her wedding? The list is usually long. But there are some symptoms that are unmistakable once the planning has started. I only wish they let us know during the consultations to hire us that they're planning to torture us as soon as we've signed on the dotted line. We'd try to avoid those clients.
Signs of a "perpetually panicked bride"
She sends a LOT of emails. One liners with little detail changes. She may send 10 in a day changing her mind about three things five times.
She never answers the questions you ask her in an email. Instead, she asks you more questions about unrelated items.
She sends a LOT of email between midnight and 6 am, guaranteeing the sick clutch of anxiety in the wedding planner's stomach when they wake up and hit update on their email. You NEVER want to see a PPB's name pop up before 9 am.
She disregards scheduling protocols and calls the wedding planner's cell phone whenever she has a random thought (and gets sent directly to voicemail) and she babbles through conference calls about all of her worries and concerns but never wants to make an actual decision.
She wants immediate results when she finally does make a decision.
She wants immediate responses to all of her emails, calls and texts (another no-no in our client handbook that a PPB will completely ignore).
God help the wedding planner if you don't respond quickly enough to a PPB -- she'll blow up your phone or send you a SUPER dramatic email all about how she's paid you to be on her side, to be there for her, and how you're letting her down. It's always really a hurtful email to read because we've tried very hard to make her happy. As planners, we must remind ourselves that she's the crazy one, not us. There's nobody who could have made her happier than what we're doing, so we keep on plugging along. I always thought this South Park cartoon a friend made during TLC's "Wedding Island" described it well.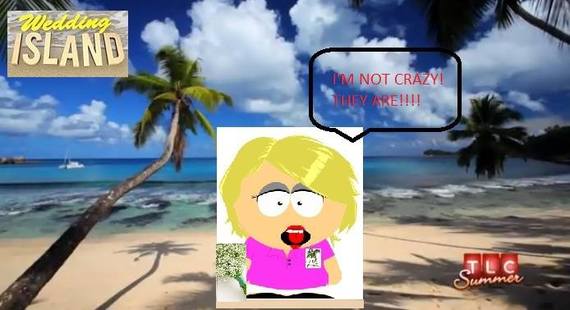 The PPB craves, desires and needs a massive amount of attention from her wedding planner. And probably everyone else in her life too -- just guessing. I can't even imagine what it would be like if we were local and she could just drop by the office whenever she felt like chatting. We know it's about the attention factor because all it takes to calm her down after a rampaging terroristic email is calling her up, letting her hear my voice, listening to her rant and rage (usually about nothing that has anything to do with the wedding plans on the island), and telling her it's all going to be okay.
Sounds easy, right? It's not. Every time I have to drop whatever I'm doing to talk a bride off the ledge, I'm losing time working on something else for another client, or maybe even the PPB herself. If she wanted to rant because she was upset with my services, that would be one thing and I would be obligated to listen and try to work things out. But most of the PPBs we deal with are fighting with their fiancé, or their mother, or their bridesmaids -- it doesn't have anything whatsoever to do with something we have or have not done in the course of providing wedding planning services. Not being sure whether his sister will be a bridesmaid after a fight doesn't merit an 11 pm phone call to your wedding planner's cell phone.
Nowhere in my contract does it say I'm your therapist or counselor. In fact, in my official client guide, we explain the relationship clearly -- I'm your wedding planner, not your friend. Talk to me about your logistical wedding problems, call a bridesmaid about the rest of it.
I realize that sounds mean and I'd like to qualify it by saying that when we do our scheduled planning calls, my clients and I get to know each other very well. I learn about the problem guests and family members we're expecting, how the dress shopping is going, and why she was obligated to have so many damned bridesmaids. I've been known to become friends with quite a few clients AFTER they've had their big wedding event down here on Vieques Island. But I learned the hard way my first year in business to draw a very clear line in the sand from the very beginning.
This is an exact excerpt from my "Official Guidebook" we send to clients:
I am your wedding planner, and while we will probably become more like friends during the course of our relationship, my primary job and only obligation is to plan your wedding. Once the details are under control and planning is going along smoothly, I don't need to talk to you every week. Eventually, I won't need to talk to you but every few months or so, as long as we're not having any technical difficulties. That's hard for some of my brides who are big control freaks (like I am) and would have planned their own weddings if it wasn't for the fact that it's nearly impossible to do on Vieques. Once a wedding is planned there's not a whole lot for you to do until a few weeks before the big day.
I am your wedding planner, and when you arrive on the island, I have a job to do. I can't go out to the bars with you and party at night. I probably won't drink at any of your events. I can't be with you all day on your wedding day to hold your hand and calm your nerves -- somebody has to be at the venue setting up for the big event! The hand-holding job goes to your maid of honor or your mom. My job is to make sure that all of your vendors are where they're supposed to be, and that everything is set up and ready to go for each of the events we have planned. Of course, I'm excited to finally meet you in person (usually for the first time) and I'm looking forward to spending time with you. But again, my first priority is working my butt off so you don't have to. Please don't be offended if we don't "hang out" with you outside of wedding events. What you don't realize is that we go home from each of your events and immediately jump into the prep work for the next day. It's all about you! This time you're on Vieques as our clients; when you come back for anniversaries, we'll go hang out because then you return as our friends.

For the PPB, believing her planner is her "friend" is important to her. And most of the time, I think my clients feel secure that I've got their backs -- I just have to be clear about boundaries. I have too many clients to sit up late night with any crying bride who has been fighting with their fiancé about wedding rings. That's not even part of what I help to plan. My job is to be here to help plan and execute your wedding weekend, and to troubleshoot wedding planning problems as they crop up, not be the emotional Xanax every time you melt down.
Until next time, happy wedding planning from Weddings in Vieques and Weddings in Culebra!
Sandy