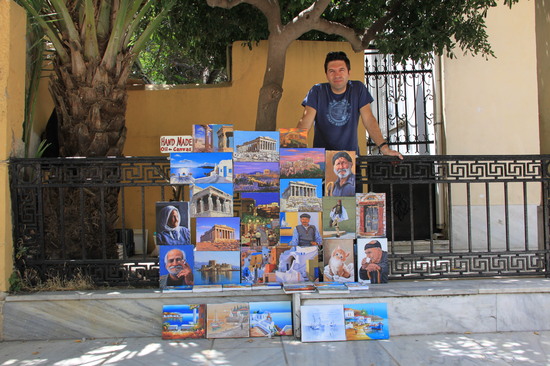 One of the delights of travel is the people that you meet, people to whom you have no obvious connection, except that for some brief moments you inhabit the same physical space. That's how, on a recent trip to Athens, I met Sofokli Telo. A young Albanian artist who has lived in Athens for a decade, Telo sells his bright, oil portrait, landscape, and monument paintings from a small terrace under the shade of tree with a view of the Acropolis. I happened to pass by one morning. Business was beginning to pick up, just a little. "Now there are definitely more tourists. People used to see the images of Syntagma Square [home to the Greek parliament and also the daily, sometimes violent, demonstrations at the height of the crisis] and didn't come. Now there aren't so many images. This year is definitely better for me." I asked him about his customers, who were the best? "The Germans buy. Also the Australians, the Americans, the Canadians, the Brazilians, and the Russians. The French never buy." He'd graduated from art school in Gjirokastër, southern Albania, and worked for some time in an Albanian gallery before moving here. "I like living here. I love the weather. But like many immigrants, there are always problems. " I asked him where he'd really like to live. "New York. I'd love to live there. That would be my dream."
Later that day, as I crossed Monastiraki Square up toward Athinas street, I started to talk to Bernard, a Ghanaian who had lived in Athens for 15 years. He did odd jobs, working mostly as a gardener and had been here long enough to apply for citizenship. But he hadn't. "I can't get citizenship because I am black," he said bluntly, quickly looking round to see if anyone else was listening. "That's the truth. If I were white no problem. Ten percent of the people here like the blacks, ninety percent don't." He peeled off and bade me goodbye.
That night, at my hotel, I overheard Pinank Kamdar, a diamond buyer from India, asking the concierge for the name of a vegetarian restaurant nearby. I dutifully stepped in, having eaten at the wonderful Avocado earlier in the day, and suggested he go there. He called over his wife, Milky Jain, and we all made our introductions. The two were in Greece on their honeymoon, traveling to Mykonos the the next day before ending it in Santorini. Touched by my suggestion, and maybe because we shared common genes, the fresh-faced, photogenic couple invited me to share dinner with them. I declined--I'd just eaten--but they asked me to join them anyway, and we strolled the streets to the restaurant (Avocado was closed, we found somewhere else), sat, talked, I tried some of the food, and we returned to the hotel like old friends going home after a night out. In a city where I didn't know a soul, it was kind of heart-warming.