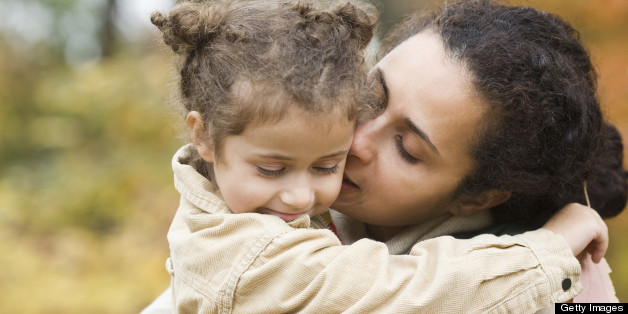 Though Batman is my favorite comic book hero, as the American-born son of immigrants, I have always connected with Superman. His identity is tied to two very different worlds, having survived the destruction of Krypton as an infant and then growing up on Earth. Whether he goes by Kal-El (his birth name), Clark Kent (his adoptive name), or Superman, he does his best for truth, justice, and the American way -- a quintessential immigrant story. However, it's worth considering that Superman did not acquire these ideals out of nowhere. His extraordinary heroism is rooted in what ordinary people like Jonathan and Martha Kent (his adoptive parents) shared with him from the moment he arrived to Kansas as a baby. With one in four children in our country belonging to immigrant families, we as Americans have a lot to learn from the Kents, who demonstrated truth, justice, and the American way to their immigrant child. These principles must guide the child health policies within immigration reform.
The truth is that between 1990 and 2010, the number of children with immigrant parents more than doubled from 8.2 million to 18 million. Indeed, most of the growth in the U.S. child population over the last 20 years can be attributed to rising numbers of immigrant children, whom the American Academy of Pediatrics defines as "children who are foreign-born or children born in the United States and live with at least 1 parent who is foreign-born." As rising Americans, too many of these children face the adversities of poverty. For children in immigrant families, 30 percent live below the federal poverty level (compared to 19 percent of children with parents born in the U.S.), despite the fact that 66 percent of immigrant children have at least one working parent. The children of immigrants are also almost twice as likely to lack health insurance: 15 percent compared to 8 percent for non-immigrant children. Sadly, many of these children are eligible for Medicaid or CHIP (the Children's Health Insurance Program), but are not enrolled.
Justice is lacking for immigrant children because of the social and policy barriers they face when trying to access programs for health insurance, nutrition, and early childhood education. By law, an immigrant family cannot be considered a "public charge" if their child uses Medicaid, SNAP food stamps, WIC, Head Start or other similar services. Nonetheless, many immigrant children's families are worried about how utilizing these programs will impact their immigration status, leading many children to be uninsured, under-nourished, and/or under-prepared for school. This injustice stems from misunderstandings of immigration policy and from stigmas against the poor, whether they be citizens or immigrants. Having access to health care, nutrition, and education makes children vibrant, not dependent, and as fellow Americans we need to uphold our commitment to rising citizens.
Another set of unjust barriers for immigrant children are the waiting periods for Medicaid and CHIP arbitrarily placed upon families based on their immigration status. Under current immigration policy, lawfully present immigrants face five-year waiting periods before they can enroll in these critical programs. Individual states have the option of lifting these waiting periods for immigrant children and pregnant women, but only 25 states have removed this barrier for children. Is this really the American way?
Recently, the Senate Judiciary Committee approved a comprehensive immigration reform bill, the Border Security, Economic Opportunity, and Immigration Modernization Act of 2013 (S.744), which creates a new pathway to citizenship. During the first 10 years, one would be a "registered provisional immigrant" (RPI) and ineligible for Medicaid, CHIP, SNAP food stamps, or other assistance. At the end of that decade, one's status would change to "lawful permanent resident," (LPR) and the 5-year waiting period described earlier would commence. If after three years of being an LPR, one becomes eligible for citizenship, then that person may enroll in federal programs for health care and other assistance. Such a person, an aspiring citizen, would have waited 13 to 15 years for help with basic needs.
Our Congress and state governments must recognize that whether it's five years or 15 years, these are unjust amounts of time for any child to wait for health care, and such restrictions must be removed. Furthermore, enrollment into Medicaid/CHIP and utilization of the Affordable Care Act's insurance marketplaces must be streamlined so all children, regardless of immigration status, can obtain health insurance coverage. Similar efficiencies must be made for SNAP food stamps, housing assistance, and education programs such as Head Start.
In order to access these programs and thrive within them, immigrant children and families should have interpretation services readily available. Bridging the language and cultural gaps between families and their health care providers, case managers, and other agency employees is critical for services to be delivered effectively and safely.
In addition to these health policies, I hope members of Congress will consider other elements of immigration policy that can impact the well being of children. During immigration proceedings, children should never have to represent themselves. Furthermore, authorities involved in enforcing immigration laws should avoid dividing families as much as possible, and expedite the reunification of families. When families are torn apart by flawed immigration policy or misguided approaches to enforcement, there can be devastating psychological and economic consequences for children. The strength of a united family is integral to the American way, and must be upheld for immigrant children.
As a pediatrician and as an American son of immigrant parents, I urge our policymakers at federal and state levels to make the pathways to citizenship "faster than a speeding bullet;" strengthen the social safety net with funding and cultural-linguistic supports to make it "more powerful than a locomotive;" and eliminate barriers for immigrant children so none of them have to "leap tall buildings in a single bound." If we want all of our children and aspiring citizens to be champions of truth, justice, and the American way, then we must be role models of these values in our policies, attitudes, and actions.