A question I get often as the founder of Senda Athletics is: "How does Fair Trade work on the ground where your soccer balls are made"?
What better way to explain it than by sharing a recent Fair Trade project that was selected by the people making Senda's soccer balls?
The goal of Fair Trade is to provide workers with fair wages and better working conditions. Its vision is to empower workers to have a better quality of life, while protecting the environment and offering quality products.
Senda Athletics is a Fair Trade Certified Company, which means that we provide a premium for every soccer ball we sell, and the premium goes to the workers that make our soccer balls. The premiums can be used to give back to the workers and their families. We are excited to see the results of our Fair Trade efforts this past April 2013, when workers from the Fair Trade supplier approved a project to distribute school supplies to the children of the company's workers. One hundred backpacks containing school supplies were handed out to the workers' children, before their school year began.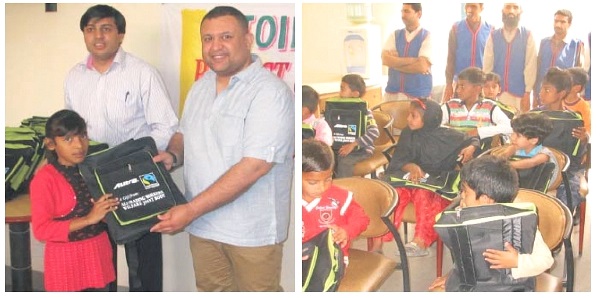 The project received great response from children and their parents, and the program for delivery of backpacks for next year in 2014 will be increasing considerably.
I had the opportunity to visit the factory located in Sialkot, Pakistan in 2012. During my visit, when I asked parents that worked at our Fair Trade supplier factory what they wanted for their kids, most of them said that they wanted them to have an education, and access to opportunities. It is great to now see Fair Trade helping to equip and inspire children to go to school with better materials, and some extra motivation.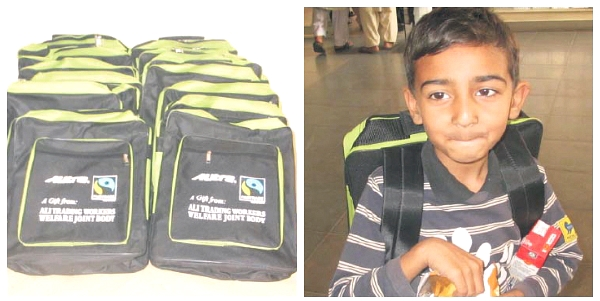 This small first step to help the children of soccer ball stitchers and workers to be well equipped for school was only possible thanks to the help, encouragement, and purchases from our customers and supporters. It is only the beginning, and the entire Senda team is thinking about how we can grow and scale our impact on the lives of the people who make our soccer balls. It will be a fun and inspiring journey, and we welcome all soccer fans who want to join! Let me know how you think we can deepen our impact on the ground, while inspiring the soccer community to take part on this effort.
Comment below or reach us at info@SendaAthletics.com.