You've probably been reading a lot about Indiana, with the possibility that its now-revised religious freedom bill will allow businesses to discriminate against LGBT people. Now, Arkansas was dangerously close to implementing a nearly identical law.
The good news is: many important people and businesses have voiced their support for the LGBT community in the form of public statements, thoughtful articles, and even boycotts. Regardless of what happens in the state government, LGBT youth in Indiana and Arkansas need resources and support. Here are some fantastic LGBT-focused organizations in those states that you should know about: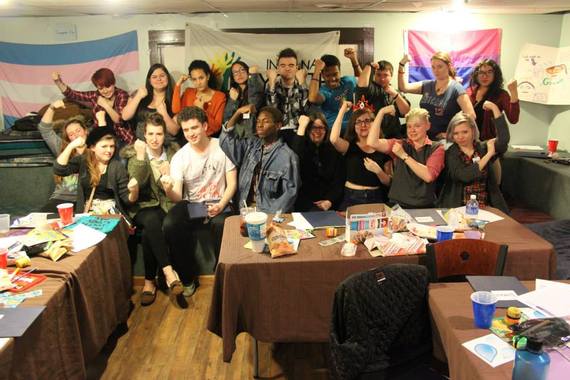 IN INDIANA:
1. Indiana Youth Group
Located in Indianapolis, the Indiana Youth Group offers programs, support services, and activities for LGBT youth ages 12-20. Groups like Queer Youth of Color, Bi/Pan/Poly and Gender Variant meet at least monthly, and if you're the creative type, the center hosts open mics and even cooking groups!
2. GLBT Resource Center of Michiana
Led by trans 100 honoree Meghan Buell, this center serves the area of Northern Indiana and SW Michigan and offers support groups for LGBT youth. Drop in hours are staffed by volunteers who can help you access resources and are available three times a week.
3. Tri-State Alliance
The Tri-state Alliance serves southwestern Indiana. Youth group events have included going to Gay Day at Holiday World, cookouts, and trips to the movies. Their Pride Prom is the largest event of its kind in the region and will take place on April 11 this year.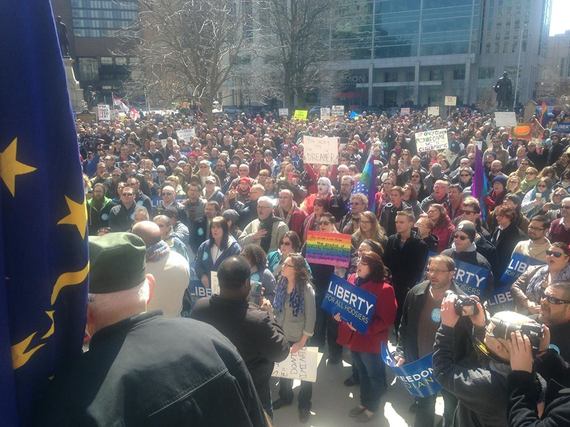 4. Pride Lafayette
Pride Lafayette opened their community center in Indiana 12 years ago. Volunteer staffed drop-in hours are available seven days a week and the group oversees the PRYSM LGBT youth support group with PFLAG Lafayette/Tippecanoe County and Citizens for Civil Rights.
5. Muncie OUTreach
Muncie OUTreach's mission is to provide a welcoming, confidential, educational, and fun place for LGBT youth and their allies. They offer programs, support services, social and leadership opportunities, and community service.
IN ARKANSAS:
6. Lucie's Place
Lucie's Place provides homeless LGBT young adults in Central Arkansas with safe living environments, job training, and counseling services in order to ensure lifelong stability and success. They work to promote equality and acceptance for LGBT young adults.
7. Pridecorps
Pridecorps is an organization for LGBT youth ages 14-20 in central Arkansas. They meet every Saturday to host groups with a fun and educational component. They explore topics including coming out, substance abuse and mental health, suicide prevention, bullying and harassment, self-esteem, safe sex, wellness, and nutrition.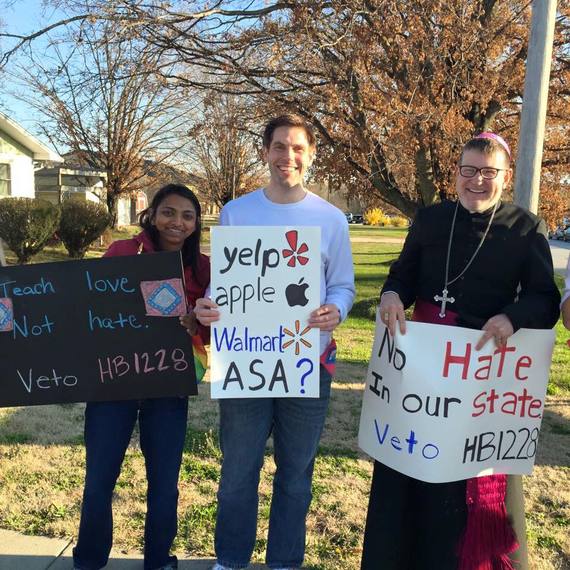 8. NWA Center for Equality
NWA Center for Equality is a grassroots support and advocacy movement working to achieve full equality for the LGBT community in Northwest Arkansas. Programs include YES, Youth Equality Services, where individuals 14-17 years old can create an inclusive, safe space for open dialogue, support, and authentic self-expression.
9. Arkansas Transgender Equality Coalition (ARTEC)
ARTEC is working to advance equality, justice, and inclusiveness for transgender and gender non-conforming Arkansans through a statewide trans-led organization. Their resources include grassroots activism and advocacy, social events, health resources, and referral services.
If you're feeling isolated, confused, or lonely -- remember that wherever you are, you're not alone. There is a community waiting to love and support you. If you're looking for events, services, or simply new LGBT-friendly spaces and people, check out the It Gets Better Project's guide to resources in your state.