The question was put to Obama's brain trust in Chicago: "When JFK took office in 1960, he said we would put a man on the moon in ten years, and we did. What should a President Obama have as his moon shot?"
There was only one answer, but before I relate that, here's the back story.
I'd gone to Chicago for the National Women's Leadership Issues Conference on Oct 10-11, where 1500 women met for two days with Barack and Michelle Obama, Jill and Joe Biden, campaign manager David Plouff, chief strategist David Axelrod and high-ranking advisors to Obama.
It was an amazing experience: Imagine a stampede of women carrying $5,000 handbags and wearing diamond Obama pins -- elbowing each other to grab the best seats. But seriously, we heard ideas and information we hadn't been privy to before and came away pumped for the final sprint.
Tickets ran from $1,000 to $28,500. I'd bought a cheap seat (more than I'd ever donated to a political campaign) because I wanted an inside view of Obama's team. As I took my seat in the Sheraton ballroom, I wondered why the campaign was turning over its key players during the last days of the race. The women attending were already committed and in high gear, having raised more money than any other group in the Democratic party. I was told it was to "reward and reinvigorate them."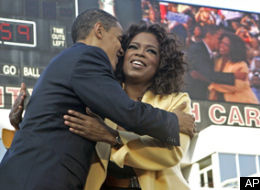 The first day, Friday, felt more like a pep rally than an issues conference. Oprah Winfrey kicked it off. "When I was 40," she said, "I decided I would run a marathon. No matter how well trained you are, it's the last six miles that get you. It's the last six miles when you need your family and support system." She said we're in the last six miles of the campaign, "and we've got to get out and help Barack Obama cross that finish line!" A thousand women stood as one and cheered.
Then came Howard Dean, Jill and Joe Biden, and a long train of brilliant political females, ending with Michelle Obama. But at dinner that night, a group of us wondered if we were spending our time and money wisely. We hadn't heard anything new and there'd been no chance to ask questions.
The next day, Saturday, they gave us meat and it was prime. We started at 7 a.m. and ended at 6 p.m. with hardly a break. Every two hours there was a panel on a different issue and each speaker took questions, though you had to shout and jump to be called on.
The lead panel was on the most urgent issue -- the economy -- with Robert Rubin, former Treasury Secretary, and Laura Tyson, National Economic Advisor to Pres. Clinton. The moderator asked what Obama's moon shot should be.
Rubin and four later speakers agreed: building a gigantic green industry and infrastructure that will drive the economy back to prosperity. A Green New Deal, Rubin said, would create five million local jobs and get us off foreign oil in 10 years, thus solving our two biggest problems -- energy and the economy. The two are linked. He said we have the top research universities in the world, the top venture capitalists and entrepreneurs to create fuel alternatives and renewable energy technologies that we can export to other countries.
Rubin, who advises Obama, said, "Make no mistake. Obama is the leader of his own economic team. He knows the stuff, he understands the intricacies, he takes us through it and carries it out."
When asked what was to blame for the economic collapse, Laura Tyson said the root cause was pressure on the middle class. "Between 2002 and 2007," she said, "we had unprecedented expansion of the American economy. But most Americans weren't part of that. Employment growth was slow, and the median American family saw their real purchasing power decline. Health, food, education and gas prices soared, and many people borrowed against their homes, using risky financial instruments.
In a panel on health care, Patricia Madrid, former Attorney General of New Mexico, said half the bankruptcies in the U.S. are due to medical bills. So providing affordable health care will hasten the recovery.
Lunch was served -- salmon, greens and potato salad -- while David Axelrod, Obama's chief strategist, and Anita Dunn, communications officer, ran down the numerous ways Obama can get to 270 electoral votes. A woman sitting near me asked Axelrod what he's most worried about. "You worry about the things you can't foresee -- the unexpected event. We already got one -- the economic collapse -- and Obama responded well." But he said he worried there could be another. Dunn said she worries most about complacency, "that we'll look at the polls and feel we can ease up. But we need to maintain that level of urgency."
One of the last panels, on national security, featured Madeleine Albright, the first woman to be appointed Secretary of State. Looking like a warrior queen in a black suit and power jewelry, Albright explained how "there is no military solution to the civil conflict that plagues Iraq. There has to be a political solution. We have to let the Iraqis know our military presence is finite. We'll be departing on a realistic timeline, and that will spur them, with our support, to craft a solution to their differences."
With each panel, the women in the room grew more electrified. Obama spoke last, but before he did the ballroom was emptied for a security sweep. Then came the estrogen-fueled stampede: black and white, young and old, rich and less rich pushing and shoving to get through the metal detectors and back inside to nab a prime seat. Rock music came on and 1500 women started dancing, jumping on the chairs, screaming like teens at a Beatles concert. Obama calmed them down with jokes and stories. He said, "We're in the home stretch. I know some of you feel you've been living and breathing politics." In his own family, he said, he'd had to do an intervention with his mother-in-law, removing her TV set because she'd been watching cable 24/7. Then he thanked everyone for the work they'd done and, in that style that's so familiar now -- a style that marries Martin Luther King, John and Robert Kenendy, rock and gospel -- urged the mass of women to "work with me these last days, and I promise you, we will create the kind of country we want for our children!"

It's hard to describe how transported we felt walking out of that ballroom. Some were in tears. Others felt reassured to have heard in person and in detail the kind of policy Obama wants to enact. A friend who'd been a fervent Clintonista until Obama won the nomination came up and said, "I get it now. Hillary wanted to be president. Obama wants to change the country."
~ ~ ~
I love hearing your comments. Please reply to website-feedback@saradavidson.com.
~ ~ ~
Rekindling activism and finding passion in the years ahead are subjects I address in Leap! What Will We Do with the Rest of our Lives? -- now out in paperback. I would so appreciate your help in spreading the word. Tell friends it's ten bucks now and if you buy it, you get the free Leap! workbook. For more information and to read an excerpt, please visit www.SaraDavidson.com