What I remember most is the way the light reflected off of the sheriff's badge as he stood in our doorway. I couldn't take my eyes off the tiny, white cross etched onto the polished metal. It spoke to me, delivering the very worst of news, without ever speaking at all. I remember the palms of my hands feeling sweaty, and the glass of water I was holding, slipping and hitting the floor. I remember the look on my mom's face when she heard the news. I remember feeling like I couldn't breathe, and knowing that I wanted to be anywhere except where I was. Where does a story like this even begin?
My life seemed so predictable. So normal. One can imagine then, that the news of my dad's death -- a single, self-inflicted gunshot wound to the head -- felt anything but. Suicide does not affect normal families, right? At least that's what my 15 year-old mind told me. And I was certain that we were a normal family. We had a dog. My mom went to PTA meetings. We had to drink milk with dinner. My brother was a Cub Scout. There were pastel hearts stenciled on the wall in my bedroom. My dad was a Vietnam War veteran with a Purple Heart. We drove a minivan. We were normal. Yes, of this I was sure.
The next week seemed surreal. Minutes turned to hours, and those hours morphed into days. Family members and flowers, cards and condolences, a viewing and a funeral. But the worst of the worst? So. Many. Casseroles. It is strange that in times of uncertainty, (and it is certain that people are uncertain about how to react to the news of a suicide) people find busy work distracting and consoling. How many times can one fluff the pillows on the sofa? Or scrub the bottom of that scorched stock pot? Rearrange the junk drawer? It was a small community, and it was unsettling that everyone knew my story without me ever having told it. Sometimes I felt like screaming. Because of the looks of pity I received. Because of the absurd notion that everything was going to be okay, as every sympathy card suggested. Because of the realization that we were not a normal family anymore. I was to learn that normal is a relative term, and that there is no such thing as a normal family. There are just people. Living with joyfulness, living with sorrow, living the only way they know how with what they've been dealt. That life is beautiful, yes, but is also terribly hard. And the rawness of that truth broke my heart.
And then just as quickly as they arrived, family members went home, flowers wilted, cards were shoved into a desk drawer and the world kept spinning in spite of my grief. Slowly we picked through the things that belonged to our dad, each of us picking up objects one by one, before carefully deciding what tangible reminder of him we would hold on to. I picked his necktie. It was an odd choice. He didn't particularly enjoy the stuffiness of wearing suits. I hadn't bought him the tie as a gift for Christmas or Father's Day. In truth, I was always quite embarrassed by my dad's eclectic tie collection. A bizarre mix of 101 Dalmatians, Looney Tunes, frogs, peace signs, and other such fashion atrocities. I remember thinking about the fact that they didn't even match, painfully standing out against the crisp, starchy white of his button up shirts. I'm almost positive I would roll my eyes, as only a teenage girl can, when he left the house each morning. It is a Valentine's Day inspired tie -- tiny teddy bears dressed as bees -- "bee mine" written in miniature hearts, splashed across the fabric. And that day, which came after many difficult days, I picked it because it made me laugh with its refreshing tackiness. It felt so good to laugh.
My Dad was a Vietnam veteran and had suffered for years from PTSD, which I now know ultimately contributed to his death. I don't think I ever recognized the depth of his sadness while I was growing up. This past year, we were finally able to bring this man to his final resting place; a beautiful veteran's cemetery in the small town of Igo, Ca. My three young boys, who were never given the opportunity to meet their grandfather, helped carry his remains. We were witness to full military honors, and my siblings and I were each given a military issued American flag with the shell casings from the gun salute. It is, and will remain, one of the my most valued possessions, marking a very beautiful and poignant moment in my life.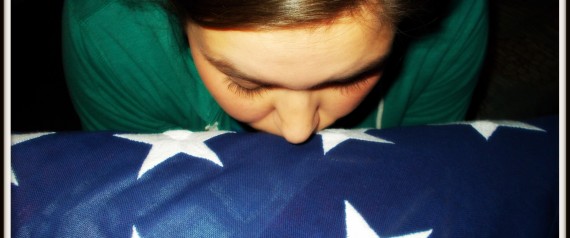 Sara at her father's final resting place. Photo via Sara Hurn.
The tie now hangs in my closet, nestled snuggly between the veil I wore on my wedding day, and the gown I wore to my college graduation; a visual reminder of how much of my life my dad has missed out on. I turned thirty at the beginning of this year, this being the year that also marks the death of the first man I ever loved, fifteen years ago. One half of my life, missed. Stolen. Sometimes that tie will catch my eye, and I will feel that familiar ache in my chest. Sometimes that ache feels unrelenting, but other times, my mind will wander and I will find myself smiling, memories of the man I miss so terribly woven into that tie. I think that each time I see it, each time I touch my fingertips to the fabric, I understand a bit more about love. About how it can break you heart wide open, and also how it can piece it back together again. That sometimes love is tied to loss, and in learning to understand one, you come to understand the other.
This story is part of a HuffPost Healing, a Huffington Post series about physical, mental and emotional healing. Have you had an experience with healing? If so, we'd love to hear it. For Sara, it was lessons learned through loss. What was it for you? Reach out by e-mailing healing@huffingtonpost.com
Need help? In the U.S., call 1-800-273-8255 for the National Suicide Prevention Lifeline.