Award season has begun and I can't wait to see what the stars are going to wear on the green carpet!
What?
Sara, don't you mean the RED carpet?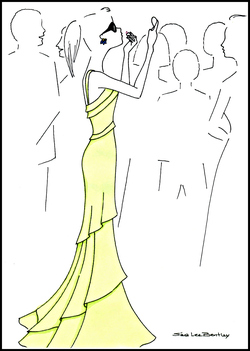 No, I'm not color blind; I know a green carpet when I see it. After all, who can forget Meryl Streep's gold lame Lanvin gown, Cameron Diaz's bespoke beaded Stella McCartney gown or Cate Blanchet's Chopard diamond wreath earrings from green carpets past?
These glamorous ladies are part of a growing contingent of Hollywood stars who are taking part in a fascinating challenge -- the Green Carpet Challenge.
Its origins read like a modern day fairy tale any a-list actress would be thrilled to be cast as the lead character in. Let's say her name is Livia and she could be the stunning, powerhouse wife of one of the best actors of this generation. Let's call him Colin. Now that the two main characters in our modern day fairy tale are in place let's give our lead a challenge: what to wear to accompany her multi-nominated spouse during the awards season. But there's no designer showroom for her. Instead, Livia challenges herself to wear a gown that is both sustainable and ethically made.
By now I'm sure you've realized that this storyline strikes as too over-the-top and unbelievable to be anything but reality.
It is.
Of course, I'm referring to Livia Firth who in 2007 alongside her husband, the actor Colin, and brother, Nicola Giuggioli, co-founded Eco-Age, a brand consultancy enabling "businesses to achieve growth by adding value through sustainability."
As Livia told Harrod's magazine, she and her journalist friend, Lucy Siegle, made her first "green carpet" gown in 2010 out of discarded fabrics and "things from the garbage bin." That year, Livia's answer to that now-ubiquitous red-carpet journalistic question, "Who are you wearing?" was an original one to say the least.
Since then many celebrities have joined Eco-Age's global communication platform, dubbed, the Green Carpet Challenge (GCC Brandmark) and clamor to wear "green," red carpet gowns and tuxedos created by repurposed fabrics and ethical production.
Luxury designers have since adopted the challenge as their own and the GCC Brandmark has since become one of the validations of highest acclaim for sustainability in the international fashion and retail industry. And it's not limited to just the red carpet.
Gucci is famously the first to have created a handbag collection with the GCC Brandmark made from zero-deforestation, Amazonian leather. Notably, this collection sold out before it even hit stores. Stella McCartney, Tom Ford and Victoria Beckham are other celebrated designers among the growing, sustainable GCC ranks.
Chopard is the first luxury jeweler of its caliber to have been awarded the GCC Brandmark for its collection of Fairmined gold jewelry and watches. These pieces have been worn on the red carpet to dazzling effect by everyone from Cate Blanchet, Marrion Cottilard and, of course, Colin and Livia Firth -- Colin helped design the brand's first watch made from Fairmined gold and his lovely wife attended the Golden Globes last week wearing an amazing pair of Chopard Green Carpet High Jewelry earrings. Chopard even made the 2014 Cannes Film Festival's grand prize, the Palm d'Or, out of Fairmined gold.

It's been 4 years since that first "green," red carpet dress of Livia's was scrutinized and then highly praised by some of the industries toughest critics and influencers. And now, as in every awards season, there are to be dozens of glamorous red carpets that are walked on all over the globe, equaling countless gowns, jewels and tuxes paraded and admired.
Let's see how many of them come in shades of green.
Note: the author is in no way affiliated with Eco-Age, The Green Carpet Challenge, Mrs. Livia Firth or any other parties mentioned in this post, but is simply a great admirer of their wonderful collective works.