When the storm we have all come to know as Sandy roared through the New York City metro area, I could not help being overcome with the startling images of damage and destruction, especially to people's homes and businesses. The storm lasted a few hours but for many people and their loved ones, their lives have been changed for the foreseeable future.
I grew up in Columbia SC with a mother whose childhood memories consist of life growing up on the Jersey Shore. I moved to New York City in 2001 as a new student at the School of American Ballet, and I've been here ever since. So the post-Sandy damage became very personal for us. And for the first time in our memory, we felt there was a real focus on Staten Island. When most think of New York City, all of the other boroughs - Brooklyn, the Bronx, Queens and of course, Manhattan - tend to be known entities for New Yorkers and tourists alike, most having visited at least once for a sporting event, to visit a friend or family member, to have a meal at a local restaurant, for a cultural excursion, or even to shop. However, Staten Island is that one borough where I and many in my social and professional circles had never visited or developed any familiarity. So when the images of the people of Staten Island flooded my television screen in the wake of Sandy, I felt an immediate need to get involved. Not to just send money but to pay real attention to what was needed, go there and be a visual, physical representation of compassion for what they were experiencing.
It would have been easy for me to go back to life as I have known it. As a principal ballerina with New York City Ballet, my days are often busy with ballet classes, rehearsals, body therapies, and preparations for shows. Further, my particular Manhattan neighborhood was not affected by the storm. We had no loss of power or flooding. Friends kept asking what inspired me to get involved. The answer was simple. I did not need inspiration to be moved to action. Just how I feel about dancing, it was not a choice that I had to make. Getting involved was something I must do. Also it was because things were not the same, the circumstances far from normal for countless people who told heartbreaking stories about their losses. So just as life was no longer normal for them, it could not be business as usual for me. My mom, who watched from afar in South Carolina, and I wanted to do something. We wanted to help, to be a part of helping them get their lives back or at the least, have comfort in knowing that they were not alone.
I'd already volunteered in downtown Manhattan at a food and water distribution site the weekend after Sandy hit and for four hours, I thought of nothing else but how to help these people who were left with very little. I was struck by a little boy who came to the site with his mother. He took my hand and wouldn't let go. Meanwhile, I was getting his mother all the supplies she needed. Although I'll likely never see them again, the little boy holding my hand that day ignited a fire in me. It was such a humbling experience. I thought about other areas like Staten Island and Far Rockaway in Queens that were hit even harder and the looming fear that these areas would too quickly become "out of sight, out of mind." First stop: Staten Island, here I come.
After researching the sites of organizations such as New York Cares to see what was most needed on Staten Island, my mom and I purchased supplies such as contractor bags, reusable latex gloves, heavy duty scour pads, indoor/outdoor push brooms, cleaners, flashlights and Ziplock bags. The next step was finding a way to get to Staten Island. I tried the Zip Car route but with the gas rationing in New York City and a shortage of cars, that plan had to be aborted. Finally, I was able to borrow the car of my very generous physical therapist and friend, packed the SUV with the supplies, and followed my GPS to the New Dorp FEMA site. Driving en route to the site, I was struck by people's personal possessions piled up along the sides of streets, covered with dirt, broken up, and irreparably damaged by the storm. I saw what were once living room sofas and dining room tables where people must have shared family holidays and special occasions, toys that probably once laid under Christmas trees or were unwrapped at birthday parties, and appliances that in a few short weeks were to either hold or cook the family meal for Thanksgiving. All of those memories and dreams lining the streets like broken pieces of puzzles.
Yet the faces I saw displayed hope and resilience as they bound together at various points along my route, cooking food outside on what turned out to be a beautiful and calm day. There were a number of tables that held warm clothing and blankets, amongst other necessary items, for people to take. The spirit at the FEMA site was no different. The relief workers, who had likely been working around the clock, were some of the most appreciative, kind people I've ever met. They kept expressing their being surprised that someone my age - in my 20's - would go to such an extent to help. I even had the privilege of meeting Staten Island's Borough President James Molinaro, who was on site and working on that Saturday afternoon, alongside a number representatives of the New York City Mayor's Office. They quickly and carefully unloaded the car of all the supplies and just like that, my part of the job was done. It was the best spent hours on a Saturday afternoon I've had in a long time.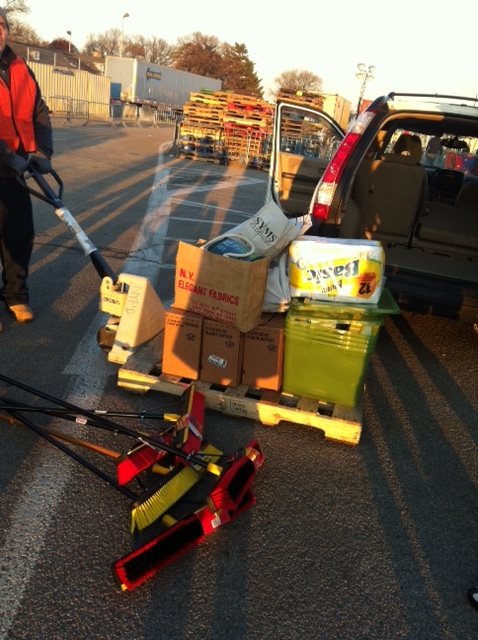 I am a ballerina, not a writer. But I felt compelled to write about this experience, especially as we prepare to gather with our families and loved ones this Thanksgiving. There are people for whom Thanksgiving will be about so much more than food. In Staten Island, Far Rockaway, Coney Island and other hard-hit areas, Thanksgiving will be a time of truly giving thanks as they work towards rebuilding lives - the true meaning of what Thanksgiving is all about. So if you have the ability, the resources, and even just two hours in your day, it really is amazing the lives that you can impact in a positive way and how they can, in return, change yours. On Saturday, those men and women who have worked tiredlessly to help, and witnessing such pride, determination and strength, changed my life. That, to me, is what being a New Yorker is all about.