"Whoever said that diamonds are a girl's best friend, never owned a dog."
While I couldn't track down who uttered this telling quote, it spoke volumes when I heard about one little girl's story.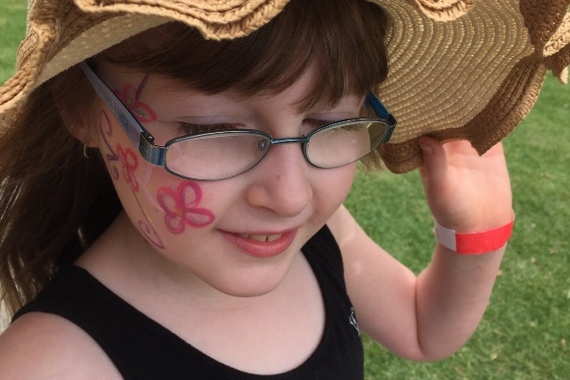 Like many stories about kids facing illness, it really struck a nerve with me and made me think about the basic things we all take for granted.
As a young girl, probably around Rachael's age, I vividly remember reading these words that were drawn onto a footpath while on a day trip to Melbourne's city square: Life's not fair.
Well, ain't that the truth! While the majority of us focus on the little things that aren't perfect, some people out there are facing really challenging times.
Kids such as 9 year-old Rachael have experienced more hospital visits and grit their teeth through more ongoing treatment than I ever have. Maybe more than you have too.
Rachael's story is heartbreaking: she suffers from epilepsy, migraines, anxiety and is legally blind in her left-eye. No child should have to experience that...
Yet Rachael's mother, Belinda, oozes with pride when describing her daughter to me as a real trooper and a fighter.
"Like most parents, I would sell my soul for this little munchkin and it's really hard to watch her experience some of the things she has. But Rachael is a gem of a daughter and I couldn't be any prouder," says Belinda.
When I heard there was one thing that would change Rachael's life, I needed to know more. Belinda sent me a link to a crowdfunding page that explained the situation a little more.
Dogs... they're great for all kids. Consider these facts:
• Scientists have found that growing up with a dog in the household will mean you're less likely to develop asthma and allergies later on in life.
• A Deakin University study also found that children with dogs are less likely to become overweight or obese.
• Both Australian and international research shows that kids with pets have better social skills than those without.
This is all fascinating stuff but for Rachael, the benefits of having a trained assistance dog outweighs anything pointed out here.
So, what price can you possibly put on that? Helping a sick child on any level is priceless, right?
In reality, the Grooby family needs to raise up to $25,000 (that's Aussie dollars) to make Rachael's wish come true.
Every cent helps: search for Rachael's Go Fund Me page and feel free to contact me via Twitter for more information.