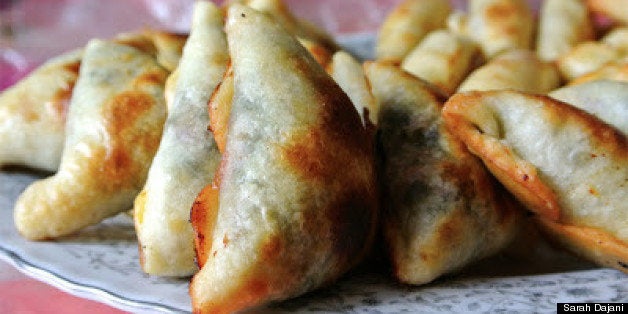 I constantly encounter an unsettling contradiction in the Middle East. Home cooked dishes are fantastic, but restaurant versions are, essentially, not. In Jordan, it results in this sort of odd social interaction where newcomers to Jordan are constantly complaining about the lack of good food and their well-fed Jordanian friends have absolutely no clue what they're talking about and can only assume that these foreign visitors to their country must lack taste buds, or tact.
But this odd local food dynamic may one day change. As a result of a series of unfortunate events, Jordan is home to many displaced men and women, often called "refugees" (the term gives an impression that can be very far from reality). Imagine having to leave your home with only the clothes on your back and precious few other possessions, and settling down in a new country for a period of time that could last for as little as a the length of a summer skirmish to as long as the indefinitely unfriendly regime.
The reality of displacement and the immovability of a life is something few of us, luckily, will ever have to deal with. But for some Palestinians, Syrians, Iraqis, Armenians, Egyptians, Lebanese, and Kuwaitis living in Jordan, it's very real. And while some elements of home life will fail to make the journey over with those living this reality, one very critical element is as transportable as a mental recipe book. 
Elham brought out a plate of freshly baked, golden brown, braided cheese pastries, crispy on the outside and gooey-mild on the inside, each releasing a puff of steam with the first savory bite. Her business, for now, is simple. She is self-trained, having attended formal cooking classes but choosing instead to rely on her home-honed culinary expertise. Her employees are her family members, who help out whenever they have free time. Her customers are a local co-op and a few neighborhood clients. And her working hours follow demand, peaking around holidays and national events.
Elham's ambition is to one day open her own restaurant, expanding her menu and production. It would be a revelation for Jordan's food scene -- a chef whose training began at home, as a child, and whose skills were refined outside a commercial kitchen. A menu of memory, traveling from Kuwait to Jordan over the span of more than two decades, and subject to the critiques and adjustments of the pickiest of Arabic food critics: Arabic friends and family.
Of course Elham is just one in a multitude of moveable feasts. But her passion for her business is a sign of what may come. Jordan is a neighbor to some of the richest culinary traditions in the world, the countries of the spice routes that connected east to west, the collectors of herbs and seeds, flora and fauna that make surprise appearances in our modern cuisines but are still largely undiscovered. Perhaps those like Elham, who seek to build a future on their culinary past, will find a good home in Jordan and finally introduce the gastronomic secrets of their homes to the public.