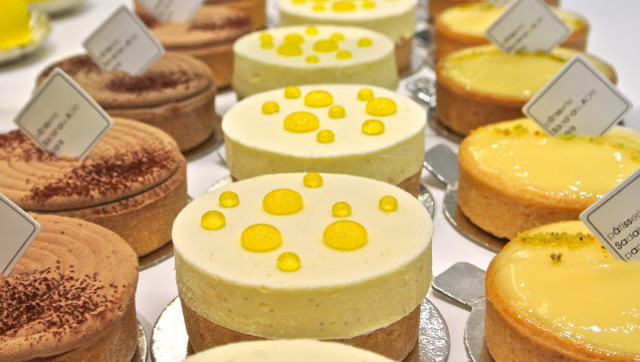 "I appreciate this place for sharpening my inner sense and being a permanent source of inspiration."
- Sadaharu Aoki on Paris
I love hearing about how people understand cities, the lens through which they see them and the personalities they ascribe to them. Paul Graham wrote an essay in 2008 on the different messages cities can send -- New York and its love for money, Berkeley's emphasis on quality of life, and Cambridge's (the home of Harvard and MIT) encouragement to just be less dumb. Graham got to know these cities through discreet observations: a conversation overheard in a coffee shop, or scenes in neighborhood windows of family life at dusk.
Others, like Vahram Muratyan of Paris vs. New York, express cities' spirits through iconic art. The Parisian Proust is contrasted with the New Yorker Salinger. The Aznavour with the Sinatra. The Debussy with the Gershwin. And the pâtisserie with the pastrami. My favorite, as you might have guessed, is the Debussy vs. Gershwin.
If you believed that last sentence then this is probably your first time reading my blog. Bienvenue.
But to return to my point: at some level, I think, our minds are trained to cling to that which varies. That's why when I walked down Boulevard de Port-Royal I noticed Sadaharu Aoki, a Parisian pâtisserie founded by a Japanese Chef pâtissier of the same name. Aoki opened his first atelier in Paris nearly 15 years ago and within one year began serving pastries to the fashion houses of Kenzo, Dior, Chanel, and Ungaro. He made his name by blending Japanese flavors like yuzu and matcha green tea into traditional French recipes for millefeuille, éclairs and macarons.
"Here, I am also challenged by people who have a real passion and taste for pastry."
- Aoki
Seeing Aoki's boutique on that rainy Parisian boulevard, I braced myself for something distinctly Japanese, an experience that would be in sharp contrast to the French atmosphere that surrounded me. But it wasn't like that at all. It was simple. Simple and beautiful.
"I like to create simple things, but it is the most difficult thing to do, since simple things cannot be manipulated."
- Aoki
A macaron split in half, with stripes of cake-y biscuit, ganache, and chocolate (the original Chocoron). The chocolate croissant, buttery and flaky and brown... with the chocolate mixed right into the pastry dough. And a rainbow palette of chocolate bars, each a distinctive color signaling the flavor that lay within.
Muji
, a store so minimalistic I had to walk in and out three times before understanding that the shelves and boxes that lined the walls were
for sale
).
pâtisserie
, the two cities are bound by
a mutual obsession for simplicity. Delicious simplicity.
"Creating something delicious. To achieve this goal, it is essential to maintain simplicity."
- Aoki
Pâtisserie

Sadaharu Aoki
in Paris
25 rue Pérignon
+33 (0)1 43 06 02 71
56 Boulevard de Port-Royal
+33 (0)1 45 35 36 80
35 rue de vaugirard
+33 (0)1 45 44 48 90
If you'd like to see more Paris Versus New York artwork, check out Vahram's new book on Amazon.

Images by Sarah Dajani, unless otherwise attributed.