As a mom far from home in Zambia last month, I was thrilled to meet Teresa, a bouncy, outgoing older woman, former schoolteacher and mother of nine -- including three sets of twins. We bonded quickly, swapping stories about our kids. Before long, Teresa energetically clasped my hand and held on as we walked toward the crocodile-infested river where her community used to get its drinking water.
When I asked Teresa what makes her happiest in life, she didn't miss a beat. "I want to tell you the truth; what makes me very happy in life -- it's water," she said in her Zambian-accented English. "It makes me happy all the time, when I think of water. I'm telling you. You know why I'm saying so? I suffered. I'm telling you. It was terrible. I had to fetch water from afar. I suffered. I want to tell you, having safe water has changed our lives."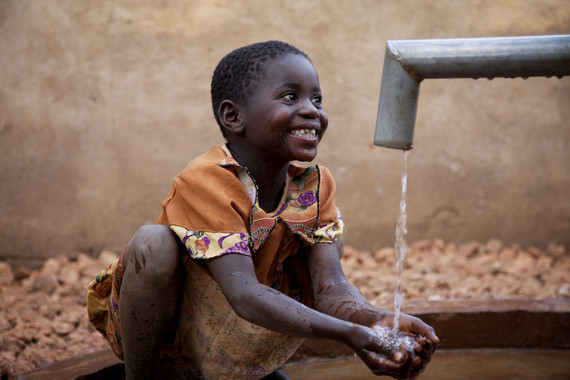 A young girl enjoying safe water from a water point funded by WaterAid in Zambia. (Photo: WaterAid / Anna Kari)
Home to the great Zambezi River and Victoria Falls, Southern Zambia is not exactly water poor. But while water is plentiful, it is often contaminated, and mothers like Teresa know to fear the hidden and often deadly dangers lurking in every drop.
It would have been insensitive in the short time I was there to ask if any of Teresa's children had died due to water-related disease. But I suspected, based on her response to the happiness question that they had. Deaths of young children are all too common in developing countries; every day, preventable diarrheal diseases claim the lives of 1,400 children, most of whom are under five years of age.
My eldest daughter just turned five this summer, so this statistic really hits home for me. It was a big birthday for her, but an even bigger one for me. My daughter survived until five, a totally mundane fact here in the U.S. where diarrhea doesn't take lives. But in far too many places -- Zambia included -- safe water is nowhere to be found, the bush is the only place to go to the bathroom, hand washing is virtually non-existent and a child's fifth birthday is a milestone truly worth celebrating.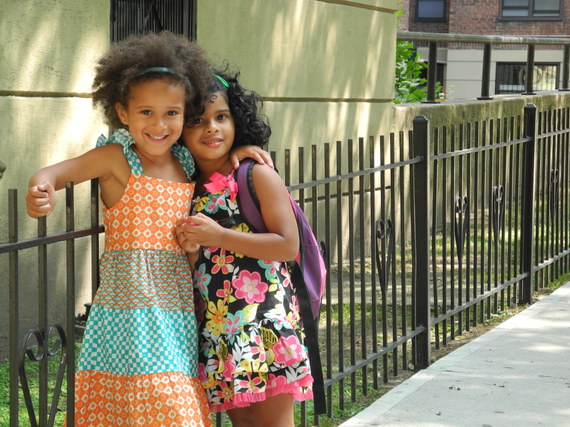 The author's daughter, left, on her 5th birthday with her best friend.
It was my work with the international nonprofit, WaterAid, that brought me to Zambia to see the impact of our water, sanitation and hygiene projects. The results I saw were inspiring.
In Teresa's hometown of Mambova, we've helped the community to install a solar-powered pump in the river, which pushes water up to a tank a little more than a half mile away, where it is treated through a technical process that Teresa could effortlessly describe from start to finish.
Even as a mom of nine, Teresa finds time to head up the water committee, a group of community members selected to help manage applications for water services, collect fees, and conduct minor repairs. She knows how critical a safe, reliable water supply is to the health of future generations. That's why she's chosen to be part of the solution.
I was sad to say goodbye to Teresa, but happy to have had the chance to meet her. With #GivingTuesday quickly approaching this December 2, she's given me a lot to think about, and all of it is good. I'm inspired by knowing that we can change the world around us, that birthdays are worth fighting for, and that -- together -- we can achieve our goal of reaching 100,000 vulnerable kids with safe water through WaterAid's Child of Mine campaign.
As any parent who travels for work knows, it's tough to leave your family on the other side of the world, to miss the precious ritual of bedtime stories, and not be there to wipe noses or take temperatures. But spending time in a community like Mambova that's so recently experienced the transformation safe water can bring was such a privilege. To return home knowing the toddlers and babies I met there now have more of a fighting chance of celebrating their fifth birthday, like my daughter did, is the best thing this mom can hope for.
This post is part of a series produced in celebration of #GivingTuesday, which will take place this year (2014) on December 2. The idea behind #GivingTuesday is to kickoff the holiday-giving season, in the same way that Black Friday and Cyber Monday kickoff the holiday-shopping season. The Huffington Post will feature posts on #GivingTuesday all month in November. To see all the posts in the series, visit here; follow the conversation via #GivingTuesday and learn more here.
And if you'd like to share your own #GivingTuesday story, please send us your 500-850-word post to impactblogs@huffingtonpost.com.