Bring back more than a tan from your next Caribbean vacay. Try one of these uniquely Caribbean experiences (plus these five I wrote about earlier), and make memories that will last a lifetime.
1. Straddle the Tropic of Cancer Line in the Bahamas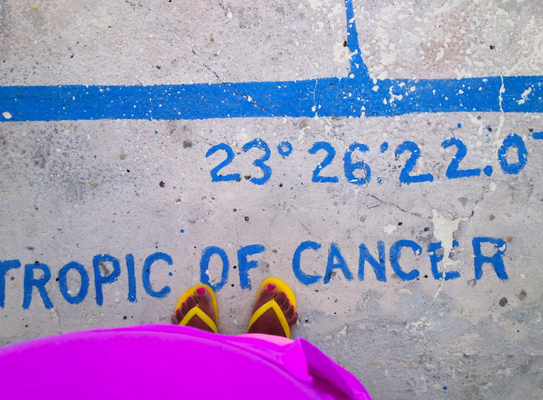 It's not every day that you get to straddle a line of latitude. But you can in the Exumas, where the line that marks the Tropic of Cancer bisects one of the Bahamas' most breathtaking beaches. The pride of Little Exuma, the shore's formal name is actually Pelican Beach, and you'll find it about five miles past the bridge connecting Great and Little Exuma. When you get here, look down and see the blue painted line that marks the Tropic's coordinates. Although the painted line is permanent, the tropic's position isn't. Turns out that the Tropic is drifting south at a rate of about half a second of latitude a year.
2. Ride in a Mini Moke in the Grenadines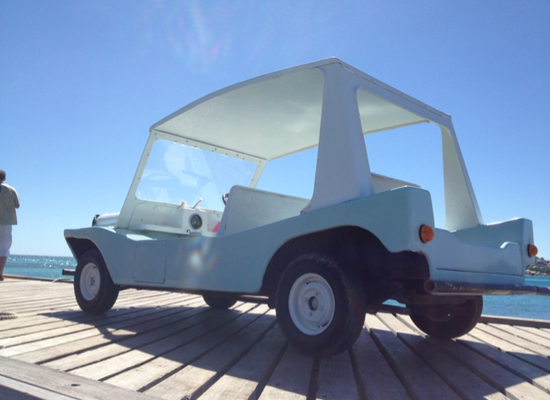 At Petit St. Vincent, a 115-acre private-island resort, guests are whisked between the beach and their ocean-view villas in a fleet of spiffy Mini Mokes. The iconic beach buggies were originally made in England in the '60s but production has long since stopped. So riding around in one of PSV's fleet is a unique experience, made even more so when you consider that the resort actually manufactures the vehicles themselves! The bodies are fashioned from PSV's own fiberglass mold and the vintage 1,000cc and 1,3000cc engines sourced directly from the U.K. It takes about six months for the resort's workshop to produce one of the open-top four seaters, which have manual transmissions and five-gallon tanks, and get a whopping three miles per gallon.
3. Cozy Up Fireside in Jamaica
Mist-cloaked mountains and electric-blanketed beds are hardly what you'd expect to find in the Caribbean, but early-morning and nighttime temps at Strawberry Hill, a gingerbread cottage boutique hotel 3,000 feet up in Jamaica's majestic Blue Mountains, mean that you'll need to pack a sweater as well as sunscreen. Bask in the sun at the mountaintop pool by day, then snuggle with your sweetie in front of a roaring fire in the great house bar as the mercury drops to the 50s and your love really heats up.
4. Buy a Panama Hat in Puerto Rico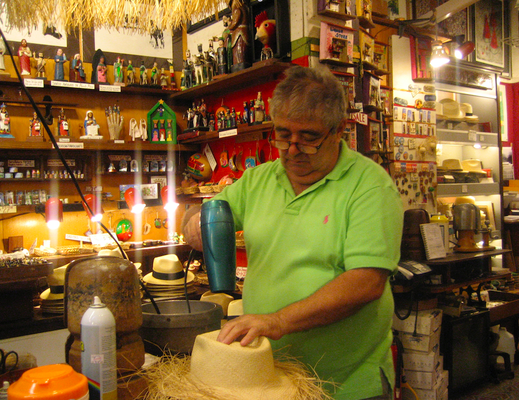 At Ole, milliner Guillermo Jeffs' tiny boutique on Old San Juan's bustling Fortaleza Street, you can browse, try and buy more than 5,000 Panama hats. Toppers start $50 and rise to $4,000 for a hand-woven model that takes about two years to make. Whichever you choose, Guillermo will custom-fit the Panama to your head, employing his decades of experience -- and a hat block and blow dryer -- to ensure the perfect fit. Then choose from more than 20 colors of hat ribbon for a truly personalized look.
5. Feed the Stingrays in the Turks and Caicos
Everyone knows about Grand Cayman's Stingray City, but for a more intimate stingray sighting experience head a few hundred miles northwest to the Turks and Caicos Islands. In the waters off tiny Gibb's Cay, 15 minutes by boat from Grand Turk (I went with Oasis Divers), you can frolic and hand-feed more than two dozen rays, some more than seven feet across. You'll be enchanted by the velvety feel of the rays' bellies as they skim your body in the waist-deep water, and provided there's no cruise ship in port, you'll have the pleasure of Freckles, Princess, Stumpy and their ray relatives all to yourself.
Sarah Greaves-Gabbadon is a Caribbean travel expert, award-winning travel journalist, TV personality, and black-belt shopper. Former executive editor of Caribbean Travel +Life magazine, she ventures to the beach and beyond, sharing the diverse culture, relaxed lifestyle and colorful people of the world's favorite warm-weather destination. She is also Jetsetter-in-Chief at www.JetSetSarah.com, where travel and shopping meet.